As temperatures rise, tigers get chicken ice pops at Thai zoo
By Vorasit Satienlerk CHIANG MAI, Thailand (Reuters) - Tigers were fed frozen chicken 'popsicles' and enticed to splash in a wading pool at a Thai zoo on Thursday as temperatures rose. Around 50 of the big cats live at the Tiger Kingdom zoo in Chiang Mai, 700km (435 miles) north of Bangkok, according to Patchara Chanted, coordinator of the tiger handlers there. 'Tigers will save their energy during most of the day by lying down or trying to exert themselves as little as possible,' said Patchara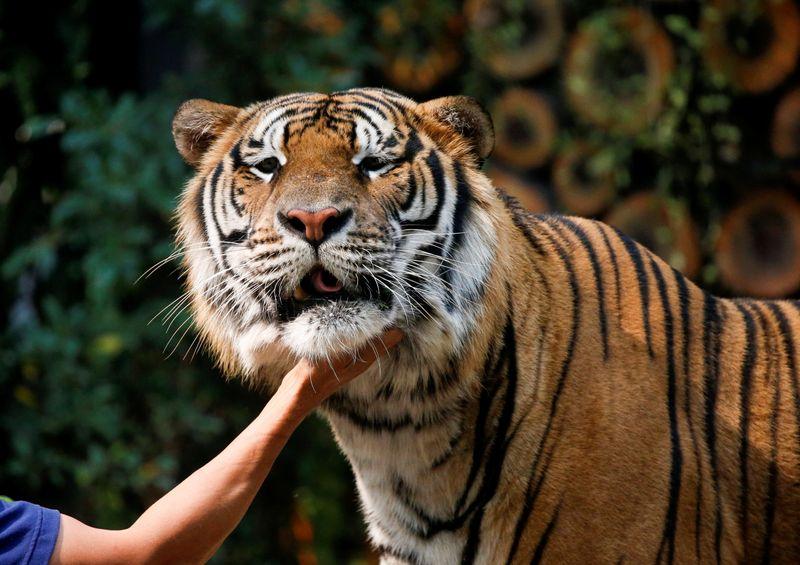 By Vorasit Satienlerk
CHIANG MAI, Thailand (Reuters) - Tigers were fed frozen chicken 'popsicles' and enticed to splash in a wading pool at a Thai zoo on Thursday as temperatures rose.
Around 50 of the big cats live at the Tiger Kingdom zoo in Chiang Mai, 700km (435 miles) north of Bangkok, according to Patchara Chanted, coordinator of the tiger handlers there.
"Tigers will save their energy during most of the day by lying down or trying to exert themselves as little as possible," said Patchara. "But if it gets too hot for them, they will start panting like cats or dogs to avoid heat stroke."
"We provide some activities in the water or a toy to help them cool down."
Two tigers splashed in a pool, jumping to swat at a bunch of leaves held above the water by a handler. Twice daily during the summer months, the tigers are fed chicken encased in ice blocks.
Thailand's hot season began at the end of February and temperatures are expected to rise as high as 35 degrees Celsius (95 Fahrenheit).
(Reporting by Vorasit Satienlerk; Writing by Karishma Singh; Editing by Janet Lawrence)
This story has not been edited by Firstpost staff and is generated by auto-feed.
World
CARACAS (Reuters) - Human rights groups from Venezuela and Colombia on Wednesday called on the United Nations to appoint a special envoy to address the humanitarian crisis caused by clashes between Venezuelan troops and Colombian armed groups near the countries' border. Colombian officials estimate that some 4,000 people have fled Venezuela for Colombia since March 21 following a military offensive in Venezuela's Apure state.
World
By Anton Zverev and Andrew Osborn MOSCOW (Reuters) - Jailed Kremlin critic Alexei Navalny went on hunger strike on Wednesday in an attempt to force the prison holding him outside Moscow to provide him with proper medical care for what he said was acute pain in his back and legs. The fate of Navalny, one of President Vladimir Putin's most prominent critics, is in focus after he said last week that being woken up by a guard every hour during the night amounted to torture and that his appeals for medical treatment had been ignored. In a handwritten letter addressed to the governor of his prison which was posted to social media by his team on Wednesday, Navalny said daily requests for a doctor of his choice to examine him and for proper medicine had been ignored
World
By Stephanie van den Berg THE HAGUE (Reuters) - The International Criminal Court on Wednesday upheld its 2019 acquittal of former Ivory Coast President Laurent Gbagbo on charges of crimes against humanity during post-election violence and ordered all conditions of his release be removed. The decision may open the way for Gbagbo, 75, who has been living in Belgium, to return to Ivory Coast