As polar seas heat up, mammals will find less slow, stupid prey
By Alister Doyle, Environment Correspondent OSLO (Reuters) - Global warming will make life harder for mammals and birds hunting in polar seas by perking up fish that were slow, stupid and easy to catch in icy waters, scientists said on Thursday.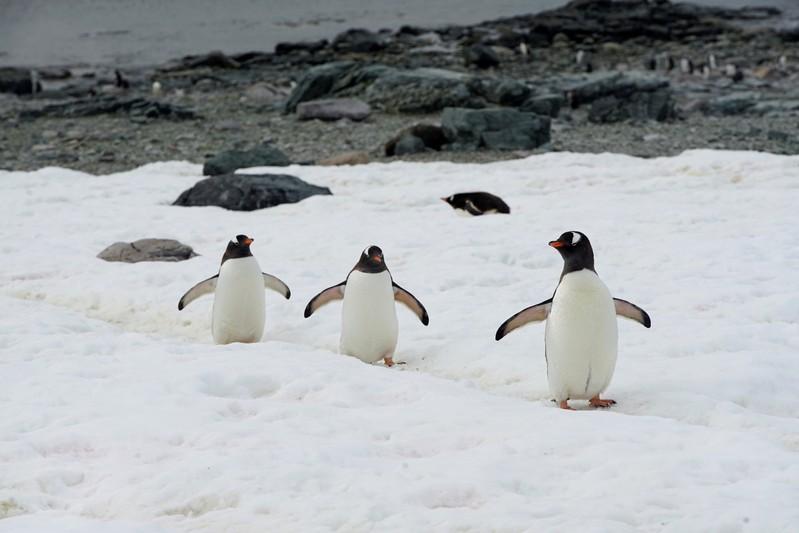 By Alister Doyle, Environment Correspondent
OSLO (Reuters) - Global warming will make life harder for mammals and birds hunting in polar seas by perking up fish that were slow, stupid and easy to catch in icy waters, scientists said on Thursday.
Seals, whales, penguins and other warm-bodied creatures rule polar seas partly because their constant internal temperatures let them put on bursts of speed and stay more alert than cold-blooded prey, they wrote in the journal Science.
But rising temperatures in the Arctic Ocean and seas around Antarctica are slowly enlivening fish, from small capelin to large sharks, whose bodies and brains go slow in frigid waters.
"Overall, warm-bodied predators are favoured where prey are slow, stupid, and cold," the scientists, led by John Grady at Michigan State University, wrote in the study.
"Being faster than your prey or enemies ... is an important advantage for surviving and getting food," Grady told Reuters in an e-mail of the findings by scientists in the United States, Germany, Canada and England.
DEADLIER SHARKS
"Faster sharks are deadlier sharks. The most vulnerable mammals and birds are those that feed on fast-moving fish and have to worry about shark predators: this includes many penguins, puffins and sea lions," he wrote.
The wide diversity of marine mammals and seabirds in polar regions is a biological oddity, because species tend to be more varied nearer the equator. The warm-body advantage in frigid waters helps explain the paradox.
The scientists estimated that every one degree Celsius (1.8 Fahrenheit) increase in sea surface temperature will lead to a 12 percent decline in the abundance of marine mammals.
Almost 200 governments pledged in the 2015 Paris climate agreement to limit a rise in temperatures to "well below" two degrees C above pre-industrial times by phasing out fossil fuels. But governments are lagging behind and temperatures are expected to rise 3C (5.4F) or so by 2100, the U.N. estimates.
The polar power struggle between warm- and cold-blooded creatures is one aspect of warming that is also driving many species of fish and other marine life towards the poles or to the depths.
And scientists have found that thick layers of blubber, a sign of health for Arctic mammals, have thinned on harp seals and minke whales in recent years. That may signal that they are losing out to rival cod in catching smaller fish.
"Cod have invaded some of the areas where the harp seals and minke whales used to feed without competition," Tore Haug, a scientist at Norway's Institute of Marine Research, told Reuters. He was not involved in Thursday's study.
(Reporting By Alister Doyle, editing by Larry King)
This story has not been edited by Firstpost staff and is generated by auto-feed.
Find latest and upcoming tech gadgets online on Tech2 Gadgets. Get technology news, gadgets reviews & ratings. Popular gadgets including laptop, tablet and mobile specifications, features, prices, comparison.
News & Analysis
By Jan Wolfe and Andrew Chung WASHINGTON (Reuters) - The U.S. Supreme Court appeared divided on Wednesday as it considered whether to protect Alphabet Inc's Google from a long-running lawsuit by Oracle Corp accusing it of infringing Oracle copyrights to build the Android operating system that runs most of the world's smartphones. The shorthanded court, down one justice following the death of Ruth Bader Ginsburg last month, heard oral arguments in Google's appeal of a lower court ruling reviving the lawsuit in which Oracle has sought at least $8 billion in damages.
World
MOSCOW (Reuters) - Russia has test launched its Tsirkon hypersonic cruise missile and successfully hit a target in the Barents Sea, a senior commander told Vladimir Putin on the Russian leader's 68th birthday on Wednesday.
World
By Nathan Layne (Reuters) - A Texas prosecutor said he will have a grand jury weigh whether to indict a white police officer charged with murdering a 31-year-old Black man, the latest shooting to trigger unrest over police brutality and racism in the United States. Wolfe City Police officer Shaun Lucas has been charged with murder by the Texas Rangers, which are investigating the Oct