As Mexico vote looms, leftist's support jumps to 52 percent - poll
MEXICO CITY (Reuters) - Just over a month before Mexico's presidential election, more than half of voters support leftist Andres Manuel Lopez Obrador, a survey showed on Wednesday, while they pulled support from the poll leader's main rival following attacks on his honesty. Andres Manuel Lopez Obrador, in his third bid for the presidency, gained more followers after a televised debate in which he dubbed second place candidate Ricardo Anaya 'Richy Rich,' the poll by newspaper Reforma showed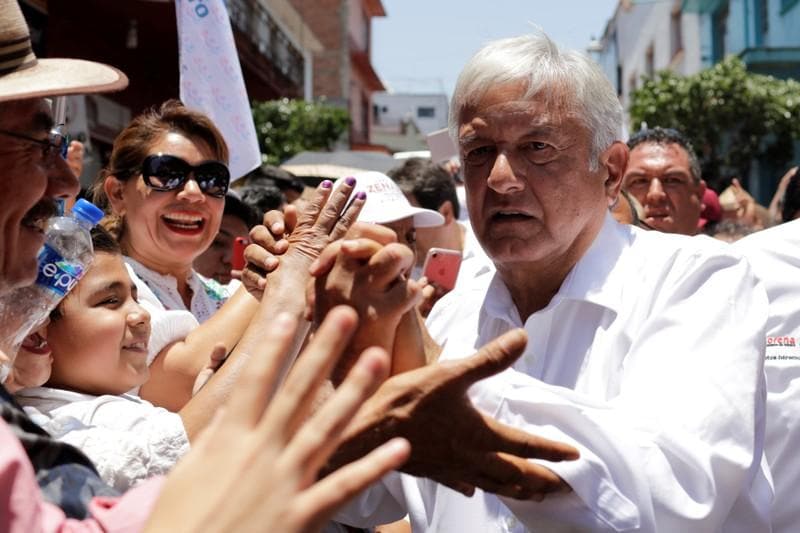 MEXICO CITY (Reuters) - Just over a month before Mexico's presidential election, more than half of voters support leftist Andres Manuel Lopez Obrador, a survey showed on Wednesday, while they pulled support from the poll leader's main rival following attacks on his honesty.
Andres Manuel Lopez Obrador, in his third bid for the presidency, gained more followers after a televised debate in which he dubbed second place candidate Ricardo Anaya "Richy Rich," the poll by newspaper Reforma showed.
In the debate, Lopez Obrador theatrically clutched his wallet, saying he wanted to protect it from Anaya, who has faced sustained criticism by opponents for his business dealings and decision to move his family to Atlanta for several years.
Anaya, who heads a centrist coalition and trailed Lopez Obrador by 26 points in the poll, denies any wrongdoing.
Lopez Obrador is riding a wave of anger against the ruling party amid rising violence, corruption scandals and sluggish growth.
A victory for the former Mexico City mayor could usher testier relations with the United States, Mexico's principal trading partner, and a shift in direction for the country's economy, with more skepticism about foreign investment, especially in the energy sector.
The May 24-27 voter poll showed 64-year old Lopez Obrador with 52 percent support, up 4 percentage points from a Reforma survey carried out in late April. It was the paper's first poll since the May 20 debate.
Lopez Obrador responded by posting the poll on his Twitter feed and calling on supporters to keep working hard to ensure his victory.
"You won't win the fight laying in the hammock," he wrote.
Anaya lost four points to 26 percent. In third place was ruling party candidate Jose Antonio Meade, whose backing rose two points to 19 percent.
The poll showed Lopez Obrador's Morena party, which he founded after his second run, with 42 percent support in lower house voting, up from 36 percent in the prior poll.
The poll showed support for the conservative National Action Party (PAN) fell four points to 20 percent while the ruling Institutional Revolutionary Party (PRI) gained two points to 18 percent.
The poll surveyed 1,200 voters in their homes with a margin of error of +/- 3.8 percentage points.
(Reporting by Michael O'Boyle; editing by Nick Zieminski and Steve Orlofsky)
This story has not been edited by Firstpost staff and is generated by auto-feed.
Business
By Katanga Johnson WASHINGTON (Reuters) - Global equities set both an intraday high and record close on Tuesday as markets as investors weighed the latest U.S. economic data for signs of a rebound and rising inflation while Wall Street's main indexes wavered before ending little changed. Graphic: Global asset performance http://tmsnrt.rs/2yaDPgn Energy shares were among the best performing during the session as the OPEC+ alliance agreed to hike output in July and gave a bullish forecast.
Business
(Reuters) - Zoom Video Communications Inc reported better-than-expected quarterly revenue on Tuesday, benefiting from steady demand for its video-conferencing platform as people wary of the pandemic continued school and work from home. Zoom became a household name during the pandemic as businesses and schools switched to its video conferencing platform for virtual classes, office meetings and social catch-ups.
World
By Michele Kambas NICOSIA (Reuters) -Cyprus's ruling conservatives emerged as winners but failed to get an absolute majority in a parliamentary election on Sunday, with voters turning to smaller parties, including a right-wing party with links to Greece's now outlawed Golden Dawn.