As Imran Khan crosses 100-day threshold, Pakistan PM's constant U-turns and over-reliance on army is troubling
Imran should enjoy the army saluting and kowtowing to him while it lasts. One step out of line, and that flattery will end.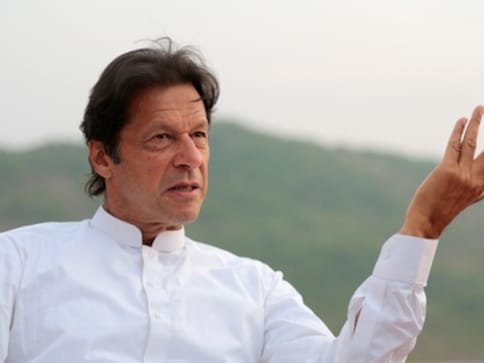 Pakistan prime minister Imran Khan certainly doesn't lack courage or patience. Both qualities were apparent in his interview with a large group of television anchors just after his first 100 days in office. Quite unlike the usual prime ministerial exposition of successes, the interview had frequent interruptions from the media and some very uncomfortable questions from some of Pakistan's most redoubtable journalists. Overall, Imran emerged more naïve than crafty, and hardly recognisable as a politician. The problem is that this works both for and against him.
First, it is as well to say that the '100 days' concept itself is rather flawed in noisy South Asian democracies, where any policy movement inevitably trips over diverse interests and underground actors, sometimes within the government itself. But that hundred days is usually quite enough to provide an assessment of the direction the government intends to follow. Most importantly, in the case of Pakistan, it also shows whether a usually powerless prime minister has enough room to manoeuvre to actually get anything done.
Evaluating this from the inside out, first comes the issue of the economy. It is true that Imran inherited a debt-ridden and hollow economy, which was probably far worse in detail than anyone knew at the time. Therefore, his May 2017 statement that he would rather "commit suicide" than go to the International Monetary Fund, can't really be held against him. It was his later actions that were surprising. The attempt at "crowdsourcing" the building of dams, a scheme originally launched by the excitable chief justice, was backed in its entirety by the government with Imran appealing to overseas Pakistanis to support the fund.
No one with any financial sense would have expected to raise $12 billion in this way, and the best that can be said of it is that is that it did seem to have led to thousands of Pakistanis contributing to the fund in an upsurge of nationalism. Any sense of achievement however, soon dissipated in a series of memes and social media satire. What came next was worse. Apart from his remark just before his visit to China that Pakistan was in a "desperate" situation, it was clear that the prime minister was entirely unprepared for the visit, which was a flop by any account.
Beijing has yet to commit itself to any specific aid and the whole exercise was an example of how not to conduct foreign policy. Imran then turned to the Saudis for help, which at least he did get during a controversial "Investment Conference", rather than in his earlier State visit. The $6 billion package — with half as balance of payment support and half as deferred oil payment — ensured Pakistani support at a time of near boycott, and a probable though undefined role in the kingdom's war in Yemen.
There are also rumours that Riyadh may want more "influence" in Pakistan, particularly in Baluchistan. Iran will not be happy. After this, Imran dashed to Malaysia and the UAE, all in search of financial assistance. Both joint statements were replete with talk of "strategic" cooperation, but no commitment of funds emerged. In sum, the spectacle of a prime minister running from pillar to post without much success was hardly edifying to Pakistanis or potential investors.
But here's the difference. In his interview, Imran made no effort to hide the fact that he spent his first 100 days trying to find money to run a State that had forex to tide over just three months of imports. His predecessor Nawaz Sharif was equally dependent on foreign support, but had the political acumen to hide the country's financial distress. In international politics, honesty doesn't pay: image is everything. The result is no uptick in investments and poor economic forecasts. So no, the first 100 days has not been good for the economic future.
All of this could still be put down to the newbies in government, and lack of experience in public relations. What followed was more serious in terms of how Imran intends to run his team. With the economy still in the slough, the State Bank sanctioned a second devaluation of the rupee and a huge uptick in interest rates: which drove the rupee value down an unprecedented Rs 144 against the dollar. What was damaging however, was Imran distancing himself from the movie, which was more than apparent in his interview.
The debacle showed that neither the party, nor the government was willing to back the finance minister in taking hard decisions. Rumours of virtual fisticuffs in meetings were believed because of frequent run-ins between senior party members. This is not just about the ability to stomach fiscal austerity measures to stabilise the dangerously ailing economy. It's about standing together. Kaptaan seems to have forgotten his cricketing days and the need to hold the team together. Though he eventually praised the financial team, commentators could hardly forget his earlier erratic behaviour in ditching of Princeton-educated Atif Mian on the grounds of being an Ahmadi. Overall therefore, Imran doesn't exactly shine in the leadership category in his first 100 days.
Unsurprisingly, the Pakistani media has been accusing him of frequent "U-turns". In other words, Imran says one thing and does another. For instance, promises of cutbacks in government have been belied with a steadily growing Cabinet and silence on austerity measures. Commitments to freedom of expression have not been retracted so much as reversed, and that too on a considerable scale. Major newspapers have been muzzled, and the Pakistan TV and broadcasting corporations have been packed — to be fair as before — by government confederates. The Director General Inter-Services Public Relations (ISPR) Major General Asif Ghafoor is everywhere. No, Imran is no upholder of media rights and open expression. And no, that's unlikely to change very much, since it is the security forces who are doing the enforcing.
Other U-turns are more interesting. Imran's address to the nation in response to the antics of the far right as personified by Khadim Rizvi, head of the extremist Tehreek-e-Labbaik Pakistan (TLP) was unprecedented: warning of action in no uncertain terms if they upscaled their protests. That took courage. A U-turn followed almost immediately, possibly after his meeting with the army chief, when Imran offered negotiations in what seemed to be a total sell out to the far right. But here's the surprise. Just weeks later, security forces swooped down to arrest not just Rizvi but hundreds of his supporters. Despite fears of a huge reaction, nothing very much happened. One for Imran, none for Rizvi and the far right. It seems 'Taliban Khan' changed his colours. But one U-turn doesn't meant a pathway. There are hundreds of other such groups, with the Lashkar-e-Taiba queening it over them all. And it is here that Imran's performance will be watched.
There is one area where Imran seems to feel he can take credit. In the interview, he proudly asserted that he was backed fully and completely by the Pakistani Army (or the military establishment) in all his policies. Towards this, he cited the Pakistan Army's support for the opening of the Kartapur Corridor. Reports suggest the idea originated from the army chief, which means it was not the army following him, but the reverse. But that's nothing unusual.
What is interesting is why the army proposed it, since similar proposals by Nawaz Sharif and Benazir Bhutto went nowhere. Clearly, the army sees a need to project Pakistan's ability to reach out to India, which — as any man on the street would have concluded — could not fully come on board given coming general elections. Smart strategising, but that's the Pakistan Army all over. All this is very well, and indicates that the army is on board in advice on both internal and external policies. Unfortunately, history shows that military establishment support is something that most Pakistani politicians have enjoyed in their first 100 days. It is when they start taking independent steps on foreign policy in particular, that the trouble starts. The best test of this will be when Pakistan unveils its 'Kashmir negotiation" strategy and what it is willing to be seen to offer. Interesting times lie ahead.
To get a more accurate picture of Imran's achievements in his first 100 days, Dawn newspaper compiled a "Naya Pakistan Tracker" which shows just one Otask completed (forming a task force to bring back looted money), three partially complete, 26 in progress and 19 not done. Notice that the difficult areas like madrassa reform have not even begun. Though the tracker is a useful tool for evaluation, it misses out on the promises made by the PTI. One of these was to create a South Punjab province, which all concerned seem to have forgotten.
A second was to deal fairly with the issue of "enforced disappearances" in Baluchistan. The language on this during his interview was unfortunate to say the least. First, Imran virtually admitted that security forces were lifting Baloch youth off the streets, and that the "knock in the night" was a reality. Second, his virtual dismissal of the Baloch as seeming to be not part of Pakistan at all, revealed his very real Punjabi identity. As Baloch organisations have been saying, Imran is no different from his predecessors in simply ignoring the Baloch question, and more dangerously, seeming to be willing to leave it to the army.
So here's the sum. This is a Prime Minster who's hot-footed in pursuing the best possible path for Pakistan, with probably no desire to enrich himself in the process. In just this one quality, he stands alone. His popularity comes from that single obvious quality. However, Imran the politician is yet to fully emerge. Certainly, he has the single-minded and self-centred approach common to politicians everywhere. But his "U-turns' show that he's still experimenting, and zig-zagging, sometimes dangerously.
The off-loading of two Pashtun politicians Mohsin Dawar and Ali Wazir from a Dubai-bound flight is but one example. His frequent threats against Opposition members is another. Imran likes power. He just hasn't learnt to exercise it. Meanwhile, all indications are that he likes relying on the army. That brings him more power, certainty in an extremely unstable situation. Besides, it must be nice to have that sea of khaki saluting and kowtowing to him. Imran should enjoy it while it lasts. One step out of line, and that flattery will end.
World
Pakistan's election commission on Tuesday said that Imran Khan's party received funds against the rules from 34 foreign nationals, including a businesswoman of Indian origin, in a major setback to the former prime minister
Sports
Prime Minister Shehbaz Sharif's PML-N, managed to win just four seats .PTI won 15 out of 20 provincial seats that were up for grabs in Pakistan's most populous province, Punjab
India
The coalition government, led by Prime Minister Shehbaz Sharif, earlier filed a reference to the ECP asking for the former premier's disqualification