As BJP and Congress spar over EVM hacking, a look at history of 'rigged' elections from across the world
Manipulating elections has been rampant for decades, with some of the world's most influential and well-known leaders such as Donald Trump and Sheikh Hasina being elected through rigged polls.
A political slugfest between the ruling BJP and the Congress is underway after an expert claimed that EVMs were hacked in the 2014 Lok Sabha elections.

Such accusations are not special to India, with some of the world's most influential and well-known leaders being elected through rigged elections.

The 1927 Liberian presidential election, the 2013 Pakistani presidential election, and the 2016 US presidential election are among some of these.
The political slugfest between the ruling Bharatiya Janata Party (BJP) and the Congress over electronic voting machines (EVMs) got a new twist after an Indian "cyber expert" in London claimed that EVMs were hacked during the 2014 Lok Sabha elections.
Indeed, allegations of voter fraud have been made throughout the early 20th century, long before EVMs were in use. Here's a look at some infamous elections where such accusations have been made from across the globe:
2018 Bangladesh general election:
Bangladesh prime minister Sheikh Hasina in December swept the country's 2018 general election, while rejecting Opposition complaints of vote rigging. Opposition candidates claimed ballot-stuffing and vote rigging by ruling party activists, who also barred Opposition polling agents from voting centres, reports said.
Opposition leader Kamal Hossain, 82, called the election "farcical" and asked for the commission to order a fresh vote under a neutral administration "as soon as possible."
"The whole election was completely manipulated," Hossain said. "It should be cancelled. We've had bad elections in the past, but I must say that it is unprecedented how bad this particular election was. The minimum requirements of free and fair election are absent."
Bangladesh's Election Commission said it was investigating allegations of vote rigging but rejected demands for another vote. Meanwhile, Human Rights Watch expressed concern over the election's credibility and Amnesty International called for an impartial probe into "deeply disturbing" election violence.
2013 Pakistani general election:
Controversy erupted in 2013, when former Pakistan Muslim League chief Nawaz Sharif was elected prime minister. Imran Khan, then candidate for the Tehreek-e-Insaf, claimed the elections were rigged. "Police (were) used, and how the — the staff of the Election Commission were used," he said. "And unfortunately it's because the provincial governments were in power right up till 20 days before the elections — so they had plenty of time to place their people."
In addition, the Chief Election Commissioner conceded that the Election Commission failed to conduct free and fair elections in Karachi, Pakistan's largest city of 20 million and its main economic hub. The Election Commission eventually admitted that it had no control of the Returning Officers, the persons responsible for overseeing the election at individual polling stations.
The 2018 elections in Pakistan were also marred by accusations of media censorship, intimidation of candidates, fears of a "creeping coup", alleged interference of intelligence agencies and deadly attacks.
2006 Mexican general election:

The Mexican general election in July 2006 was one of the most hotly-contested elections in history, where it was found that 8.8 percent of the population that was not a beneficiary of a specific social programme was offered compensation for their vote.
In addition, former prime minister and honourary chairman of the Popular Party in Spain José María Aznar, was alleged to have illegally interfered with the election. Losing candidate Ándres Manuel López Obrador said not only did his opponent Felipe Calderón stuff ballot boxes and dispose of votes for Obrador, but that the country's highest electoral tribunal, which ruled that evidence of electoral fraud was not found, itself was bribed.
According to reports, in over half of the 130,000 polling places, the poll workers did a poor job of keeping track of ballots. In thousands of cases, they recorded that they had received fewer ballots in the morning than were found deposited in the boxes at the end of the day, suggesting that extra votes were added. In thousands of others, the ballots cast added to those left over did not equal the number of ballots poll workers had received in the morning, suggesting that some ballots were missing.
However, federal election officials said all these discrepancies were the result of human error, even though they surfaced in about 70,000 polling places.
Every election in Equatorial Guinea since 1996:

Equatorial Guinea has a reputation for corruption and human rights abuses, allegations the government denies. Critics say oil money is funneled to a rich elite while much of the country is mired in poverty
In addition, Equatorial Guinea president Teodoro Obiang has managed to maintain power in the island nation for over three decades, while his opponents have maintained that elections in the small West African oil producer have been consistently rigged. Obiang has been accused of electoral fraud in every election, including 2009 when a voting official was reportedly forced to sign off a vote count with a pistol to his skull, and 2016 where many opposition voters were prevented from voting. The most infamous, however, comes from 2002, where Der Spiegel found that some electoral areas gave him a whopping 103 percent of the vote. Opposition leaders who called the poll a farce have been jailed and even killed.
1927 Liberian presidential election:
The 1927 presidential elections in Liberia, termed "the most rigged ever" by members of the nation's election commission, saw victory for Charles DB King of the True Whig Party, who was re-elected for a third term after defeating Thomas J Faulkner of the People's Party.
The controversial election made it into the 1982 Guinness Book of Records as the most fraudulent election ever reported in history. According to sources, suffrage was constitutionally limited to some 15,000 citizens, all American-Liberians, but according to the official election results, some 240,000 votes were cast in King's favour.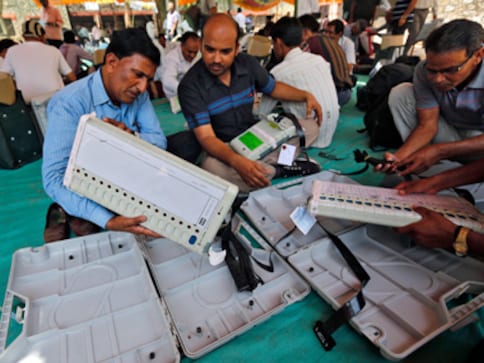 Business
In the annual Budget, Rs 1,891.78 crore has been allocated for purchase of EVMs by the poll panel. Ahead of several assembly polls this year and Lok Sabha elections in 2024, the Union Cabinet had last month approved a proposal for funds to procure additional electronic voting machines for the EC
Opinion
Anti-Indianism is the most important aspect that has been binding the Bangladesh-Pakistan relationship
World
The organisers said the program is meant for registering a protest against the introduction of one-party Baksal rule by Awami League on this day in 1975