Arun Jaitley at IMF: India's 7% vs world's 3.5% growth will headline US visit
In a clear departure from its glum forecasts in recent years, 3.5% is the upgraded number for global growth the International Monetary Fund (IMF) has anointed, basis 3 main triggers - post election surge in the US, global trade buoyancy and good tidings from large emerging markets.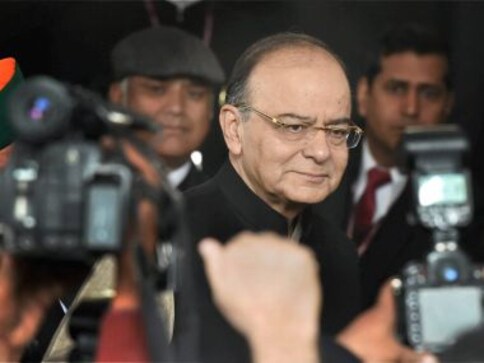 Three point five per cent.
In a clear departure from its glum forecasts in recent years, 3.5% is the upgraded number for global growth the International Monetary Fund (IMF) has anointed, basis 3 main triggers - post election surge in the US, global trade buoyancy and good tidings from large emerging markets.
Where's India? At 7% plus.
That's the pointed message Team India's presence will be reinforcing at the Washington DC talkfest playing this week - Spring Meetings at the IMF in America's capital city.
In a 600 page plus tome released Tuesday, the IMF has given a thumbs up to "long awaited" upturn in global growth global - expected to strain up to 3.5 % in 2017 and a notch higher to 3.6% in 2018. Parallelly, the IMF has not stopped saying, without taking Trump's name, that anti-trade talk could derail a global economic recovery.
India is the only country pegged consistently at a 7% GDP according to latest figures, that's a 5.1% uptick from the previous quarter. The only other countries with numbers above 7 are Iceland and Ireland although on a far smaller population base. China is in the late 6 range, Philippines is in the 7s.
Here's the summary of the 162 page tome the IMF made public Tuesday afternoon in Washington D.C:
"Global economic activity is picking up with a long-awaited cyclical recovery in investment, manufacturing, and trade, according to Chapter 1 of this World Economic Outlook. World growth is expected to rise from 3.1 percent in 2016 to 3.5 percent in 2017 and 3.6 percent in 2018. Stronger activity, expectations of more robust global demand, reduced deflationary pressures, and optimistic financial markets are all upside developments. But structural impediments to a stronger recovery and a balance of risks that remains tilted to the downside, especially over the medium term, remain important challenges. Chapter 2 examines how changes in external conditions may affect the pace of income convergence between advanced and emerging market and developing economies. Chapter 3 looks at the trend in the declining share of income that goes to labor and the root causes. Overall, this report stresses the need for credible strategies in advanced economies and emerging market and developing ones to tackle a number of common challenges in an integrated global economy.
2017 forecast: Link to the IMF video explainer
Finance Minister Arun Jaitley and his A team of Economic Affairs Secretary Shaktikanta Das, RBI Governer Urijit Patel and Chief Economic Adviser Arvind Subramanian will pitch tent in the US East Coast for just short of  a week starting early hours of April 20, splitting their time between Washington D.C and New York.
Link: Complete list of IMF spring meetings.
The last time Arun Jaitley, Chief Economic Adviser Arvind Subramanian and Shaktikanta Das were here in the US for the Fall meetings in 2016, GST was still embattled, the Uttar Pradesh elections were looming at least five months away and the shock move of demonetisation wasn't even a thing. India's surgical strikes against Pakistan had just happened and Jaitely wasn't holding additional charge of Defence at the time as he is now.
Between then and now, a lot of boxes have been checked off - GST, Uttar Pradesh and demonetisation all have been outstanding political triumphs for the Narendra Modi-led BJP as India above the Narmada is enveloped by a blooming ochre lotus.
As the political mood worldwide turns increasingly sullen and crabby, economic cycles are on a synchronised upswing - not atypical in the wide arc of financial history.
For pretty much the first time since a brief rebound in 2010, markets on both sides of the Atlantic - America, Europe and Asia are on the boil.
The White House is occupied by an economic nationalist who is reigning over good job numbers, claiming it as his own quick legacy. Facts though are slightly different - the American economy has added jobs for 78 months in a row now.
Harvard's top economists have long argued that recovery from financial crashes are long and hard - it takes on average about 8-10 years for incomes to creep back up to pre-crises levels. It's exactly thereabouts now.
While the IMF annual meetings in recent times have been beseiged by worries of navigating a complicated post-Brexit, post-Trump, hyper nationalist world of increasing protectionism and low interest rates, India is routinely quoted as an "exception" and the script is unlikely to be much different this time.
What Jaitley told Firstpost on the sidelines of the September 2016 IMF meetings remain a strong messaging template six months on: "The world is moving slowly and nobody knows how long this phase will continue. There are no global specifics in a response. There are generalities that you must use all fiscal tools, all monetary policy tools, you must have structural reforms - so we have to learn to live in India in an environment where the world is going to move slowly and that world is not going to be very supportive of growth. The Indian positives broadly are that we have increased public investment, also because compared with the rest of the world, we are growing much faster, we have become the natural recipients of a higher level of FDI. Good monsoon, pay commission recommendations, reasonable growth rate, domestic demand including rural demand has picked up. Structural reforms in India in terms of direction and taking decisions are easier than ever before."
The only thing that's changed is for the Finance Minister himself - the last time he was in D.C, he brushed aside questions on India's surgical strikes saying that's not his baby. This time, he returns to America's capital as India's Defence Minister and #Kashmir questions will be on his watch.
Politics
More than 40 leaders from 33 parties attended the all-party meeting on Sunday and discussed which subjects should be brought up during the Monsoon session of the Parliament scheduled to begin on Monday
India
Syed Ahmad Shakeel and Shahid Yousuf, sons of Hizbul Mujahideen chief Syed Salahuddin, were dismissed from service for allegedly being involved in terror funding, the officials said
India
The traditional bone-setters in Kashmir do not have any formal qualification, however, the remedies and treatment they offer have earned them quite a bit of fame.