Around 25,000 protest immigration stance of Merkel's Bavarian allies
MUNICH (Reuters) - Around 25,000 people braved the rain in Munich on Sunday to protest the hardline immigration stance of Chancellor Angela Merkel's Bavarian allies three months before they face a tough state election in Bavaria. The protest is another sign of the Christian Social Union's (CSU) waning popularity after an Infratest poll published last week put its support in Bavaria at 38 percent, compared with the 47.7 percent it secured in a 2013 regional election. March organisers said in a statement they were demonstrating against the 'irresponsible divisive politics' of top members of the CSU which governs Bavaria and is the sister party to Merkel's Christian Democrats (CDU)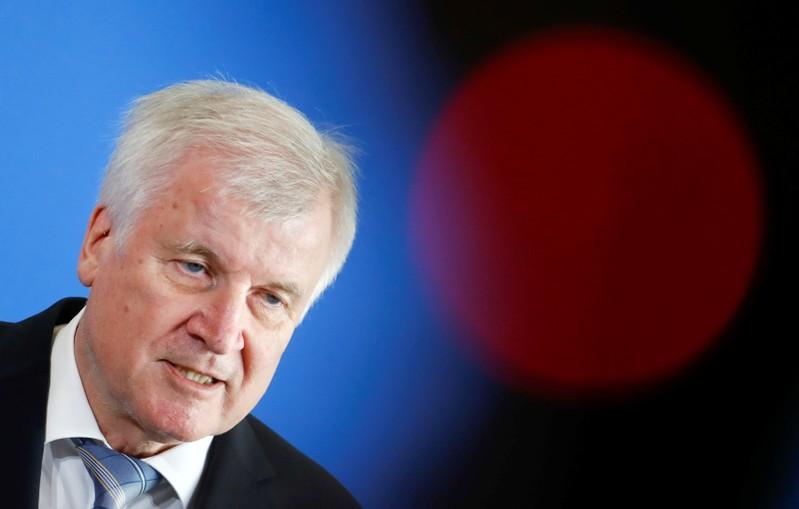 MUNICH (Reuters) - Around 25,000 people braved the rain in Munich on Sunday to protest the hardline immigration stance of Chancellor Angela Merkel's Bavarian allies three months before they face a tough state election in Bavaria.
The protest is another sign of the Christian Social Union's (CSU) waning popularity after an Infratest poll published last week put its support in Bavaria at 38 percent, compared with the 47.7 percent it secured in a 2013 regional election.
March organisers said in a statement they were demonstrating against the "irresponsible divisive politics" of top members of the CSU which governs Bavaria and is the sister party to Merkel's Christian Democrats (CDU).
They mentioned CSU leader and interior minister Horst Seehofer and CSU Bavarian state premier Markus Soeder and said they were taking a stand against a "politics of fear" and a societal shift to the right.
Seehofer's immigration stance nearly brought down Merkel's government earlier this month in a dispute over migration.
By staking out a hard line, Seehofer is trying to bolster his party in the vote, in which the CSU faces a stiff challenge from the far-right.
Seehofer last week deflected blame for the suicide of an Afghan man among a group deported to Kabul, after opponents called for his resignation for boasting that the deportations took place on his birthday.
"I want to speak out against the inhuman statements that have recently come to light from leading CSU politicians," said Axel Weingaertner, one of the demonstrators. "It's unacceptable."
Numerous groups, including the Social Democrats (SPD) - junior partner to the conservatives in the federal governing coalition - the Greens, the radical Left, civil society organisations, church groups and groups of volunteers who work with refugees, had urged people to join the demonstration.
Police estimated the number who took part.
The CSU said on Twitter the protest was "political agitation" and added: "The people in Bavaria know what they have in the CSU."
The Infratest dimap poll showed support for the anti-immigrant Alternative for Germany (AfD) in the prosperous southern state at 12 percent. The AfD, which has seen its popularity soar due an influx of 1.6 million migrants since mid-2014 - is expected to enter the state parliament there for the first time in October.
(Reporting by Reuters TV; Writing by Michelle Martin; Editing by Matthew Mpoke Bigg)
This story has not been edited by Firstpost staff and is generated by auto-feed.
Find latest and upcoming tech gadgets online on Tech2 Gadgets. Get technology news, gadgets reviews & ratings. Popular gadgets including laptop, tablet and mobile specifications, features, prices, comparison.
Business
By Jessica Resnick-Ault NEW YORK (Reuters) - Oil prices strengthened on Wednesday, as OPEC and its allies were seen complying with a pact to cut oil supply in September, even as concerns loomed that recovery in fuel demand will be stalled by soaring global coronavirus cases. Early in the day crude was boosted by a bullish stock market. Even as equities whipsawed on pandemic worries, oil stayed higher, buoyed by expectations that OPEC could staunch a supply glut
Business
By Tina Bellon and C Nivedita (Reuters) - Tesla Inc will further cut the price of its Model S "Long Range" sedan in the United States to $69,420, the electric carmaker's chief executive, Elon Musk, announced in a tweet https://bit.ly/2H0JCP0 on Wednesday. The anticipated drop marks the second time this week Tesla has cut the price for the high-end sedan, following a 4% cut of the Model S's price in the United States on Tuesday to $71,990.
World
By Jeff Mason DES MOINES, Iowa (Reuters) - Under siege over his handling of the novel coronavirus pandemic, President Donald Trump on Wednesday cited what he said was his son's mild bout of the virus as a reason why American schools should reopen as soon as possible. Trump made the comment about his son, Barron, as the president swept into Iowa on a mission to shore up support in battleground states that he won in 2016 but is in danger of losing to Democrat Joe Biden barely three weeks before the election. First lady Melania Trump announced in a statement earlier in the day that the virus that struck both her and her husband had also infected their 14-year-old son