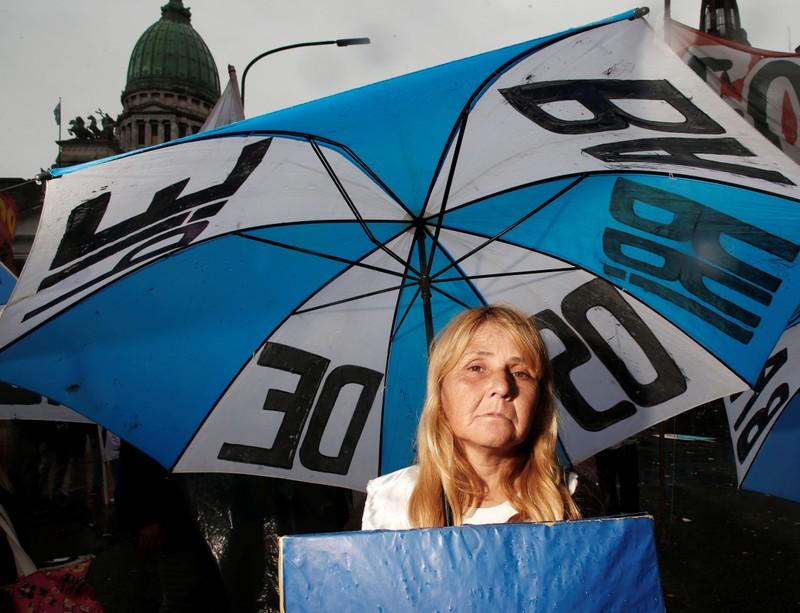 By Gabriel Burin and Maximilian Heath
BUENOS AIRES (Reuters) - Argentina police fired rubber bullets, tear gas and waters cannon at protesters who marched on Wednesday in front of Congress against the government's 2019 budget bill, which contains steep spending cuts aimed at erasing the country's fiscal deficit.
Thousands of activists gathered, led by teachers, social organizations and leftist groups opposed to President Mauricio Macri's austerity measures. Small clusters of protesters hurled rocks, sticks and trash at police who shot rubber bullets and used metal barriers to control the crowd.
Some protesters were seen hurling tear gas canisters back at police lines. Authorities quickly reinforced with a large group of motorcycle police who descended on the crowd.
The same riot control measures were used to push back protesters late last year when Congress approved cuts to Argentina's pension system.
The legislators began discussing the budget in a plenary session shortly before noon. Macri needs the budget to pass to maintain his economic adjustment plan and continue efforts to turn Argentina's recession-hit economy around.
As police moved to stem the violence, lawmakers inside the capitol building squabbled and argued loudly over sticking points, at times disregarding calls for order.
The budget features sharp reductions in government spending and tax increases aimed at cutting the primary fiscal deficit from a projected 2.7 percent of gross domestic product this year to zero in 2019.
Macri has committed to balancing the budget at the behest of the International Monetary Fund, which signed a $57 billion standby financing agreement with the government earlier this year.
(Reporting by Gabriel Burin,; Writing by Scott Squires and Hugh Bronstein; Editing by Bernadette Baum and Richard Chang)
This story has not been edited by Firstpost staff and is generated by auto-feed.
Updated Date: Oct 25, 2018 02:05:39 IST