'Are we guinea pigs?' - France's seniors wary of COVID vaccine
By Michaela Cabrera SARTROUVILLE, France (Reuters) - French nursing home boss Yann Reboulleau was trying to persuade 92-year-old resident Madeleine Bonnet of the merits of taking the COVID-19 vaccine, and he was having a tough time. 'Are we guinea pigs?' asked Bonnet, who used to work as a pharmacist, as she sat across from Reboulleau in the television room of the 'Mon Repos' home while cooks prepared a lunch of bulgur wheat and chicken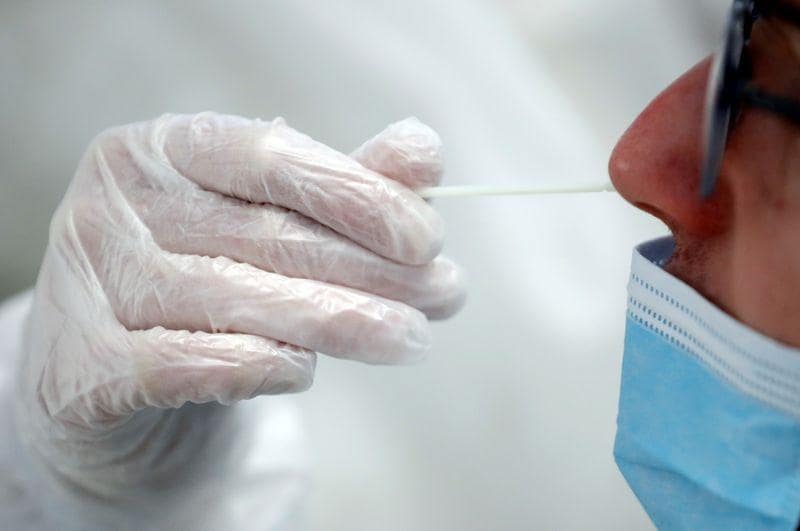 By Michaela Cabrera
SARTROUVILLE, France (Reuters) - French nursing home boss Yann Reboulleau was trying to persuade 92-year-old resident Madeleine Bonnet of the merits of taking the COVID-19
vaccine, and he was having a tough time.
"Are we guinea pigs?" asked Bonnet, who used to work as a pharmacist, as she sat across from Reboulleau in the television room of the "Mon Repos" home while cooks prepared a lunch of bulgur wheat and chicken.
Reboulleau pointed out that vaccines undergo extensive testing to ensure they are safe. Bonnet fired back: "But with how much certainty?"
Scientists say the rollout of COVID-19
vaccines - once the first of them receives regulatory approval for Europe in the coming weeks - will play a huge role in knocking back a virus that in France alone has contributed to more than 58,000 deaths.
But the effectiveness of the vaccine could be compromised, scientists say, by a widespread reluctance of people in France to have it. More than half the population say they will not, or probably not, get inoculated, polls show.
That reluctance is shared at the "Mon Repos" home near Paris, even though the residents, ranging in age from 87 to 100, are among the most vulnerable groups to getting seriously ill or dying from COVID-19
.
In the first wave of the virus earlier this year, the home had a cluster of infections during which four residents died. Nationally, over 17,000 of the COVID-related deaths were in care homes and 93% of all those who died with COVID-19
were 65 or over, public health figures showed.
Laurent Levasseur, chairman of Bluelinea, a company which helps care homes handle the virus, including "Mon Repos", said his company had surveyed residents by phone and those undecided or against having the vaccine outweighed those in favour.
Sitting next to a Christmas tree, Bonnet said she was suspicious about the motives of the pharmaceutical companies rushing to get their vaccines approved and rolled out in record time.
If their actions were driven by profit, that made her uncomfortable, she said. If the scheme was to advance medical science, she was in favour, and was willing to be part of it.
For now though, she was undecided about whether to have the jab when it is offered to her. "We'll see," she said.
(Writing by Christian Lowe; Editing by Janet Lawrence)
This story has not been edited by Firstpost staff and is generated by auto-feed.
Find latest and upcoming tech gadgets online on Tech2 Gadgets. Get technology news, gadgets reviews & ratings. Popular gadgets including laptop, tablet and mobile specifications, features, prices, comparison.
World
By Kate Holton LONDON (Reuters) - The post-Brexit woes facing Scotland's fishing industry deepened on Saturday as its biggest logistics provider, DFDS Scotland, said it would halt exports to the European Union through one of its main services until at least Wednesday. Previously the company had said it would take until Monday to resume its "groupage" export service - which allows exporters to ship multiple products in a single consignment - while it tries to fix IT issues, paperwork errors and a backlog of goods. DFDS's move represents another blow for Scottish fishermen who this week warned that their businesses could become unviable after Britain shifted to a less integrated trade deal with the EU at the turn of the year
World
VATICAN CITY (Reuters) - Pope Francis said on Saturday he planned to be vaccinated against COVID-19 as early as next week and urged everyone to get a shot, to protect not only their own lives but those of others.
World
By Rich McKay (Reuters) - A man photographed carrying off the Speaker's lectern during the Capitol Hill riots was arrested late Friday, while a top Democratic lawmaker on Saturday called on mobile carriers to preserve social media content related to the riots. Dozens of people have been charged following the storming of the Capitol on Wednesday, with the FBI asking the public for help identifying participants, given the proliferation of images of the riots on the internet.