Are Afghanistan and Bangladesh emerging as key allies to India and isolating Pakistan?
Pakistan's troubled relationship with Afghanistan and India has only warmed the two countries to each other; the enemy's enemy is a friend.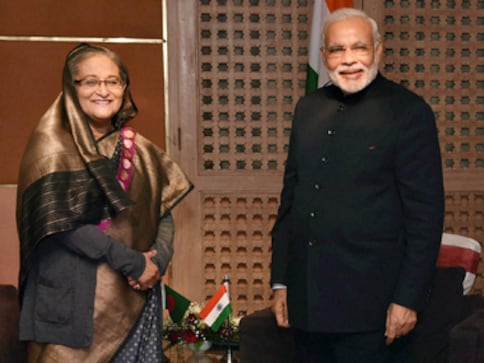 Nobel Literature Prize winner Bob Dylan famously sang The Times They Are A-changin. Now, not only does it apply to a singer-songwriter winning a Nobel prize in literature, it also, quite oddly, applies to foreign policy. Quite specifically to Pakistan's neighbours who are increasingly moving away from the country that cannot get its act right.
In an exclusive interview to The Hindu's Suhasini Haider, Bangladesh Prime Minister Sheikh Hasina spoke in detail about the impending pressure on her to snap ties with Islamabad and how her country "feels frustrated" with Pakistan due to its export of terror.
Bangladesh has certain sensitivities over the International Crimes Tribunal (ICT of Bangladesh), where Pakistan showed its dissatisfaction with our processes and even raised the issue in their parliament. They started interfering in our internal affairs by making unacceptable remarks. We felt hurt by this, as this is an internal matter for us, we are trying war criminals in our country, and it isn't their concern. There is a lot of pressure on me to cut off all diplomatic ties with Pakistan for their behaviour. But, I have said the relations will remain, and we will have to resolve our problems. The fact is, we won our liberation war from Pakistan, and they were a defeated force. We won the war and freed the country from them, and it is expected that they won't take it so well.
Bangladesh and Pakistan have a bloody history — the 1971 Bangladesh Liberation War saw the Pakistani army ruthlessly and systematically rape lakhs of women and girls and kill the men and boys. Bangladesh executed Islamist leaders (Jamaat-e-Islami's Mir Quasem Ali) on the charges of war crimes. Since then, the two countries have been simmering in mutual anger. The execution, Hasina says, has brought a sense of closure — "it was a national demand... that these people must be tried".
Undoubtedly, India has been a keen player in the relations between the two countries: In a way, it was the partition that started it all. Britain's exit from the country left behind two new land masses — India and Pakistan — and millions of people crossed lines. The 1947 partition also created an eastern wing Muslim-majority of Pakistan, called East Pakistan. Subsequently, a civil war broke out in 1971 and thus East Pakistan transformed into Bangladesh.
Bangladesh has been a key ally for India since then. Apart from being members of Saarc, the Commonwealth, IORARC, BIMSTEC and established diplomatic relations, there has always been a shared history, culture and language between the two countries.
According to the Ministry of External Affairs, Bangladesh is an important trading partner for India. Two-way trade in the financial year 2012-13 was $5.34 billion, out of which India's exports to Bangladesh accounted for $4.776 billion and imports were $0.564 million, with duty free access from India to Bangladesh given for all items except 25. Indian companies such as Airtel and Marico have invested in Bangladesh and the latter has started importing 500 MW of power from India since 2013.
In fact, relations have been so good that the Bangladesh government is even likely to review the ban on hilsa export to India, reported Dhaka Tribune. 
In 2015, there was a breakthrough in Indo-Bangla ties after the Indian Parliament's ratification of the 1974 India-Bangladesh Land Boundary Agreement (LBA). The LBA puts an end to border disputes that has been ongoing for 70 years: there are 111 Indian enclaves in Bangladesh spread over 17,000 acres and 51 Bangladesh enclaves in India spread over 7,110 acres. The two countries will assume sovereignty over all enclaves in its territory, while the people in these enclaves can choose to live in either Bangladesh or India and will be granted citizenship, accordingly.
This agreement is seen as India being fair and friendly to Bangladesh; a gesture of goodwill. It also sends a message to Pakistan that perhaps disputed territories (here Kashmir) can be solved with a friendly agreement. Bangladesh, on its part, has been constantly eliminating Indian insurgents in its territory by stepping up its operations.
With the Asian Development Bank (ADB), India is developing various infrastructure projects worth $5 billion in South Asia to improve connectivity in the region. "With ADB support, India is presently developing two priority road corridors. The first will connect India with Bangladesh, Nepal and Bhutan through the 'chicken neck' area of North Bengal," Economic Affairs Secretary Shaktikanta Das said earlier in May.
It's not just Bangladesh that has been warming up to India. Afghanistan, which has been mounting an offensive on Pakistan, has been offering India, options to the Indus Waters Treaty. According to a report in The Economic Times, the river Kabul is of interest as it is seen having identical features to Chenab, "including similar recorded average flow of around 23 million acre feet", which Afghanistan wants to use for irrigation and electricity.
Pakistan's troubled relationship with Afghanistan and India has only warmed the two countries to each other; the enemy's enemy is a friend. Under Pervez Musharraf's administration, Pakistan even backed the Taliban in Afghanistan.
Ongoing border clashes between Afghanistan and Pakistan have worsened relations between the two countries. Afghans believe that Pakistan has been manipulating their country and the United States since the Soviet invasion of the 1980s. Pakistan has been quite insecure when it comes to the Durand Line — even as the colonial-era border is viewed by the United States as the official border separating Afghanistan and Pakistan, the two countries have questioned its legitimacy.
For its part, Afghanistan has lost half of its traditional Pashtun territories and Balochistan to Pakistan, thereby landlocking it. For Afghanistan, the only access to the Arabian Sea and Indian Ocean is through Pakistani territory. Pakistan, on the other hand, wants to make the Durand Line the legal border and restrict the movement of people, particularly to prevent activities of the Tehrik-e-Taliban Pakistan (TTP) from using Afghanistan as a hiding place.
Then there is the issue of the Torkham crossing, which is the most frequented crossing point between the two countries. On 1 June, Pakistan imposed strict border controls to crackdown on militants planning attacks — Afghans looking to cross require valid passports to do so. Pakistan has also started building a gate on its side of the border to check illegal movement.
India, meanwhile, has been playing its cards right with Afghanistan. It has commissioned the Salma Dam, now renamed the Afghanistan-India Friendship dam, which is a major commitment that Delhi has kept up. It also announced a billion dollar-aid for future development assistance, which brings the total up to over $2 billion, and it has been warmly appreciated by the people of Afghanistan. India is reportedly Afghanistan's fifth largest donor overall, in addition to being by far the largest donor in the region.
India was also the first country with which Afghanistan had signed a defence pact, called a strategic partnership agreement, in October 2011 during former president Hameed Karzai's tenure. More importantly, Afghanistan has backed India's cross-border surgical strikes on terror launch pads in Pakistani territory, saying "it is time to take bold action".
Afghan Ambassador to India Shaida Mohammed Abdali, speaking to reporters, said, "Pakistan can't stay in a constant state of denial and cannot remain unanswered."
With inputs from PTI
also read
Explainers
Bernand Arnault, who owns LVMH – which includes luxury brands such as Louis Vuitton, Moet & Chandon, and Christian Dior – saw a considerable drop in his fortune after shares of the conglomerate declined five per cent on Tuesday. Arnault's net worth is currently at $192 billion
Explainers
The term 'comfort women' has been given to people that were forced to work as sex slaves by the Japanese Army during World War II. It comes from the Japanese word ianfu – which combines the Chinese characters 'comfort or solace' (i-an) and woman (fu)
Explainers
The trouble kicked off after armed miscreants forced people to shut their shops on Monday afternoon. A mob then torched two homes in Imphal, causing security forces to rush to the spot. Chief Minister Biren Singh has said the situation is now under control