Arc de Triomphe bomb alert in Paris lifted: police
PARIS (Reuters) - The areas around the Arc de Triomphe and Eiffel Tower in central Paris have been reopened after briefly being evacuated on Tuesday for security alerts, police told Reuters. The Arc de Triomphe area and surrounding subway stations had been evacuated following a bomb alert, but by 1630 GMT traffic was back to normal, police and witnesses said. The Paris Champ de Mars park around the Eiffel Tower had also been evacuated briefly following the discovery of a bag filled with ammunition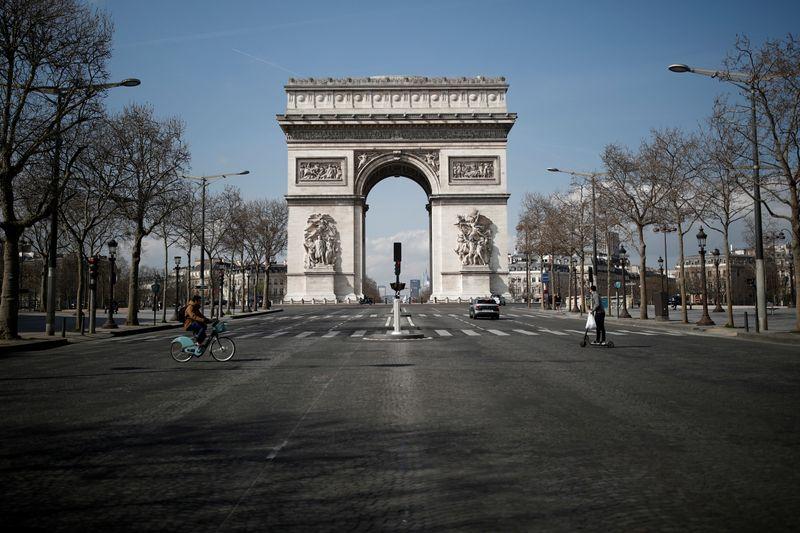 PARIS (Reuters) - The areas around the Arc de Triomphe and Eiffel Tower in central Paris have been reopened after briefly being evacuated on Tuesday for security alerts, police told Reuters.
The Arc de Triomphe area and surrounding subway stations had been evacuated following a bomb alert, but by 1630 GMT traffic was back to normal, police and witnesses said.
The Paris Champ de Mars park around the Eiffel Tower had also been evacuated briefly following the discovery of a bag filled with ammunition.
Two local French news sites showed pictures of a blue bag with different kinds of ammunition.
France is on high alert following the beheading of a teacher this month by an 18-year-old Muslim man angry about the use of cartoons of the Prophet Muhammad in a civics lesson.
There have been several false bomb alerts, most recently in the Lyon railway station last week and at the Eiffel Tower a month ago.
(Reporting by Geert De Clercq and Thierry Chiarello; Editing by Catherine Evans and Nick Macfie)
This story has not been edited by Firstpost staff and is generated by auto-feed.
Find latest and upcoming tech gadgets online on Tech2 Gadgets. Get technology news, gadgets reviews & ratings. Popular gadgets including laptop, tablet and mobile specifications, features, prices, comparison.
Business
WASHINGTON (Reuters) - U.S. job openings increased moderately in September and layoffs appeared to abate, pointing to a gradual labor market recovery from the COVID-19 pandemic.
Business
By Balazs Koranyi and Francesco Canepa FRANKFURT (Reuters) - Taking a break from fighting the coronavirus crisis, the world's top central bankers will attempt to resolve the existential questions of their profession this week as they tune into the European Central Bank's annual policy symposium. Having struggled to lift anaemic inflation for years, officials including the heads of the ECB, the U.S. Federal Reserve and the Bank of England will attempt to figure out why monetary policy is not working as it used to and what new role they must play in a changed world - be it fighting inequality or climate change.
Business
By Lawrence Delevingne BOSTON (Reuters) - Asian shares rose on Wednesday as hopes for a successful coronavirus vaccine lifted expectations of a swift reopening of the global economy, which would help the region's heavily trade-dependent markets.