AR Rahman enthrals packed audience at UN concert to celebrate Independence Day
AR Rahman enthralled a packed audience at the iconic UN General Assembly hall with his renditions of Indian Carnatic legend MS Subbulakshmi's music.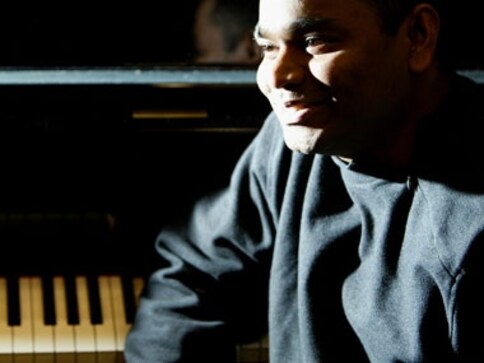 United Nations: Oscar-winning composer AR Rahman enthralled a packed audience at the iconic UN General Assembly hall with his renditions of Indian Carnatic legend MS Subbulakshmi's music, Sufi songs and the foot-tapping 'Jai Ho' at a concert to mark India's 70th Independence Day at the United Nations.
Rahman, 49, became only the second Indian artist after Subbulakshmi to perform in the General Assembly hall, which is the usual platform for global leaders to address the world.
The concert, organised by India's Permanent Mission to the UN with the support of Sankara Nethralaya, an India-based civil society organisation, on India's 70th Independence Day, was a tribute by Rahman to Subbulakshmi on the occasion of her birth centenary.
This year also marks the 50th anniversary of her performance at the UN.
The first ever musician to be awarded India's highest civilian honour the Bharat Ratna, Subbulakshmi was invited by the then UN Secretary General Late U Thant to perform at the General Assembly in October 1966, becoming the first Indian to perform there.
The audience of ambassadors, diplomats and Indian-Americans welcomed Rahman with a thunderous applause and loud cheers as he stepped on stage, dressed in traditional Indian attire.
Through the nearly three-hour long concert on Monday, Rahman and his troupe performed Subbulakshmi's music and compositions.
A highlight of the concert was performances by students of Sunshine Orchestra, an initiative by the AR Rahman Foundation, that teaches music to underprivileged youngsters.
"From today, you are privileged, you are not underprivileged anymore," Rahman said as a word of encouragement to the students as they geared to perform on the UN stage.
Rahman's two sisters also performed on stage along with noted singers Javed Ali and renowned percussionist Sivamani. Rahman, sitting amid his musical instruments on one side of the UN stage, rendered one soulful number after another as his troupe gave mesmerising performances of Subbulakshmi's Carnatic music.
To loud cheers and applause, Rahman also performed some of his most popular songs including from movies such as Dil Se and Bombay as well as a rendition of Vande Mataram.
Towards the end of the concert, Rahman and his group performed Sufi songs, including Khwaja Mere Khwaja, Kun Faya Kun and Maula, Maula.
The grand finale was the foot-tapping song Jai Ho from the movie Slumdog Millionaire, for which Rahman had won Oscars and several prestigious global awards. As Rahman and his troupe began the song, several people in the audience broke into a dance.
Closing the concert, Rahman made an appeal for peace saying killing one another will not solve the world's problems.
"...We still kill each other. In my lifetime I want to see a world where people do not fight and kill each other but find better methods to solving conflicts. Let us hope in our lifetime we see this change," he said to a huge round of applause.
Rahman, known to be a man of few words, said in the beginning of the concert that he had a long speech prepared but decided against delivering it, letting his music do the talking for him.
In his homage to Subbulakshmi, Rahman said she had performed at the UN a year before he was born.
"For us, she is a case study" of how a person with humble beginnings can conquer and rise above the caste and class system and become an "ultimate icon" for every aspiring singer.
Her life was the inspiration behind Rahman's Sunshine Orchestra, which was started about a few years ago and teaches eastern and western classical music to underprivileged children, he said.
"Today these children have pushed their boundaries and are almost ready for the world," he said.
Addressing a press conference earlier in the day, Rahman said he is "very excited" to be paying a tribute to Subbulakshmi at the UN.
"It is one of my duties to come here and celebrate her," he said, adding that he considers the music legend "God of my culture".
Addressing the audience before the concert, Minister of State for External Affairs MJ Akbar lauded the significance of music in India's freedom struggle as well as its role as a unifying power.
"Our journey towards freedom is represented by two songs — 'Vande Mataram and Jann Gann Mann'," Akbar said.
He said that while other countries first formed a nation and then created an anthem, India "created anthems first and then formed a nation".
"Music is the most powerful expression of the soul of India because it inspires that spark of divinity that lives in every human soul," he said, describing musicians as "ambassadors of God".
"...Every morning in India begins with music. Every morning in every corner in India begins with the music of the Azaan, followed by the music of the Hanuman temple, followed by the music of the Gurudwara and then by the music of Church bells," he said amid a huge round of applause, adding that one should "thank destiny for making us Indians".
India's Permanent Representative to the UN Ambassador Syed Akbaruddin noted that the UN is observing its 70th anniversary as India's celebrates its 70th independence day.
"We hope this event will reinforce the belief that diverse cultural traditions reflecting each others values remain relevant to global thinking and the UN," he said.
A photo exhibition at the UN was also inaugurated to commemorate Subbulakshmi's birth centenary. The exhibition depicts various facets and moments of Subbulakshmi's life and times providing a rare insight to the music legend's achievements.
also read
World
North Korea launched a military spy satellite Wednesday, but it crashed into the sea soon after as an "accident occurred" during its flight, state media said
World
As many as 70,000 people have been prosecuted over religion. "The right to freedom of thought, conscience, and religion continues to be denied in North Korea, with the authorities showing no tolerance for alternative belief systems'
World
Japan has warned it will destroy and shoot down any projectile that threatened its territory after North Korea informed of a satellite launch between 31 May and 11 June