Anti-H1B posters in Bay Area BART trains product of 'year-long' strategy, confirms ad buyer
Progressives for Immigration Reform, the 'non-profit' that bought $80,000 worth of ads running to full houses on the Bay Area Rapid Transport (BART) stations and trains told Firstpost that the ad blitz that launched late last week in Silicon Valley is the result of 'more than a year of thinking about the effects of immigration and hearing from tech workers who could not find employment.'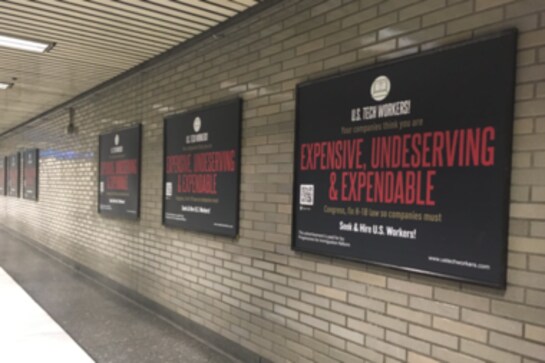 Progressives for Immigration Reform (PFIR), the "non-profit" that bought $80,000 worth of ads running to full houses at Bay Area Rapid Transport (BART) stations and trains told Firstpost that the ad blitz that launched late last week in Silicon Valley is the result of "more than a year of thinking about the effects of immigration and hearing from US tech workers who could not find employment."
Asked about the lush budget, PFIR's Kevin Lynn shrugged it off - "Yeah, that's about right, say $80,000 We get grants, donations..we've been around for 10 years, you see."
The timing of the ad campaign takes steel wool to an already open wound for the H1B worker in America.
"Do these guys know how hard it is to get an H1B visa", reads one reaction on Twitter.
That sums up the angst on the receiving end quite accurately.
The H1B visa is already so highly regulated and the paperwork burden so high that Canada is fast becoming a huge draw. Those who remain in the US on an H1B can broadly be divided into two camps - those who are on a plain vanilla H1B and those who have applied for permanent residency. The second category keeps investing time in the hope that their PR status is cemented and with every passing year, the difficulty levels of a clean break rise for a variety of reasons including sunk cost on many of life's non-negotiables. For relatively newer H1B workers, the current political mood and backlash present a very different world than what it was even three years ago.
In the Bay Area, the BART ads are all over social groups. People are telling us the ads are "scary" and "unnerving".
For PFIR, the BART ads are just a baby step. What they are bulldozing towards for is a "political solution".
"We'll get US tech workers together, we'll organize and we need to have a political solution to this," said Lynn on his way to California - the location of PFIR's headline hunting. "We're going there to speak with US tech workers who have found us through the ad," said Lynn who confirmed that PFIR's choice of the Bay Area was a no-brainer. "Yeah, Silicon Valley, that's why we chose it," he said.
Southern Poverty Law Center traces links from the past showing Progressives for Immigration Reform's ties with a man called John Tanton - described as the "racist architect of the modern anti-immigrant movement."
"He (Tanton) created a network of organizations – the Federation for American Immigration Reform (FAIR), the Center for Immigration Studies (CIS) and NumbersUSA – that have profoundly shaped the immigration debate in the United States", says SPLC.
So far, Indian H1B workers are bound by a loosely defined creed that it might be better not to raise an alarm over PFIR's ads on social media and instead let the storm pass. Even if they stay mum, the message is still getting seeded without an equal counterpoint across millions of commuters everyday for a month. This also points to a communications battle that is being dominated by those with massive treasure chests and a unified agenda.
In other news, this is a big week for the H1B community in the US and visa aspirants from all over. The new H1B season begins April 2 - the day after Easter weekend in America on April 2 so last minute paperwork is in full swing across outsourcing giants' offices while H1B workers already in the US on the Green Card waitlist are hoping for a breakthrough when a $1.3 trillion catchall spending bill comes up for a vote in the US Congress mid week. Here's a round-up of the headlines:
Immigration proposals still in dispute as shutdown looms
Indians in the US who have applied for permanent residency are keeping their fingers crossed for some key items on their bucket list to be ticked off in this massive spending bill - easing country caps on Green Cards and reducing the average wait time of 10-15 years per application for those on employment based quotas are right on top. On the other side, does this resonate loud enough? Will Bob Goodlatte or Kevin Yoder be able to deliver? Or is this the hill where these bills will die? The latest tally looks like this: DACA - Not such a hot button. Trump wants funding for his wall along Mexico, Democrats may be willing to accept funding but they are dead against Trump's other demands for changes in legal immigration - which is where H1B figures. Over the weekend, the White House on Sunday made an 11th-hour push for billions of dollars in border wall funding but came up against the Democratic stonewall on the fine print. All the headlines are about DACA (which is essentially about illegal arrivals) while legal immigrants are stunned by the uphill battle this represents for their public communication effors.
H1B filing season opens April 2
The H1B visa filing season for the fiscal year 2019 (starting 1 October, 2018) which allows US companies to hire foreign workers will open on 2 April, 2018, USCIS officials have confirmed. Indian companies have traditionally led the sweepstakes cornering the lion's share of visas each year. With less than two weeks to the finish line, immigration lawyers have their work cut out in Trump's America which is doubling down on H1B related abuse. On the supply side, H1B hopefuls who are applying under the stipulated 'caps' know that skill, talent or the strength of their CV have no role at all, it's just pure luck in a lottery that will decide whether they get chosen. In Hyderabad, India, all roads lead to the gates of the Balaji Visa temple.
also read
World
Trump has never shied away from voicing his viewpoint or engaging in debate with his opponents. The difficulty is that the former president is under increased scrutiny from state and federal prosecutors, who can use the former president's words against him in a variety of ways
World
DeSantis will be counting on some of the tech mogul's star power to outshine Donald Trump, who has swept all before him in the early stages of the race and is polling higher than all of the other candidates combined
World
Trump has repeatedly denigrated DeSantis' record and has argued that he has the best chance of defeating President Joe Biden in next year's election