Another woman accuses US Supreme Court nominee Brett Kavanaugh of engaging in 'highly inappropriate conduct'
Julie Swetnick said Brett Kavanaugh's claim of 'innocence' and lack of sexual activity in high school was 'absolutely false and a lie.'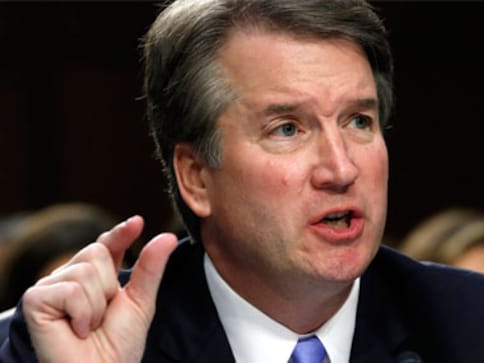 Another woman claimed on Wednesday to have witnessed sexually abusive behaviour by US Supreme Court nominee Brett Kavanaugh and said she was gang-raped at a party in the early 1980s attended by the Supreme Court nominee.
Julie Swetnick, the accuser, said in a statement released by her lawyer that the events took place at parties she attended as a high school student in suburban Maryland.
She said that she saw Kavanaugh behave as a "mean drunk" at these parties and witnessed him "engage in highly inappropriate conduct" that included "fondling and grabbing girls without their consent."
"I observed Brett Kavanaugh drink excessively in many of these parties and engage in abusive and physically aggressive behaviour towards girls, including pressing girls against him without their consent, grinding against girls, and attempting to remove or shift their clothing to expose private body parts," Swetnick said.
"I likewise observed him being verbally abusive towards girls by making crude sexual comments to them that were designed to demean, humiliate and embarrass them," she said.
However, Kavanaugh denied the new allegations of sexual misconduct, saying they're from the "twilight zone".
In a statement on Wednesday, Kavanaugh said: "This is ridiculous and from the twilight zone. I don't know who this is and this never happened."
Swetnick said Kavanaugh's claim of "innocence" and lack of sexual activity in high school was "absolutely false and a lie."
Swetnick's statement was released by her lawyer, Michael Avenatti,  who posted the document on Twitter.
She declared being a witness to Kavanaugh's consistent engagement in excessive drinking and inappropriate sexual behaviour with women in the early 1980s.
Below is my correspondence to Mr. Davis of moments ago, together with a sworn declaration from my client. We demand an immediate FBI investigation into the allegations. Under no circumstances should Brett Kavanaugh be confirmed absent a full and complete investigation. pic.twitter.com/QHbHBbbfbE

— Michael Avenatti (@MichaelAvenatti) September 26, 2018
Avenatti also shared a picture of Swetnick.
Here is a picture of my client Julie Swetnick. She is courageous, brave and honest. We ask that her privacy and that of her family be respected. pic.twitter.com/auuSeHm5s0

— Michael Avenatti (@MichaelAvenatti) September 26, 2018
However, she did not claim that Kavanaugh took part or was aware of her rape but she claimed that he and other boys in his circle engaged in similar behaviour.
She said she had witnessed efforts by Kavanaugh to "target particular girls so they could be taken advantage of."
The fresh claims appeared after two women came forward to accuse the judge of assaulting them in the 1980s, in a scandal that has tripped up what was expected to be an easy confirmation process for the conservative judge.
At a crunch Senate hearing on Thursday, California University professor Christine Blasey Ford will provide detailed allegations of Kavanaugh assaulting her at a high school party when they were both teenagers.
Kavanaugh also stands accused of exposing himself to a classmate, Deborah Ramirez, causing her to touch him without consent, during an alcohol-fueled Yale University party a few years later.
Kavanaugh was handpicked by Donald Trump for the lifelong post on the Supreme Court, and has continued to enjoy the US president's steadfast support despite the allegations against him.
Avenatti is also the attorney for porn star Stormy Daniels, who has claimed to have had a sexual encounter with Donald Trump.
With inputs from agencies
Sports
A bench headed by Justice DY Chandrachud asked Justice Rao to prepare a road map for amending the constitution and holding elections by December 15, 2022
World
Merced County Sheriff's Office in a statement on Monday said that 36-year-old Jasdeep Singh, 27-year-old Jasleen Kaur, their eight-month-old child Aroohi Dheri along with 39-year-old Amandeep Singh were taken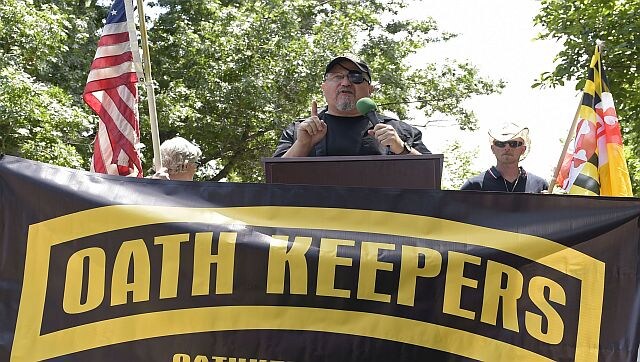 World
Members of the anti-government group, founded in 2009, have been charged with seditious conspiracy in the 6 January riot at the US Capitol. Prosecutors say the members spent weeks amassing weapons, and readying armed teams outside Washington to stop Joe Biden from becoming president