Amsterdam mulls new tourism measures to protect locals as COVID-19 keeps away boisterous travellers
Amsterdam has been trying to navigate a conundrum for years: how to embrace its status as a vibrant, international hub without making the city unlivable for its residents — and without letting go of its famous, free-spirited roots.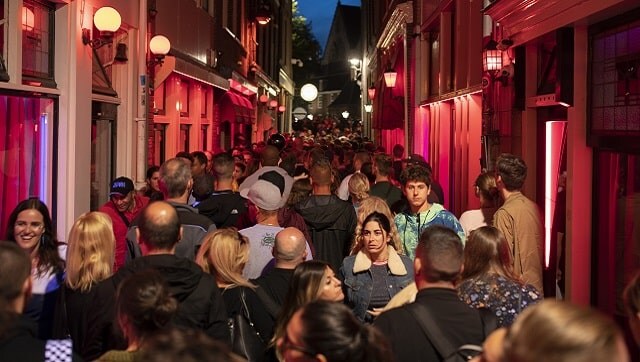 When international travel came to a halt last year, Amsterdam — like cities everywhere — was drained of tourists almost overnight. The effect, according to Sonia Philipse, owner of the restaurant Lavinia Good Food, was both surreal and serene: Without the crowds, her city was quieter and more beautiful than she had ever seen it.
"At this point we're missing our tourists again," Philipse said recently. "But I think there was a moment of really big joy in getting our city back."
It's a tension that Amsterdam has been trying to navigate for years: how to embrace its status as a vibrant, international hub without making the city unlivable for its residents — and without letting go of its famous, free-spirited roots.
Now, with visitor numbers still low, Amsterdam's leaders are trying to introduce important new restrictions on short-term vacation rentals, sex tourism and cannabis sales to visitors — all in an effort to ensure that old problems stemming from tourism don't reappear when visitors return.
The measures make Amsterdam one of Europe's front-runners in taking a hands-on approach to managing tourism. But even as many locals may be enjoying the current quiet in Amsterdam, many also disagree with some of the city's tactics.
The tipping point
The complaints from Amsterdam residents started to crop up in 2013, when tourism had fully bounced back from a downturn following the financial crisis of 2008. Locals said that tourists were being loud and disruptive in the city center; disrespecting prostitutes; occupying short-term vacation rentals that drove up housing prices; and taking over some of the city's most beautiful, historic areas.
Visitor numbers grew steadily every year from then onward — 2020 excepted — and the pressure of all of those tourists continued to escalate. In 2019, a record-breaking 21.7 million people visited Amsterdam, a city with a population of about 870,000.
"You see this tipping point where the visitor economy causes more harm for the locals than it adds value, and then you're in an unhealthy situation," said Geerte Udo, director of amsterdam&partners, a nonprofit, government-supported organisation that manages tourism in the city. "We need to change everything we have on offer in the city center if we want to bring the balance back to living, working and recreating," she said.
Before the pandemic, city leaders had already put in place a number of measures to try to mitigate the problems stemming from tourism, including a ban on guided tours of the Red Light District, a ban on new hotels in the city center, an increase in the tourist tax, and a ban on new shops that cater to tourists. As early as 2014, Amsterdam stopped promoting itself as a destination in new markets overseas. Instead, the city's marketing organisation worked to guide and manage all of the visitors who showed up in the city.
But even with those measures in place, tourism continued to grow, and the rising numbers attracted attention. By 2019, news articles decrying surging tourist numbers mentioned Amsterdam, alongside Venice and Barcelona, as a prime example of overtourism in Europe.
Sex, cannabis and the "monoculture"
Since the pandemic hit, Amsterdam's leaders — led by the mayor, Femke Halsema — have continued the push to regulate tourism, with a strong focus on the Red Light District, an ancient part of Amsterdam's city center and a huge magnet for tourists.
On a typical Saturday night before the pandemic, the district, known as De Wallen, would have been heaving with young men going from bar to bar — perhaps stepping into sex shops or coffee shops or eyeing scantily clad prostitutes posing in their windows. Several Amsterdammers interviewed for this story said that they would never consider visiting the neighbourhood at such a time because of the rowdy, crowded scene.
"The public space is dominated by facilities that are almost all redolent of sex, drugs and drink," Halsema wrote of the historic city center in an official letter to the city council in July 2019. "Constantly increasing numbers of visitors, misconduct, a shrinking retail mix, rising property prices, commercialisation of public space and criminal subversion all call for measures to be taken."
In the same letter, Halsema proposed four scenarios for the future of sex work in the Red Light District. (Prostitution is legal and regulated in the Netherlands.) One of those scenarios — the relocation of sex workers to a "prostitution hotel" elsewhere in the city — has recently attracted the support of a majority of city council members. The proposal has not been fully approved, however; further discussions are scheduled this Summer
, a spokeswoman for the city of Amsterdam said.
Another headline-grabbing proposal from the mayor's office would make it illegal for visitors to buy cannabis in Amsterdam's coffee shops, which are concentrated in the Red Light District and which have long been popular with tourists. The potential effects of such a move are currently being studied, the spokeswoman said.
And last summer, in response to complaints about the rise in home sharing, the city imposed a complete ban on all short-term vacation rentals in three neighbourhoods in the city center, including the Red Light District. The ban was overturned in court earlier this month, but city officials are now working to find a way to reimpose the measure legally, the spokeswoman said.
Amsterdam has also joined more than 20 other European cities to advocate stricter rules on vacation-rental platforms at the European Commission and in the European Parliament.
The measures are in line with the Dutch hands-on approach to tackling problems, the city's deputy mayor, Victor Everhardt, said, adding that, while the pandemic had not shifted the city's course of action, it may have accelerated its pace.
Amsterdam residents have high expectations for city life, and politicians are not afraid to push through new measures, Everhardt explained — even if some of those measures may end up being challenged in court. "We're just moving ahead and dealing with the problem," he said, adding: "There is no silver bullet."
But some of the proposed measures have proved controversial. The idea of relocating sex workers, for instance, is widely opposed by those who work in prostitution, said Irina, a spokeswoman for PROUD, a union of about 300 prostitutes across the Netherlands.
"The problem is not with the prostitutes. We've been in the same area for centuries," said Irina, who declined to share her last name, citing privacy concerns. "The issue is the exploding number of tourists coming to Amsterdam, and they're coming for a whole bunch of reasons."
Irina noted that the government's Project 1012 — an initiative that closed more than 100 sex-worker windows in the Red Light District over the past decade — had done nothing to ease the neighbourhood's overcrowding or reduce disruptive behavior. Instead of focusing on prostitutes, she added, the government should put more police officers on the streets and ramp up the enforcement of existing rules against public urination, public drunkenness and disturbing the peace.
Sex workers "are being scapegoated, together with the coffee shops, for causing the problems — which we are not," Irina said.
The mayor's recent proposal to forbid Amsterdam's coffee shops from selling cannabis to non-Dutch residents has similarly attracted opposition. Tourists and locals who frequent the city's 167 licensed coffee shops come to relax, socialise, maybe play a board game — and smoke cannabis, which is decriminalised for personal use in the Netherlands. Alcoholic drinks and hard drugs are not allowed.
Joachim Helms, a coffee shop owner and spokesman for the Dutch Cannabis Retailers Association, said that the proposed ban would force visitors to buy their cannabis on the street, where they are more likely to be taken advantage of; it would also damage Amsterdam's reputation as an international city, he said.
"If people have experienced a lot of disturbance from tourists in the city, then of course you have to look at where that disturbance comes from," he said. "Usually, it's guys being loud on the street and being drunk — and those aren't typical coffee shop people."
Support for the prostitutes and coffee shop owners was echoed in several interviews with Amsterdam residents, including Roy Van Kempen, a 31-year-old marketing manager who has lived in Amsterdam since 2008.
"Paris has the Eiffel Tower, and we have the Red Light District and this idea that everything is possible in Amsterdam. And I would like to keep it like this, actually," he said.
But Irina, Helms, Van Kempen and half a dozen other Amsterdammers interviewed agreed that the city center has a major problem: A tourism "monoculture" has taken root, and residents are being pushed out. Businesses and services that used to cater to locals — high-quality bakeries, butcher shops and the like — have been replaced by trinket shops, ice-cream parlors and "Nutella shops," which serve takeaway waffles and other treats smeared in the hazelnut spread, mainly to tourists. Meanwhile, rising housing prices — due, in part, to the rise of Airbnb and other vacation rental platforms — have made the city center unaffordable for many locals.
This monoculture has been thrown into the spotlight over the past year, Udo said, adding that she had been struck by how deserted the city center has felt during the pandemic, especially compared to other parts of Amsterdam. "That was a real eye-opener," she said. "There are not enough people living there and working there to get this liveliness back in the neighborhood when the visitors are gone."
Marry an Amsterdammer
Alongside the restrictions proposed by the mayor's office, city officials and some residents have also tried softer approaches to tackling the problems associated with tourism, some of which were rolled out with success before the pandemic.
One critical strategy has been to try to reach visitors before they even arrive. Amsterdam's Enjoy and Respect campaign, which launched in 2018, targeted the primary source of the behaviour problems — Dutch and British men between the ages of 18 and 34 — with messages about the fines they could incur by urinating in the street, littering or getting drunk in public areas. A subsequent survey showed that the messages had reached at least part of that audience, but measuring the campaign's effectiveness has proved to be a challenge.
To ease overcrowding in the center, amsterdam&partners has been encouraging visitors to explore other parts of the city, such as Amsterdam Noord, where a former industrial shipyard hosts flea markets, music festivals and outdoor movie screenings in the summer. In Nieuw-West, visitors can sample local nightlife or stroll around Sloterplas Lake. But even if such areas are successful in attracting visitors, it can be difficult to get substantial numbers of tourists to move away from the most popular spots.
"People often arrive with a lot less orientation and understanding of where they're visiting than we imagine, and hence they end up in the same city-center neighbourhoods," said Peter Jordan, head of insights at Toposophy, an agency that has advised amsterdam&partners. "That happens in cities everywhere — and it happens in Amsterdam."
The Red Light District and other neighbourhoods between the city's Central Station and Dam Square tend to attract the biggest crowds, Jordan said, as well as the areas immediately around major attractions like the Rijksmuseum and the Anne Frank House. Of these, he added, the Red Light District faces the biggest challenges.
Elena Simons, one of the leaders of Amsterdam's Reinvent Tourism movement, is working to find new and constructive ways to engage the city's tourists. Simons is also one of the authors of The Untourist Guide to Amsterdam and the co-creator of a project that allows tourists to "marry an Amsterdammer for a day." This alternative tour, which launched in 2019, is a four-hour experience that starts with a fake wedding (rings, gown and flowers included) and includes a personalised jaunt around a lesser-known part of the city.
The point of such efforts, Simons said, is to find ways for tourists to make meaningful connections with Amsterdam residents, and even to have a positive impact on the city — whether by weeding at an urban farm or joining a weekly litter cleanup. The organisation's work was cut short by the pandemic, Simons said, but she is optimistic that interest will pick up quickly when visitors return. However, with COVID cases on the rise again in the Netherlands and many other European countries, it may still be some time before travelers from outside the Continent are able to visit.
Jordan, the tourism analyst, said that other European tourist destinations that are dealing with similar challenges could learn a lot by studying Amsterdam's experiences.
"Something that I admire about Amsterdam is that they've been prepared to be honest and show that they recognise what the issues are and very visibly take steps to deal with it," Jordan said, "because other cities haven't necessarily got that far."
Paige McClanahan c.2021 The New York Times Company
News & Analysis
Nokia announced the launch of two new stereo headsets at the annual Nokia World event in Amsterdam.
Sports
World champion Viswanathan Anand mishandled a winning endgame and drew with former women's world champion Yifan Hou of China.
World
City spokeswoman Iris Reshef says the move is necessary because stoned students are a problem at some schools.