Americans dump Donald Trump brand to protest his awful treatment of women
Ordinary Americans are not waiting for Election Day (8 November) to cut Republican presidential nominee Donald Trump down to size
New York: Ordinary Americans are not waiting for Election Day (8 November) to cut Republican presidential nominee Donald Trump down to size. Disquieted by Trump's obscene remarks about women and the sexual assault allegations following him around, they are already boycotting his luxury resorts, casinos and products.
Entrepreneur Michael Griffin canceled his firm's annual marketing event at the 64-storey luxury high-rise Trump Hotel on the Las Vegas strip after a lewd Access Hollywood tape emerged from 2005, in which Trump made obscene comments about women, practically lionising sexual assault.
"First it was Trump's trash-talking tape. Now it's several women coming out and saying he assaulted them. I feel forced to take a stand as I have two daughters and I don't want them to grow up with Trump as a model for president. I am horrified by the way he treats women," said Griffin.
"This is my way of saying I am not okay with his behaviour and sexism," added the self-made businessman who runs an electronics company.
According to The New York Times, voters across the country have "thrown out — or cut up — Trump ties, called off stays at Trump hotels, even stopped imbibing Trump wines".
"They are animated, not just by his inflammatory statements or allegations of predatory behavior toward women — which he has denied — but by the belief that the wealth that powers his candidacy was in many ways amassed on their backs, one best-selling book, dress shirt or hotel stay at a time," added the The New York Times.
According to a poll conducted by the New York-headquartered brand research firm Brand Keys, "the Trump brand had been negatively affected" by the vulgar tape and win or lose, Trump properties are going to definitely lose business and customers.
"As the Trump brand becomes more toxic, it's pretty sure consumers will be distancing themselves from Trump-branded products as well," said Robert Passikoff, founder and president of Brand Keys, in a statement.
When the Los Angeles Dodgers visited Chicago to play the Cubs, baseball star Adrian Gonzalez grabbed the headlines by refusing to stay at the Trump International Hotel and Tower.
Gonzalez was raised in Tijuana and California by his Mexican parents and it's easy to see why the baseball star would not step into a Trump hotel: On the campaign trail, Trump alienated thousands of Mexicans by promising to build a border wall to keep out Mexican immigrants whom he painted in broad brushstrokes as rapists, drug dealers and criminals.
Quite clearly, Trump's hotel and casino traffic has taken a huge hit with his presidential run, loose talk and the allegations of sexual assaults. "We see that the market share losses have been driven by a fall-off among women. Trump properties have seen a double-digit decrease in visits from women this year, with a gap that widened starting in March 2016," said an analysis by Foursquare which used data scientists to determine how Trump's commercial fortune was falling.
"Trump has insulted women and minorities. We would be fools to eat, sleep or play at any of Trump's hotels and golf courses," said Vishnu Prasad, an academic at a Midwestern university.
"Trump is trying belatedly to woo the Indian-American community. It won't work!" said Prasad, referring to a rally this weekend orchestrated by Indian-American millionaire Shalabh Kumar of the Republican Hindu Coalition who's promoting the notion that "conservative (Republican) values are Hindu values."
"I am a big fan of Hindu and I am a big fan of India. Big, big fan," Trump told the Indian American pep rally which had the trappings of a Bollywood extravaganza with Malaika Arora and Prabhudeva breaking out their dance moves.
However, Indian business leaders dismiss beleaguered Trump's attempts to woo the three-million strong Indian American community as an exercise in smoke and mirrors. They are more concerned that rabble-rousing Trump's tough trade beliefs and xenophobia could negatively impact India. In his 2011 book Time To Get Tough, Trump advocated a 15 percent tax on companies for outsourcing jobs to places like India, and a 20 percent tax for importing goods and services.
Trump's weekend pep rally is too little, too late as Trump's Democrat rival Hillary Clinton enjoys a strategic edge among Hispanics, African American and Asian American voters.
Surveys show at least 70 percent of the Indian-American community supporting Clinton and she is tipped to get an even larger bite of the vote share than President Barack Obama because of Trump's sexism and anti-immigrant diatribes.
World
NATO is urging China to join international efforts to limit the spread of nuclear weapons amid concerns that the country is rapidly developing missiles capable of carrying atomic warheads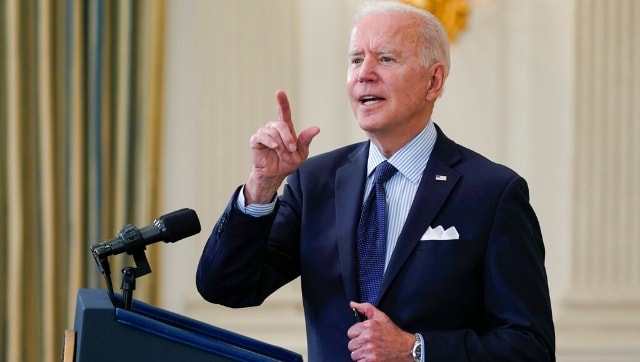 World
The remark comes in the wake of the announcement of the formation of a new interim government in Kabul by the Taliban
World
The speech Biden delivered sounded much like what he would have said before the Taliban took Kabul, Afghanistan, without resistance, and before the pivot to Asia became a hindrance to relations with Europe