Always a bloody terrain: A list of bomb attacks in Turkey since 1982
Following is a list of the worst bomb attacks in Turkey since 1982.
Istanbul, Turkey : Following is a list of the worst bomb attacks in Turkey since 1982:
-- 7 August, 1982: A bomb at Ankara airport followed by a gun battle leaves 11 dead and 63 injured. The attack is claimed by the Armenian Secret Army for the Liberation of Armenia (ASALA).
-- 6 September, 1986: A twin suicide bombing claimed by Islamic Jihad kills 22 people at the Neve Shalom synagogue in Istanbul.
-- 25 December, 1991: Explosives and firebombs are hurled at a department store in Istanbul, killing 17 people and injuring 23 others. The attack is blamed on the Kurdistan Workers' Party (PKK).
-- 13 March, 1999: Twelve dead in a firebomb attack on a shopping mall in Istanbul. The attack is claimed by the PKK, but the rebel group later retracts its claim.
-- 15 and 20 November, 2003: Four suicide car bomb attacks in Istanbul hit two synagogues, the British consulate and a branch of the British multinational bank HSBC, leaving 63 dead, including Britain's consul general Roger Short, and hundreds wounded. The attacks are claimed by Al-Qaeda and a Turkish extremist group named the Islamic Front of Raiders of the Great Orient.
-- 12 September, 2006: Ten people, including seven children, are killed in a powerful bomb blast in Diyarbakir, the largest city in Turkey's mainly Kurdish southeast. Kurdish rebels deny involvement.
-- 27 July, 2008: Two bombings in Istanbul leave 17 dead and 115 wounded. The authorities blame the PKK.
-- 11 February, 2013: 17 people are killed when a Syrian minibus explodes barely 40 metres (yards) into the buffer zone of the Cilvegozu border crossing with Syria in the Turkish town of Reyhanli.
-- 11 May, 2013: A twin car bomb attack kills 52 people in Reyhanli. Ankara blames pro-Damascus groups.
-- 20 July, 2015: 34 people are killed and around 100 injured in a suicide bombing in the predominantly-Kurdish town of Suruc near the border with Syria. Turkish officials blame the Islamic State group.
-- 10 October, 2015: 103 people are killed and more than 500 wounded in a twin suicide bombing targeting a crowd of leftist and pro-Kurdish activists at a peace rally in Ankara. The government blames the attack -- the deadliest ever on Turkish soil -- on IS.
-- 12 January , 2016: Ten people, mostly foreigners, are killed and 15 wounded in a suicide attack by a Syrian bomber in Istanbul's Sultanahmet district, the tourist heart of the city.
AFP
India
Notwithstanding his boundless talent, Sushant Singh Rajput was one of the most hardworking actors of his generation. And that shows in the silences of his performances.
Sports
Italy failed to qualify for the 2018 World Cup but are now on a 28-match unbeaten run under Mancini.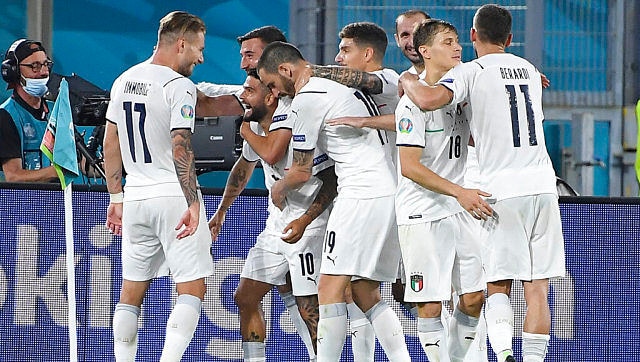 Sports
Merih Demiral's own goal put Italy ahead before Ciro Immobile and Lorenzo Insigne netted for Roberto Mancini's side in the Group A opener.