All you need to know about Hurricane Florence: 'Monster' storm expected to make landfall on US East Coast in two days
Coastal residents fleeing a potentially devastating blow from Hurricane Florence encountered empty gasoline pumps and depleted store shelves as the monster storm neared the Carolina coast on Wednesday.
Coastal residents fleeing a potentially devastating blow from Hurricane Florence encountered empty gasoline pumps and depleted store shelves as the monster storm neared the Carolina coast on Wednesday, with 225 kilometres per hour winds and drenching rain that could last for days. While some said they planned to stay put despite hurricane watches and warnings,  many on the East Coast prepared to heed evacuation warnings and move inland.
The National Hurricane Center predicts its maximum winds could still reach 155 mph at peak intensity on Wednesday, which is just 3 kilometres per hour short of a Category 5 designation. ABC reported that Boeing has stopped its operations in South Carolina because of the threat. The report also said that some facilities for inmates in Virginia are also planning evacuations, according to the state's Departments of Corrections.
CNN reported that after landfall, storm surges up to 13 feet are expected along the coasts. Up to 35 inches of rain are to be expected in the aftermath of the hurricane, over parts of the Carolinas and mid-Atlantic states.
Florence was ranked as a Category 4 storm but was expected to keep drawing energy from the warm water. A Category 5 designation means winds of 253 kilometres per hour or higher. University of Miami hurricane expert Brian McNoldy said that rain measured in feet is "looking likely."
A steady stream of vehicles full of people and belongings flowed inland on Tuesday, and North Carolina Governor Roy Cooper tried to convince everyone to flee. "The waves and the wind this storm may bring is nothing like you've ever seen. Even if you've ridden out storms before, this one is different. Don't bet your life on riding out a monster," he said.
Forecasters said Florence was expected to blow ashore late Thursday or early Friday, then slow down and unload one to two-and-a-half feet of rain that could cause flooding inland and wreak environmental havoc by washing over industrial waste sites and hog farms.
President Donald Trump declared states of emergency for North and South Carolina and Virginia, opening the way for federal aid. He said the federal government is "absolutely, totally prepared" for Florence.
Hurricane Florence is so wide that a life-threatening storm surge was being pushed 485 kilometres ahead of its 'eye', and so full of rain that a swath from South Carolina to Ohio and Pennsylvania could get deluged. People across the region rushed to buy bottled water and other supplies, board up their homes, pull their boats out of the water and get out of town.
North Carolina's governor issued what he called a first-of-its-kind mandatory evacuation order for North Carolina's fragile barrier islands from one end of the coast to the other.
Hurricane Florence
Hurricane Florence, which started as a tropical storm on Sunday, strengthened into a Category 4 hurricane on Monday. It is expected to make landfall on North and South Carolina late on Thursday or early Friday. Florence is being speculated to be the most intense hurricane to hit the area in close to 30 years, since Hurricane Hugo in 1989.
A warm ocean is the fuel that powers hurricanes, and Florence will be moving over waters where temperatures are peaking near 30 Celsius.
ABC reported that most of the hurricanes that make landfall in America, start as thunderstorms over Africa. The humidity and warm ocean water cause the storms to gain enough intensity to turn into hurricanes. Low pressure develops under the storm clouds as more warm air gets sucked into the storm. The vast stretch of a water body, high temperatures, and high air pressure above the thunder clouds are the factors that help to sustain a hurricane.
The eye of the hurricane is usually the calmest part of the storm. However, directly beyond the eye is called the 'eye wall', which is the most powerful part of the hurricane.
What is in Hurricane Florence's way?
Florence's projected path includes half a dozen nuclear power plants, pits holding coal-ash and other industrial waste, and numerous hog farms that store animal waste in huge lagoons. Duke Energy spokesman Ryan Mosier said operators would begin shutting down nuclear plants at least two hours before hurricane-force winds arrive.
The flooding of such hog lagoons and industrial sites could create a combination of waste that might wash into homes and threaten drinking water supplies. Computer models predict more than 3 feet of rain in the eastern part of North Carolina, a fertile low-lying plain veined by brackish rivers with a propensity for escaping their banks.
With inputs from AP
also read
Explainers
Overweight people face prejudice from landlords, difficulty finding seating at restaurants and theatres, and are even paid lower wages. The new law, according to New York mayor Eric Adams, will help level the playing field and protect against discrimination'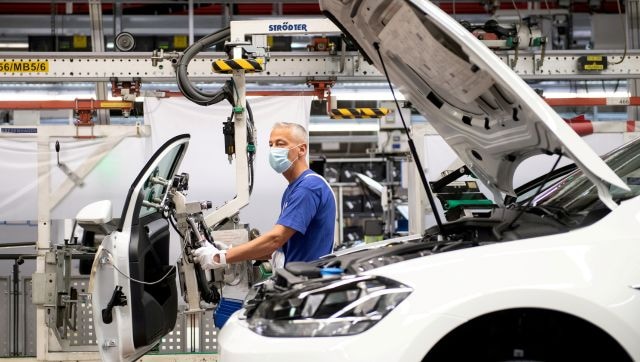 Explainers
Germany's GDP fell .3 per cent in the first quarter of 2023 following a .5 per cent decline in the last quarter of 2022. Though Chancellor Olaf Scholz described the outlook for the economy as 'very good' experts say this is a rude awakening for the country and the entire continent
Explainers
A shortage of over a dozen drugs has forced cancer treatment centres in the United States to switch medication for patients and even delay care. Experts say America is going through a 'public health crisis' and a rethink of the entire market for generic drugs is needed