Aleppo has shed enough blood; takeover of the city by Assad's forces might end Syrian war
Syria has become a nation or refugees with more than half its population having sought asylum in countries outside its borders.
The heart rendering pictures of Aleppo, a city where hopefully this bloody civil war is witnessing its final denouement, only serves to re-emphasise the tragedy that the Syrian people have faced for the last five years.
Row after row of destroyed apartment blocks in Aleppo stand as grim testimony to the ravages of war. Thousands of old and young people have died in this bombardment. Hundreds more are trying to escape as President Bashar Assad's army moves in a pincer action to free the eastern sector of the city of these rebel forces.
What is of equal concern is the fact that many of the architectural wonders that Aleppo so proudly boasted of have also been destroyed. The city whose history goes back to the 3rd millennium BC enjoys a strategic location being on the old Silk Route. Having been home to a mixed population of people, its culture speaks of its inherent eclecticism as it boasts of colourful souks, a beautiful old medieval castle called The Citadel and the Great Umayyad Mosque all of which are in ruins thanks to the continuous aerial bombing inflicted by Russian planes.
Convoys of people fleeing this battle zone bring back memories of a trip that women journalists from the Indian Women Press Corps (IWPC) made in April 2009 at the invitation of the Jouhina publishing group.
Our first stop was Aleppo which remains one of Syria's largest towns.
Walking through the streets of Aleppo, a man came up to us and offered us warm, freshly baked bread. He told us he wanted to welcome Indian women to his country.
Aleppo has one of the longest souks in Syria whose shopkeepers were on familiar terms with Bollywood. They reminisced about Madhuri Dixit and Hritik Roshan even as they spoke nostalgically about the Raj Kapoor and Nargis era. We eagerly made purchases of tablecloths, carpets, ceramic items and jewellery. Their sweet shops were chock-a-block full with a variety of sweets including guz ( nougat), trays of pastry filled with crushed walnuts (baqlawa), pistachio-topped pastries (kanafi) and candied fruit. Many of the shopkeepers revealed that they were frequent travellers to India.
Aleppo has a Great Mosque which is one of the oldest in the world. It was built way back to AD 715, though it was largely rebuilt in the 13th century. This Great Mosque has borne the brunt of the fighting. It was occupied by the rebel forces but in the last few days has been taken over by Assad's forces.
From there, our group had travelled to the desert city of Palmyra which is a UNESCO world heritage site and is lovingly called 'Bride of the Desert' because of its strategic location linking the Syrian capital Damascus with its neighbour Iraq.
We journalists were awestruck by its 2000-year old Roman colonnade and its wonderful open air amphitheatre where Andhra journalist and writer Bhagyalakshmi recited her poems out loud.
Islamic state militants captured this desert oasis in May 2015 and proceeded to destroy the Temple of Bel which dated back to AD 32 and the Temple of Baalshamim which consisted of a structure of stone block several stories high fronted by six towering columns. They also blew up an Arch of Triump built by the Roman emperor between AD 193 and AD 211.
Fortunately, the Islamic State group was forced out by a Syrian and Russian military campaign in May 2016.
From there we proceeded to Damascus which is an extremely multi-cultural city. Syria, unlike Pakistan, has made no attempt to disassociate itself from its non-Islamic past. In fact, the Christain quarter in Damascus has many old churches belonging to the Greek Orthodox, Syrian Orthodox, Roman Catholic Maronite and Amrnian sects. Jesus Christ spent many years in Syria and the people of the Maalula village speak Aramaic, a language spoken during Christ's lifetime.
During the eight days, we journalists spent in Syria, we had little idea that the country would implode in this manner. We often stopped to talk to the man-on-the-street and while they did admit that Assad was authoritarian, there was little indication that some people opposed him so vehemently. The country could be seen to be making progress in the area of education and health with Asma Assad herself having launched initiatives in the area of autistic care and of the elderly.
There was hardly any military presence in Syria during that period we were there even though it was surrounded by hot spots such as Iraq, Iran, Palestine and Israel. Even at Golan, there was little military presence although a variety of telecom equipment had been installed at the Israel end.
The people came across as belonging to a proud, multicultural society. They were proud of their ancient civilization which went back 7000 BC. Syria had been ruled by the Assyrians, Babylonians, Acaemid, Persians, Greeks, Byzantine, Muslim kings, Ottoman Turks and the French.
"We are paying a heavy price for having stuck our necks out for the Arab cause," Basil Zeno, an archaeology student studying in a college of archaeology told us. This seemed to be the general opinion across a wide strata of people.
During an interaction President Assad's wife, the British-born Asma Assad, had with us, she revealed how she had once travelled incognito all across Syria. A former financial analyst who grew up in London, her concerns then were to contend with the large numbers of Iraqis who had sought refugee in her country. "Our main concern is to feed and help rehabilitate the 1.5 lakh Iraqi refugees who have sought refugee in our country following the Irqai war."
Today, Syria has itself become a nation or refugees with more than half its population having sought asylum in countries outside its borders. The rebels vow to regroup and continue their fighting. For the people in this besieged nation, we can only hope that peace returns to their land in 2017.
World
The video stirs new fears over the fate of tens of thousands who went missing during Syria's long-running conflict and serves as a grim reminder of the war's unpunished massacres, just as similar atrocities take place in Ukraine
Opinion
Prime Minister Narendra Modi's recent visit to three European countries — Germany, Denmark and France — and participation in the Indo-Nordic Summit at Copenhagen have prompted much celebration and speculation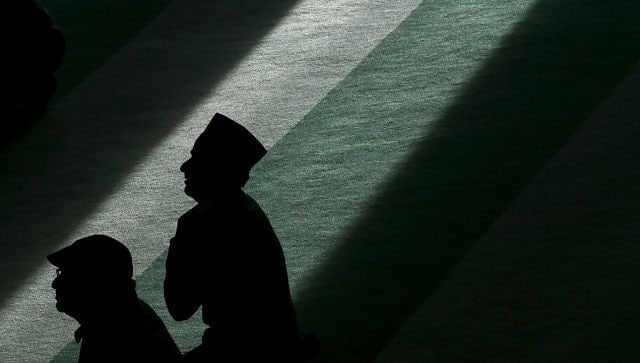 Opinion
We need to realise that religion is a map that helps bring us to the door of spirituality; we can either open the door or wander aimlessly looking for God