Alaska hit by 7.9 magnitude earthquake; tsunami warnings issued
A powerful earthquake of magnitude 7.9 struck off the coast of Alaska early Tuesday, prompting tsunami warnings or watches as far away as California.
A powerful earthquake of 7.9 magnitude struck off the coast of Alaska early Tuesday, prompting tsunami warnings or watches as far away as California.
The quake struck in the Gulf of Alaska, 280 kilometers southeast of the town of Kodiak, the US Geological Survey said, revising a preliminary estimate of 8.2 magnitude. The epicenter was 10 kilometers under the seabed.
Tsunami warnings were issued for south and southeast Alaska and the west coast of Canada, the National Tsunami Warning Center said.
Less-ominous tsunami watches were issued for the US west coast – the entire coasts of California and Oregon and part of Washington state – and Hawaii out in the Pacific.
Tsunami waves could hit the coasts of Oregon and Washington as early as around 1310 GMT, the Portland office of the National Weather Service said.
Heather Rand told CNN it felt like the longest earthquake she had ever experienced.
"It was a very long, slow build up. Creepy, more than anything. Definitely the longest, and I was born here," Rand said, adding the only damage was cracks in the wall.
So far no quake damage or large waves have been reported in Kodiak, which is on an island off the coast, police spokesman Tim Putney told AFP.
"We have people with their eyes on the sea, from a safe distance," Putney added.
Still, authorities urged coast dwellers to seek safety.
"If you are located in this coastal area, move inland to higher ground," the Anchorage Office of Emergency Management said.
"Tsunami warnings mean that a tsunami with significant inundation is possible or is already occurring. Tsunamis are a series of waves dangerous many hours after initial arrival time. The first wave may not be the largest."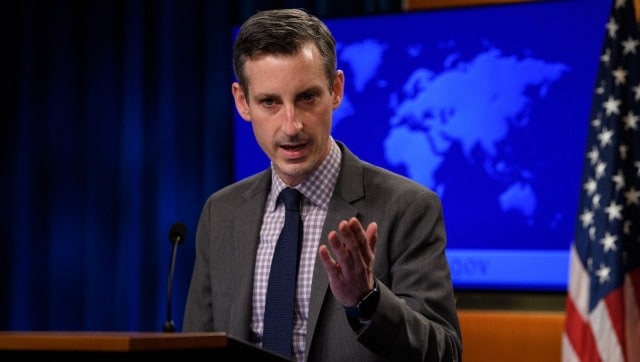 World
'It is not only in the US interest to see Americans vaccinated; but it is in the interests of the rest of the world to see Americans vaccinated,' said State Dept spokesperson Ned Price
India
Several other countries including Singapore, Hong Kong and New Zealand have placed some or complete restriction on the arrival of passengers from India which reported the world's highest daily tally of nearly 3.15 lakh cases
World
One batch of bills seeks to ban transgender girls from competing on girls' sports teams in public schools.