Al-Jazeera shuts down its Egypt channel in a bid to ease regional tensions
Egyptian TV on Monday hailed the shutting down of Al-Jazeera's local branch as the first sign of restoring good relations with Qatar.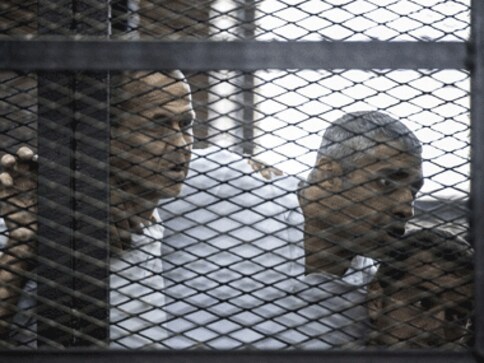 Cairo: The Qatari-owned Al-Jazeera news network on Monday shut down its Egypt channel, quieting a major source of tension between the two countries at a time when regional efforts are underway to reconcile between the two countries over the Gulf nation's support for Islamists.
Qatar has been the main supporter of the Muslim Brotherhood and was a powerful backer of Mohammed Morsi, Egypt's Islamist president who was ousted last year by the military. Egypt has accused Al-Jazeera in general " and its Egypt affiliate, Al-Jazeera Mubasher Misr, in particular " of doing Doha's bidding by serving as Islamists' mouthpiece at a time of a ferocious crackdown on their ranks. The station denies any bias, saying it is simply covering Islamist protests.
The most dramatic manifestation of the tensions has been the arrest, trial and prison sentences for three journalists from Al-Jazeera's English channel on terrorism-related charges for allegedly helping the Brotherhood.
Al-Jazeera said Monday it will incorporate Mubasher Misr into a new region-wide station. It said the Egyptian station will only resume its work when it can get proper licenses in Egypt "in coordination with Egyptian authorities."
The decision Monday came only two days after a Qatari envoy met with Egypt's President Abdel-Fattah el-Sissi, the first such meeting since he was elected in June.
El-Sissi's office said Egypt hoped the meeting, which was attended by a Saudi royal envoy, was the beginning of a "new era" that puts the past disagreements between the two countries behind.
Last month, Gulf countries, led by Saudi Arabia and United Arab Emirates, reached a reconciliation agreement with Qatar aimed at easing regional tensions linked to Doha's support for Islamist groups throughout the region.
Tensions with Egypt were the most public manifestation of the disagreements with Doha.
Egyptian authorities have cracked down on the Brotherhood, arresting thousands of its members, and putting them on trial, including Morsi. Many senior figures in the Brotherhood, which Egypt declared a terrorist organization, found refuge in Qatar, though some have since left.
The crackdown extended to Al-Jazeera. A local court declared Mubasher Misr a threat to national security and ordered it shut down soon after Morsi's ouster. The channel, whose name means "Egypt Live" in Arabic, has broadcast ever since from studios in the Qatari capital.
In December last year, Egyptian authorities arrested and swiftly tried the three Al-Jazeera English journalists, accusing them of providing a platform for the Brotherhood. Australian Peter Greste, Egyptian-Canadian Mohammed Fahmy, and Egyptian Mohammed Baher, were sentenced to at least seven years in prison on terrorism related charges. A half dozen other Al-Jazeera English journalists were sentenced in absentia in the trial, which was described as a sham by rights groups.
Fahmy said he and his colleagues were "victims of a real ongoing cold war between Egypt and Qatar," in the letter published earlier this month by Canada's Globe and Mail newspaper.
Egyptian TV on Monday hailed the shutting down of Al-Jazeera's local branch as the first sign of restoring good relations with Qatar.
"This is a translation of the Saudi initiative to restore warmth to Egyptian-Qatari relations," a broadcaster on the private Egyptian CBC station said.
An Al-Jazeera station employee denied it has succumbed to political pressure, saying the station makes its decisions based on its editorial policies. The employee said the decision to stop broadcasting was because of the "challenges" the channel faced in operating out of Egypt. The employee spoke anonymously because of the sensitivity of the matter.
AP
World
The attack comes four days after an ambush on the Sinai Peninsula claimed by the Islamic State group killed 11 Egyptian soldiers, the military's highest loss of life in years
Opinion
In 2019, 61 per cent of journalist deaths occurred in countries without current armed conflicts. Back in 2016, 50 per cent of journalists who were killed died in countries experiencing an armed conflict of some kind
World
Jenin refugee camp has served as a flashpoint amid recent tensions following a wave of attacks in Israel in which 19 people were killed