Ahead of NATO summit, diplomats fear acrimony between Donald Trump, Vladimir Putin may undermine bid to show unity
The NATO summit is likely to be dominated by Trump's insistence that member nations step up and pay more for their joint defence.
Ahead the NATO Heads of State and Government summit scheduled from 11 to 12 July, 2018 in Brussels, Belgium, leaders face a major threat to the credibility of their military alliance at their summit this week — not from traditional foe Russia, but from the head of their most powerful member, US president Donald Trump.
Diplomats fear an acrimonious meeting between Trump and Russian president Vladimir Putin could undermine efforts to show unity in the face of the growing threat on the alliance's eastern flank — particularly with Trump set to meet Putin in Helsinki a few days after the North Atlantic Treaty Organisation (NATO) summit. Trump also told reporters last week that he would press the Russian president on election meddling and also discuss Syria and Ukraine during their meeting. They are also likely discuss two arms control pacts - the INF Treaty and the New Strategic Arms Reduction Treaty (New START), told Jon Huntsman, US ambassador to Russia, to reporters on a conference call.
The leaders are also likely to discuss New START, under which both nations cut their deployed strategic nuclear warheads to no more than 1,550, the lowest level in decades. The treaty, signed during the Obama administration, also limits deployed land and submarine-based missiles and nuclear-capable bombers.
The NATO summit is likely to be dominated by Trump's insistence that member nations step up and pay more for their joint defence. Allies are braced for a barrage of invective from Trump for not spending enough on defence, and are apprehensive that his often skeptical tone on the alliance that has underpinned European security for 70 years might turn into outright hostility.
Trump is expected to continue to press NATO nations to fulfill their commitments to spend 2 percent of their GDP on defense by 2024. NATO estimates that 15 members, or just over half, will meet the benchmark by 2024 based on current trends. Trump sent letters to the leaders of several NATO countries ahead of his visit, warning that it would become "increasingly difficult to justify to American citizens why some countries fail to meet our shared collective security commitments."
"The major overall theme of this summit is going to be NATO's strength and unity," said Kay Bailey Hutchison, the US ambassador to NATO. She insisted on the solidarity of the 29-member alliance and denounced the "malign activities" of Russia and its attempts to "divide our democratic nation."
But for months, former real estate magnate Trump, eager to distance himself from both the Democratic and Republican politicians who preceded him, has been preaching a very different message. This week, before a wildly cheering crowd in the western state of Montana, Trump launched into one of his most pointed tirades against NATO members who "have to start paying (their) bills." The US, Trump stressed, was no longer going to be "the schmucks paying for the whole thing."
He then laced into German Chancellor Angela Merkel, who will be in attendance in Brussels, complaining about how much the United States put toward Germany's defense: "And I said, you know, Angela, I can't guarantee it, but we're protecting you, and it means a lot more to you. ... I don't know how much protection we get from protecting you." At the same time, he declared that "Putin is fine" and that he had been preparing for their summit "all my life."
Experts fear the trip could produce a repeat of the dynamics from Trump's last trip abroad, when he admonished G-7 allied nations at a summit in Canada before heading to Singapore, where he showered praise on one of America's longest-standing adversaries, North Korea's Kim Jong-un.
"What people are worried about this trip is he'll have equally difficult interactions with his NATO counterparts," including Merkel and Canadian Prime Minister Justin Trudeau, said James Goldgeier, a visiting senior fellow at the Council on Foreign Relations and professor at American University, who is an expert in NATO and security alliances.
Unwavering support for NATO has been a basic tenet of US foreign policy since the alliance was founded in 1949, but as Trump's emerging trade tariff war with Europe shows, the president has no qualms about upending conventional thinking on major international issues.
Tomas Valasek, director of the Carnegie Europe and former Slovak ambassador to NATO, said the situation with Trump had already undermined its ability to deter would-be aggressors. "We've had violent falling outs over Libya, Iraq in 2003, but it's qualitatively different as in that the biggest of the allies doesn't just have disagreements with us, but actually seems willing to walk away," Valasek said. "The deterrence has already been weakened," he added.
With inputs from agencies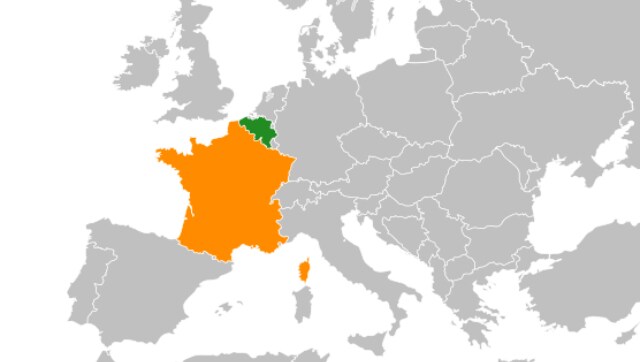 World
The precise location of boundaries was usually part of local knowledge, kept and maintained by members of the community.
Sports
Flick, whose successful reign as Bayern manager will come to an end this season, has got the backing of Germany team director Oliver Bierhoff.
World
Belgium, a country of 11.5-million inhabitants, has been severely hit by the coronavirus, with 24,185 COVID-19-related deaths recorded so far. But infections and hospitalisations have been decreasing over the past week.