After Uri terror attack, India raises Pakistan-sponsored terrorism and human rights violations at UN
India called upon the UN Human Rights Council to ask Pakistan to vacate the illegal occupation of Jammu and Kashmir while asking Pakistan to stop supporting terrorism in India
India called upon the UN Human Rights Council (HRC) to ask Pakistan to vacate the illegal occupation of Jammu and Kashmir (J&K) while asking Pakistan to stop supporting violence and terrorism in India during a general debate at the 33rd session of the HRC.
India said that the country has been a "long-suffering victim of terrorism emanating from our neighbourhood."
"The fact that known terrorists like Hafiz Sayeed and Syed Salahuddin are able to hold huge rallies in Pakistan's main cities is a reflection of the state of affairs and can mean only one thing: Active support for such personalities and designated organisations they lead in blatant disregard for rule of law is the new normal in Pakistan," said Ajit Kumar, Indian ambassador to the UN office at Geneva.
"Rather than internationalising issues with India, Pakistan needs to cleanse itself of its terrorists," Kumar said.
"We call upon this council to ask Pakistan to put an end to cross-border infiltration, dismantle the terrorist infrastructure and stop acting as an epicentre of terrorism," he further added.
The human rights violations in Pakistan, Pakistan-occupied Kashmir (PoK) is destabilising the entire region, India told the council.
Pakistan raised the issue of the detainment of human rights activist Khurram Parvez and the subsequent open letter that international intellectuals and activists wrote to the Indian government — adding that "India obviously has much to hide."
"It is truly ironical that India, which has unleashed this terror and is sponsoring terrorism in its neighbouring country, claims to be a victim of terrorism. We have given evidence to the UN Secretary General and to the international community of Indian involvement in terrorism and fomenting instability in Pakistan," said Tehmina Janjua, Pakistan's ambassador to the UN office at Geneva.
"This evidence provides details of Indian interference and support for terrorism in Balochistan and in Karachi as well as its security and intelligence agencies link with the Taliban in Pakistan," she added.
Exercising a right of reply, India told the council that Pakistan has territorial ambitions in India since 1947 as expressed in the aggression it embarked on in 1947, 1965 and 1999.
"As on date, Pakistan is in forcible and illegal occupation of approximately 78,000 of square kilometres of Indian territory in J&K," India said in a statement.
The fundamental reasons for disturbances in Kashmir is cross-border terrorism promoted by Pakistan. The people of Balochistan among other provinces in Pakistan have been waging for decades a "bitter and brave struggle" against daily abuse and torture.
"Enforced disappearances continue with impunity in Balochistan, Khyber Pakhtunkhwa and Sindh where members of the Muttahida Qaumi movement are abducted and killed," India further said.
Minorities like Hindus, Shias, Ahmadiyyas, Christians and others faced blatant discrimination and persecution in the country and minority religious places are vandalised.
The "selective" and "extremely opaque" and "high-handed" use of force by Pakistani forces have affected civilian population where more than 1 million remain displaced in the north-west of the country.
"We, once again, ask Pakistan to stop inciting and supporting violence and terrorism in any part of India and refrain from meddling in our internal affairs in any manner. We call upon the council to urge Pakistan to fulfill its obligation to vacate illegal occupation of PoK," India said.
An NGO called Centre for Human Rights and Peace Advocacy said that the worsening human rights situation in Balochistan requires the council's attention — the increasing disappearances of political activists and human rights defenders as well as military operations against civilians have increased over the past several weeks. There was a "complete media blackout" in the region. It thanked the Indian prime minister and the Indian mission for raising human rights violation issues in Balochistan.
Pakistan, in turn, called India's concerns about Balochistan "hypocritical". J&K is an internationally recognised dispute where Pakistan is a party and they had a right to address the situation in "India-occupied Kashmir."
"In case India insists on flouting all international norms and on pronouncing itself on the internal affairs of Pakistan then we will need to address situation in India as a whole," Pakistan said.
The ruling party of India is "infected by rank communalism and outright bigotry" — it is time to "squarely address" the "perverse" ideology that motivates the governing party of India, it further added.
India
IMD has forecast severe weather for Jammu and Kashmir, with 'widespread intermittent rain most likely to continue till 30 July'
India
The searches were carried out in connection with a probe into two cases pertaining to alleged issuance of around two lakh arms licences in erstwhile state of Jammu and Kashmir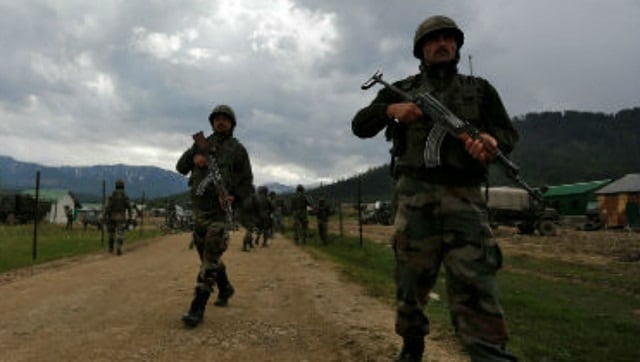 India
The police said that one of the militants, identified as Fayaz War, was involved in several attacks and killings of civilians and security personnel. He was the last perpetrator of violence in north Kashmir