After mob of 2000 set fire to an Ahmadi mosque on allegations of blasphemy, security in Pakistan tightened
Security was tightened across Pakistan after a factory and mosque were torched over allegations of blasphemy.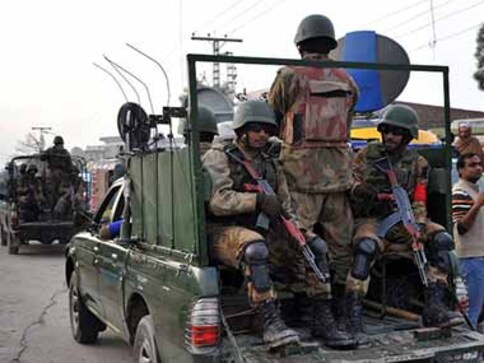 Lahore: Security was further tightened today with the army deployed at places of worship of the minority Ahmadi community across Pakistan's Punjab province after a factory and mosque were torched over allegations of blasphemy.
Interior Minister Chaudhry Nisar Ali Khan said the army will remain deployed in Jhelum town, 250 kilometres from Lahore, till the law and order situation improves. He also asked the Punjab government to beef up the security of Ahmadi places of worship across the province. Taking strict note of the arson incident Khan directed police to hold a "transparent" investigation.
"Nobody can be allowed to take the law into his hand," Khan said. Yesterday, an angry mob of 2000 people managed to break through the police cordon guarding Ahmadi places of worship and set ablaze an Ahmadi mosque following Friday night's unrest when an Ahmadi owned wood factory was torched after one of its employees was accused of desecrating the Quran.
Police have arrested the accused Qamar Ahmed Tahir, also an Ahmadi, on charges of committing blasphemy. Pakistan's Ahmadis consider themselves Muslim but were declared non-Muslims by the Constitution and are also barred from proselytising or identifying themselves as Muslims. Some 1.5 million Ahmadis live across the country. "An attempt was made to burn Ahmadis alive after accusing them of defiling the holy Quran," alleged Salimuddin, a spokesperson for the Ahmadi community.
He said the factory had long been functioning in Jhelum. He said that some 'miscreant' informed local clerics that copies of the Quran had been desecrated with announcements made on loudspeakers in mosques to incite the mob which attacked the factory pelting stones and set it on fire. "Someone pushed the vicious allegation of blasphemy for personal vendetta and animosity," he said, demanding a transparent investigation of the incident and swift action to bring the perpetrators to justice.
Rights groups say Pakistan's controversial blasphemy law has often led to violence and persecution of religious minorities. It is frequently misused to make unfounded accusations to settle personal scores and disputes.
PTI
World
Federal Investigation Agency former director Mohammad Rizwan, 47, went on long leave just before the formation of the PMLN-led coalition government and was later transferred from the office of FIA Lahore director
World
Khan, however, added that the polls in Pakistan should be conducted under the supervision of a suitable and neutral chief election commissioner
First Cricket News
The PCB chairman Ramiz Raja had in principle agreed to a 25 to 30 per cent increase in the monthly retainers of the players who will be given contracts.