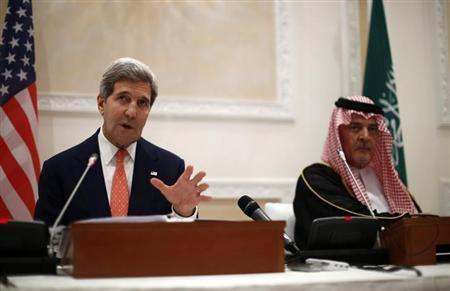 RIYADH (Reuters) - U.S. Secretary of State John Kerry suggested on Monday an attack that killed the Pakistani Taliban leader was justifiable but added Washington was sensitive to Pakistan's concerns, after Islamabad denounced the raid as a blow to peace talks.
Hakimullah Mehsud, who took over as the leader of the al Qaeda-linked Pakistani Taliban in 2009, was killed on Friday, along with three others, in a U.S. drone strike in northwest Pakistan, security and Taliban sources said.
The Pakistani government denounced Mehsud's killing as a U.S bid to derail peace talks and summoned the U.S. ambassador on Saturday to complain. Some politicians called for blocking U.S. military supply lines into Afghanistan.
Speaking at a news conference on a visit to Saudi Arabia, Kerry said he would not confirm or comment on reports that a U.S. drone had killed the Taliban leader.
But he said of Mehsud: "This is a man who absolutely is known to have targeted and killed many Americans, many Afghans and many Pakistanis. A huge number of Pakistanis have died at the hands of Mehsud and his terrorist organisation."
"Pakistan has been deeply threatened by this insurgency in Pakistan."
Kerry added: "... we are sensitive to the concerns of the country and we look forward to working very closely with the government of Pakistan."
"We intend to continue to work together with them (Pakistanis) through the strategic dialogue that we have established in order to work through these kinds of challenges." (Reporting by Lesley Wroughton; Editing by William Maclean and Robin Pomeroy)
This story has not been edited by Firstpost staff and is generated by auto-feed.
Firstpost is now on WhatsApp. For the latest analysis, commentary and news updates, sign up for our WhatsApp services. Just go to Firstpost.com/Whatsapp and hit the Subscribe button.
Updated Date: Nov 05, 2013 00:31 AM