After manhunt, Columbine-obsessed teen found dead in Colorado
By Keith Coffman DENVER (Reuters) - A Florida teenager believed to be obsessed with the Columbine massacre was found dead in Colorado on Wednesday after she triggered a manhunt by making a 'pilgrimage' to the state, days before the 20th anniversary of the infamous school attack. Sol Pais, an 18-year-old student from Surfside, Florida, was found by authorities in Clear Creek County, about 40 miles (64 km) west of Columbine High School, where two teenaged male students shot and killed 12 classmates and a teacher on April 20, 1999, before committing suicide. Pais appeared to have been killed by a self-inflicted gunshot wound, Jefferson County Sheriff Jeff Shrader said during a news conference with school officials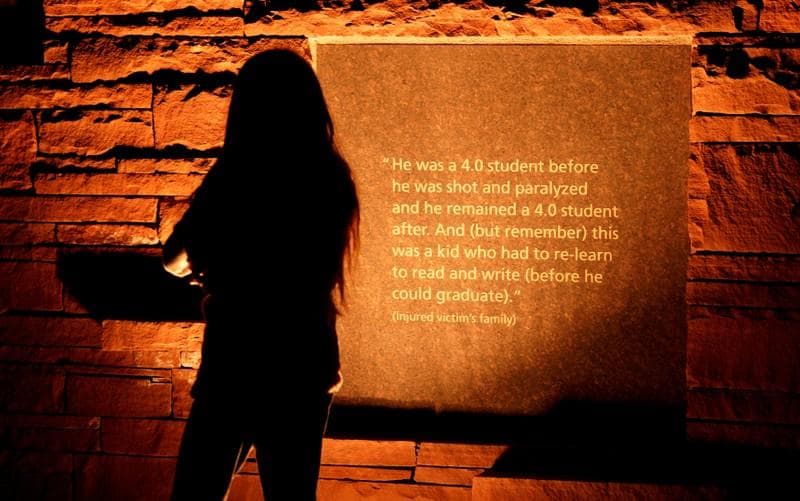 By Keith Coffman
DENVER (Reuters) - A Florida teenager believed to be obsessed with the Columbine massacre was found dead in Colorado on Wednesday after she triggered a manhunt by making a "pilgrimage" to the state, days before the 20th anniversary of the infamous school attack.
Sol Pais, an 18-year-old student from Surfside, Florida, was found by authorities in Clear Creek County, about 40 miles (64 km) west of Columbine High School, where two teenaged male students shot and killed 12 classmates and a teacher on April 20, 1999, before committing suicide.
Pais appeared to have been killed by a self-inflicted gunshot wound, Jefferson County Sheriff Jeff Shrader said during a news conference with school officials. Columbine is in Littleton, a Denver suburb that includes part of Jefferson County.
Denver area schools will resume classes on Thursday after closing on Wednesday while FBI agents, Jefferson County deputies and Colorado state troopers searched for Pais.
"To close an entire metro area is not an easy decision, but at the end of the day, it's the right decision and best decision to protect all of our kids," said John McDonald, executive director of Jefferson County Department of School Safety.
Since the massacre at Columbine, there has been a decades-long string of U.S. school shootings, some inspired by copycats who have expressed fascination with the massacre.
Columbine was the second deadliest shooting at a school in U.S. history at the time. Now it stands fifth, surpassed by the high school shooting in Parkland, Florida in 2018, the shooting at an elementary school in Newtown, Connecticut in 2012 and a 2007 shooting at Virginia Tech.
With the rash of school shootings across the nation, security alerts and safety drills have become commonplace. In Denver public schools alone, there have been 22 lockdowns and 294 lockouts over the past two academic years, according to school data cited by the Denver Post.
Frank DeAngelis, who was the principal of Columbine High School 20 years ago, said during the news conference that he reached out to 15 school staff who were working on Tuesday and had been at the school when the gunfire erupted in 1999.
"It takes us back. The month of April comes and it just does it to us all," he said.
Students and staff will have mental health counsellors at the school on Thursday to help with "grief and processing mental issues," a school official said.
NAKED WOMAN WITH A GUN
Pais flew from Miami to Denver on Monday, where she bought a pump-action shotgun and ammunition, FBI Special Agent in Charge Dean Phillips said at a news conference on Tuesday. Denver is adjacent to Jefferson County.
"There was a pilgrimage here. That's pretty clear and convincing evidence that we have a threat to the school," McDonald said.
Pais purchased the gun from a shop not far from Columbine after passing a background check, the dealer in Littleton said.
"We had no reason to suspect she was a threat to either herself or anyone else," said Josh Rayburn, owner of the Colorado Gun Broker. "We are very sorry to hear of the outcome in this situation."
Some 20 to 30 officers searched for her near the Echo Lake Campground in the Arapaho National Forest on Wednesday morning, after authorities received reports of a naked woman with a gun running through the woods, CBS4 in Denver reported.
No shots were fired by authorities as they closed in on Pais, the station reported, citing law enforcement sources.
A spokeswoman for the Miami-Dade County Public Schools said Pais was student at Miami Beach Senior High School and that there was no threat to schools within the district.
The Miami Herald quoted Pais' classmates describing her as smart and socially awkward. "She was just bad at starting conversations," said Justin Norris, a senior at the school.
On Tuesday, an FBI bulletin said authorities lacked probable cause for a formal arrest but that law enforcement should detain Pais for a mental-health evaluation.
The sheriff's Twitter post, which included two photos of Pais, said she was dressed in a black T-shirt, camouflage pants and black boots.
An online journal written by a woman who identified herself as "Sol Pais" contains numerous handwritten entries of despair and anger, peppered with images of weapons.
"Being alive is overrated," one entry reads, punctuated with an expletive, above a drawing of a handgun going off with the word "ready?" underneath.
A user on the National Gun Forum used the same screen name as the author of the blog in a series of posts starting in late March seeking advice on how an 18-year-old Florida resident could buy a shotgun in Colorado.
"I am planning a trip to Colorado in the next month or so and wanna buy a shotgun while I'm there and I was wondering what restrictions apply for me?" the first post read.
(Reporting by Keith Coffman in Denver, additional reporting by Rich McKay in Atlanta and Brendan O'Brien in Milwaukee, and additional writing by Steve Gorman in Los Angeles; editing by Larry King and Bill Berkrot)
This story has not been edited by Firstpost staff and is generated by auto-feed.
World
By Andrea Shalal WASHINGTON (Reuters) -The United States said on Thursday it would boost public climate finance to help poor countries reduce greenhouse gas emissions and adapt to a changing climate, doubling funding by 2024 from high average levels hit during the Obama administration. The White House said it was embracing "ambitious but attainable goals" for international aid to developing countries, given the urgency of the climate crisis and to compensate for a sharp drop in U.S. funding during the Trump administration.
World
(Removes extraneous word 'while' in paragraph 3) (Reuters) -Pregnant women infected with COVID-19 and their newborn children face higher risks of complications than was previously known, a study by British scientists showed on Friday. An infection of the new coronavirus in such newborns is associated with a three-fold risk of severe medical complications, according to a study conducted by scientists at the University of Oxford. (https://bit.ly/3tNwkJ7) Pregnant women are at higher risk of complications such as premature birth, high blood pressure with organ failure risk, need for intensive care and possible death
World
MADRID (Reuters) -Anonymous death threat letters with bullets enclosed in the envelopes have been sent to two of Spain's top security officials and the leader of the hard-left Unidas Podemos party, officials said on Friday, adding police are investigating.