After ditching Paris climate deal, Donald Trump says many trade deals will soon be renegotiated
I promised I would exit or renegotiate any deal which fails to serve America, Donald Trump said.
After withdrawing the United States from the landmark Paris climate accord, President Donald Trump said on Friday that as he has taken the decision now, many trade deals will soon be under renegotiation.
"I was elected to represent the citizens of Pittsburgh, not Paris. I promised I would exit or renegotiate any deal which fails to serve America's interests. Many trade deals will soon be under renegotiation," Trump told reporters at the Rose Garden of the White House.
"Very rarely do we have a deal that works for this country, but they'll soon be under renegotiation. The process has begun from day one. But now we're down to business," he said asserting that his administration wants fair treatment for its citizens.
"We want fair treatment for our taxpayers. We don't want other leaders and other countries laughing at us anymore. And they won't be. They won't be," he said.
Trump said beyond the severe energy restrictions inflicted by the Paris Accord, it includes yet another scheme to redistribute wealth out of the United States through the so-called Green Climate Fund, which calls for developed countries to spend $100 billion to developing countries, all on top of America's existing and massive foreign aid payments.
"So, we're going to be paying billions and billions and billions of dollars, and we're already way ahead of anybody else. Many of the other countries haven't spent anything, and many of them will never pay one dime," he said.
In 2015, the United Nation's departing top climate officials reportedly described the $100 billion per year as "peanuts" and stated that "the $100 billion is the tail that wags the dog", he said.
"In 2015, the Green Climate Fund's executive director reportedly stated that estimated funding needed would increase to $450 billion per year after 2020. And nobody even knows where the money is going. Nobody has been able to say, where is it going," he said.
Trump said the world's top polluters have no affirmative obligations under the Green Fund, which now has been terminated.
America is $20 trillion in debt. Cash-strapped cities cannot hire enough police officers or fix vital infrastructure.
Millions of its citizens are out of work, he said.
"And yet, under the Paris Accord, billions of dollars that ought to be invested right here in America will be sent to the very countries that have taken our factories and our jobs away from us. So think of that," said the US president.
"There are serious legal and constitutional issues as well. Foreign leaders in Europe, Asia, and across the world should not have more to say with respect to the US economy than our own citizens and their elected representatives,"
"Thus, our withdrawal from the agreement represents a reassertion of America's sovereignty," Trump said.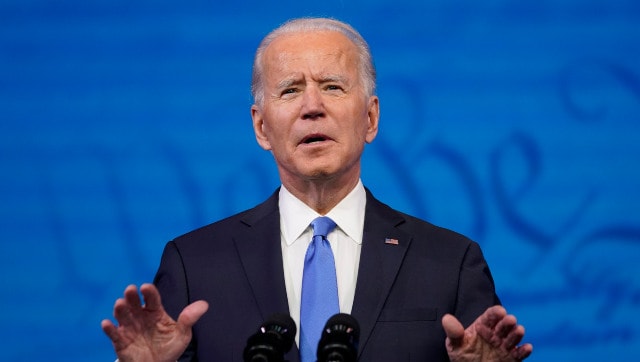 World
The US also announced sanctions on 32 individuals and entities accused of attempting to influence the 2020 presidential election by spreading disinformation
long reads
There were 2,500 to 3,000 US troops in Afghanistan when Biden took office, the smallest number since early in the war. The number peaked at 1,00,000 during President Barack Obama's first term.
World
Kinston Police chief Tim Dilday said officers were called to a business after an employee, who alleged the man had threatened her, tripped a silent alarm