Afghan president Ashraf Ghani arrives in New Delhi; bilateral ties, infrastructure development may feature on agenda
Afghanistan president Ashraf Ghani arrived in New Delhi on Tuesday for a daylong visit to India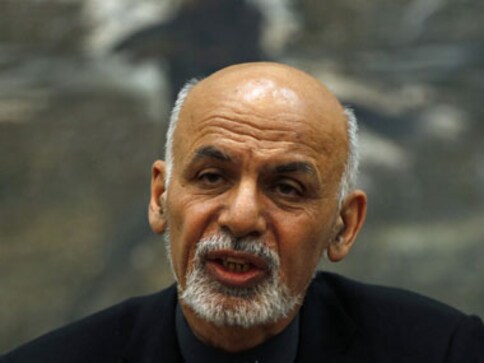 Afghanistan president Ashraf Ghani arrived in New Delhi on Tuesday morning for a day-long visit. According to media reports, Ghani's tour will include a meeting with his Indian counterpart Ram Nath Kovind, and delegation-level talks with Prime Minister Narendra Modi.
#Afghanistan President Ashraf Ghani arrives in #Delhi, will meet PM Narendra Modi, President Kovind and EAM Sushma Swaraj pic.twitter.com/EQJrdFHeqF

— ANI (@ANI) October 24, 2017
Ghani is the third Afghan government official to have visited India in the recent past. Moreover, India's national security adviser Ajit Doval was also in Kabul on 16 October to meet his counterpart Hanif Atmar.
"The visit will build upon the recent high-level bilateral exchanges between the two countries, including the visits of Abdullah Abdullah, chief executive of Afghanistan, from 27 to 29 September, and of Salahuddin Rabbani, Afghan foreign minister, on 10-11 September for a bilateral strategic partnership council meeting," the ministry said in a statement.
"Both sides will have the opportunity to review the gamut of multifaceted bilateral partnership, including the New Development Partnership, hold consultations and coordinate on furthering the shared objective of promoting peace, security, stability and prosperity in Afghanistan and efforts to combat the menace of terrorism, and discuss regional and global issues of mutual interest," the statement added.
During the second strategic partnership council meeting on 11 September, India worked with Afghanistan to identify priorities and projects where Kabul needed New Delhi's assistance.
India agreed to implement important new projects such as the Shahtoot Dam and drinking water project for Kabul that would also facilitate irrigation and water supply for Charikar city, road connectivity to Band-e-Amir in Bamyan province that would promote tourism, low-cost housing for returning Afghan refugees in Nangarhar province, a gypsum board manufacturing plant in Kabul to promote local industry, and a polyclinic in Mazar-e-Sharif.
India will also take up 116 high-impact community development projects in 31 provinces of Afghanistan.
These important investments will be in the areas of education, health, agriculture, irrigation, drinking water, renewable energy, flood control, micro-hydro power, sports and administrative infrastructure, according to the external affairs ministry.
New Delhi also announced that ongoing programmes for education, capacity building, skills and human resource development in Afghanistan, one of the largest such programmes in the world, would continue for a further period of five years from 2017 to 2022.
With inputs from IANS
World
While Haibatullah Akhundzada is the Taliban's overall leader, Baradar is its political chief and most public face. Western diplomats have hitherto viewed him as the most resistant to ISI control
India
According to global leader approval tracker Morning Consult, the prime minister's peak rating of 84 percent was in May 2020
World
A number of women rights activists and reporters, who were protesting in Kabul for the second straight day, said that Taliban fighters lobbed tear gas shells on their procession to stop them from marching toward the Afghan Presidential Palace, local news channel Tolo News reported.