Admiral Harry Harris to be next US ambassador to Australia: Picking 'China hawk' sends clear message to Beijing
United States president Donald Trump has nominated Admiral Harry B Harris Jr, commander of the United States Pacific Command, as the next ambassador to Australia.
United States president Donald Trump has named Admiral Harry B Harris Jr, commander of the United States Pacific Command (PACOM), as his pick for the US ambassador to Australia. The White House, in a statement, said that he is a "highly decorated, combat proven naval officer with extensive knowledge, leadership and geo-political expertise in the Indo-Pacific region."
He is expected to easily secure a confirmation in the Senate.
Australian prime minister Malcolm Turnbull was quick to welcome the US decision and Harris to Canberra.
Harris is expected to retire this year. Adding that the usual transition for combatant commanders is around the three-year point, PACOM spokesman Captain Darryn James said that the projected date for Harris is May 2018.
During his 39-year career, he served in every geographic combatant command and has held seven command assignments, including the US Pacific Fleet, the US Sixth Fleet, and VP-46. Harris, born to a Japanese mother and an American father, was the first Asian-American appointed to lead a combat command.
Military man at the helm
The selection of a military man, who is also a frequent visitor to Australia, has come as a welcome news to both the Coalition and Labour parties in the country.
Being a plum diplomatic posting, Australia is usually given to presidential donors or friends. Former Australian diplomat Bruce Haigh said it's a blessing in disguise not to have a political appointee. He told SBS News that some of the Republican Party appointees to the role over the years had been dreadful.
"They're usually big party donors, I think one of them was a used-car salesman," Haigh said.
Trump's decision to nominate Harris possibly reflects the importance that the US is giving to Australia and Canberra's placement back in US' list of priority allies. It will quell fears that Washington is abandoning an ally.
Since Trump's "worst call" with Turnbull, relations between the two countries have remained largely uncertain. The absence of an American ambassador in Australia since 2016 have added to the chagrin with former deputy prime minister Tim Fischer calling it "bordering on diplomatic insult."
"The appointment delay of more than 15 months is a snub and reflects Australia's low priority status in Washington DC," he was quoted as saying by SBS News.
However, by choosing Harris, Trump seems to have softened the Australians and managed to reassure the US ally. Australia's foreign minister Julie Bishop told The Sydney Morning Herald that Admiral Harris is "very well known to us" and Australia would welcome his posting.
Andrew Shearer, senior adviser on Asia-Pacific security at the Centre for Strategic and International Studies said Harris' nomination was great news for US-Australia relations. "It's great news for the alliance obviously this is a period of change and uncertainty and appointing someone of Harris's calibre shows how seriously the US and the Trump administration are taking Australia," he told The Australian.
Harris is known to have visited Australia several times as head of the PACOM and met political and military leaders. Diplomatic veterans, according to former Australian ambassador to Washington Kim Beazley, view Harris and his diplomatic relationships in the region as highly valuable.
The Australian Strategic Policy Institute notes that American ambassadors are typically loath to inject themselves into Australian domestic debates, "but one should hope that Harris will help inject a bit of spine into discussions on national security."
Colin Clark, editor of industry publication Breaking Defence, even told ABC News that Australia could use Admiral Harris as "cover" should they want to send Beijing a stern message about China's activities in the South China Sea.
China, for obvious reasons, will not be too happy with the Trump administration's decision.
China's 'concerns'
China's foreign ministry spokesperson Geng Shuang, in response to a question about Harris' nomination, pointed out that striving for stability and development in the Asia-Pacific is the common responsibility as well as the shared aspirations of all regional countries.
"China hopes that the policies taken by relevant countries and the state-to-state relations between them can help uphold and promote peace, stability, development and prosperity of the region."
Dubbed a "China hawk", Harris is a vocal Beijing critic. Former deputy assistant to Trump said during a radio show Miranda Live that Harris' appointment as US Ambassador to Australia was in direct response to China's growing influence in the Pacific.
Japan Times reported last year that China had urged US to dismiss Harris as commander of the US Pacific Command. The Chinese leadership headed by President Xi Jinping made the request, through its ambassador in the United States, to dismiss Harris, a source told Japan Times.
US' commitment to 'free' Indo-Pacific 
US' policy of a "free and open" Indo-Pacific is likely to get a push with Harris' nomination. Harris urged for the need to take decisive actions this year with respect to promoting a free Indo-Pacific region. He said that 2018 is the year to take courageous decisions and to get things done – to finish those things which we began in 2016 and reinforced in 2017.
He called China a "disruptive transitional force" in the Indo-Pacific and owner of the trust deficit in the region at the Raisina Dialogue 2018. He also warned that "we cannot turn a blind eye" to China.
Daniel Blumenthal, a former Pentagon official, told Australian Financial Review that Harris' appointment Down Under is "about as strong a signal Trump can send about his commitment to the Australia alliance and a free and open Indo-Pacific".
"Harris knows Australia well and knows of its importance to regional security."
Having Harris in Canberra will help the Trump administration send a strong message to China about its commitment to the National Security Strategy and promoting a free and open Indo-Pacific. It will put Australia in the middle of Washington's policy and will reflect US' intent of keeping its alliances intcat. Harris' experience and popularity among Australian leaders might help restructure the beleaguered Washington-Canberra ties.
Explainers
On Friday, Vox Media announced it would lay off seven per cent of its staff. Heavy hitters such as CNN, NBC, Washington Post, MSNBC, and Buzzfeed have all announced job cuts recently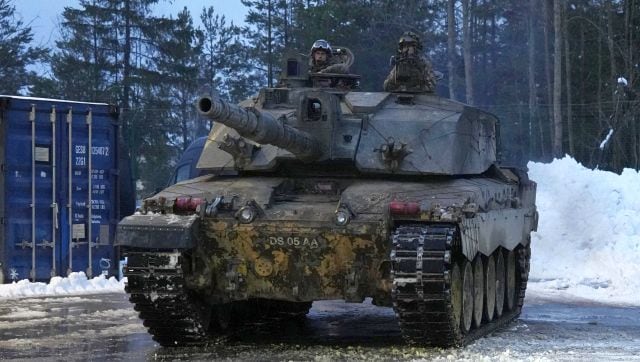 World
Providing the sophisticated battle tanks — one of the most powerful symbols of war — was long seen as a red line by the United States and its closest European allies who feared Russian retaliation
Explainers
Researchers in China have successfully powered unmanned aerial vehicles via high-energy laser beams in an experiment. Here's how they did it and why some remain sceptical of the technology