Acting Pentagon chief says committed to defeating IS, but allies sceptical
By Idrees Ali and John Irish MUNICH, Germany (Reuters) - Acting U.S. Defence Secretary Patrick Shanahan said on Friday the United States was committed to defeating Islamic State in the Middle East and beyond, but officials said European allies were sceptical of Washington's pledges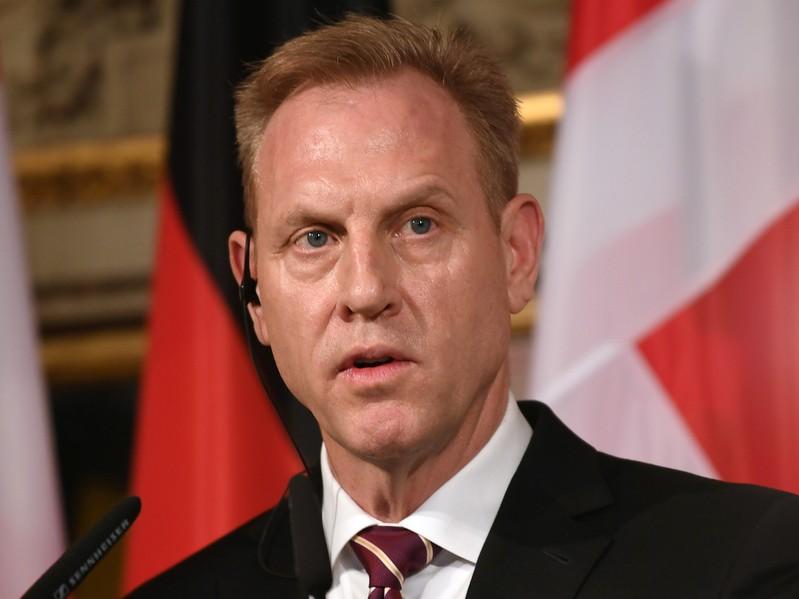 By Idrees Ali and John Irish
MUNICH, Germany (Reuters) - Acting U.S. Defence Secretary Patrick Shanahan said on Friday the United States was committed to defeating Islamic State in the Middle East and beyond, but officials said European allies were sceptical of Washington's pledges.
U.S. President Donald Trump's announcement in December that he was withdrawing all 2,000 U.S. troops from Syria surprised and rattled allies. U.S. officials have crisscrossed the Middle East in recent weeks to reassure them that Washington remains committed to the region.
Trump's Syria decision was opposed by top aides, including then-Defence Secretary Jim Mattis, who quit, leaving his deputy Shanahan in charge of the Pentagon.
"While the time for U.S. troops on the ground in northeast Syria winds down, the United States remains committed to our coalition's cause, the permanent defeat of ISIS, both in the Middle East and beyond," Shanahan said after a meeting on the sidelines of the Munich Security Conference.
The meeting included about a dozen defence ministers from the coalition to defeat Islamic State. Kurdish-led fighters are battling to capture the militants' last major stronghold in Syria, but even without territory, the group is widely seen as a continuing threat.
Shanahan said he envisioned a "bigger and stronger" coalition to fight Islamic State globally. "We will continue to support our local partners' ability to stand up to the remnants of ISIS," he added, using an acronym for Islamic State.
However, European officials said they were given few details during the closed-door meeting in Munich and many questions remain. "We are still trying to understand how the Americans plan to withdraw," said one European official, speaking on condition of anonymity.
Another official said Shanahan did not provide allies with a timeline of the U.S. withdrawal from Syria and allies expressed scepticism during the meeting.
A senior U.S. defence official said no commitments were made during the meeting and there was little discussion about timelines. "These meetings don't tend to have specific deliverables or decisions," the U.S. official said.
Trump on Friday, though, indicated that he would have solid progress to share very soon.
"We have a lot of great announcements having to do with Syria and our success with the eradication of the caliphate and that will be announced over the next 24 hours," he said during a Rose Garden event at the White House.
SYRIA SAFE ZONE
Turkey wants to set up a safe zone with logistical support from allies and says it should be cleared of the U.S.-backed Kurdish YPG militia, which Ankara considers a terrorist group.
The U.S. official said the ministers talked about the need for some sort of security arrangement in northeast Syria after the United States has left.
Republican Senator Lindsey Graham, speaking at the Munich Security Conference, said the top U.S. general would ask allies to contribute forces to help stabilise areas liberated from Islamic State.
France expressed scepticism at the suggestion.
"Once the Americans leave we'll be forced to leave. We aren't going to be the patsy for the Americans," a senior French diplomat said, adding he did not see others ready to fill the void.
French Foreign Minister Jean-Yves Le Drian told lawmakers on Wednesday he had doubts about a safe zone. "Who will watch it? Who will be its guarantors? What would be its perimeters?"
(Additional reporting by Sabine Siebold and Lisa Lambert; Editing by Frances Kerry, Gareth Jones and Dan Grebler)
This story has not been edited by Firstpost staff and is generated by auto-feed.
World
ATHENS (Reuters) - Greek police used teargas and water cannon to disperse people who had gathered in central Athens on Saturday to protest against mandatory COVID-19 vaccinations. More than 4,000 people rallied outside the Greek parliament for a third time this month to oppose mandatory inoculations for some workers, such as healthcare and nursing staff.
World
ISTANBUL (Reuters) - Two Turkish soldiers were killed and two were wounded in an attack on their armoured vehicle in northern Syria, and Turkish forces immediately launched retaliatory fire, Turkey's defence ministry said on Saturday. "Our punitive fire against terrorist positions is continuing," the statement on Twitter on said. It did not specify where the attack occurred, but media reports said it was in the al-Bab area.
World
By Marcelo Rochabrun SAO PAULO (Reuters) - Protesters took to the streets in several Brazilian cities on Saturday to demand the impeachment of far-right President Jair Bolsonaro, whose popularity has fallen in recent weeks amid corruption scandals against the backdrop of the pandemic. This week, news broke that Brazil's defense ministry told congressional leadership that next year's elections would not take place without amending the country's electronic voting system to include a paper trail of each vote. Bolsonaro has suggested several times without evidence that the current system is prone to fraud, allegations that Brazil's government has denied