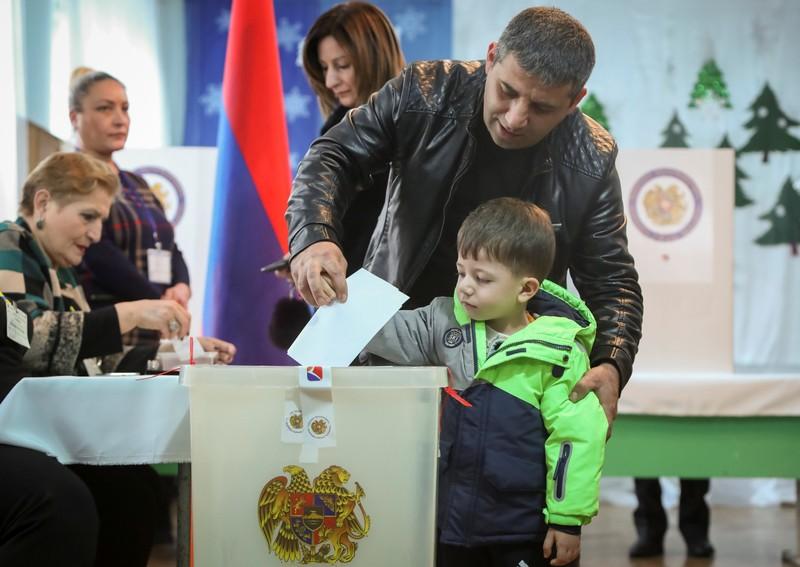 By Margarita Antidze and Hasmik Mkrtchyan
YEREVAN (Reuters) - Armenia's acting prime minister Nikol Pashinyan bolstered his authority in the former Soviet republic as his political bloc won early parliamentary elections which were assessed as democratic.
My Step Alliance, including Pashinyan's Civil Contract Party, won 70.4 percent of Sunday's vote based on results from all polling stations, the Central Election Commission said on its website.
Results showed that two moderate opposition parties - Prosperous Armenia and Bright Armenia - got enough votes to clear the 5 percent threshold to enter parliament.
The Organization for Security and Co-operation in Europe (OSCE) said on Monday that the elections respected fundamental freedoms.
"The general absence of electoral malfeasance, including of vote-buying and pressure on voters, allowed for genuine competition," the statement said.
Pashinyan came to power in May after weeks of mass protests against corruption and cronyism. The former newspaper editor, who was jailed for stirring up unrest in 2008, marked a dramatic break from the cadre of rulers who have run Armenia since the late 1990s.
He stepped down in October so parliament could be dissolved ready for the early election but remained as acting prime minister.
"We are not afraid of a challenge of having constitutional majority at the parliament," Pashinyan told a news conference on Monday, adding that his power was restricted by "rule of law and free media".
He said one of the first steps for a new legislature would be making changes to the South Caucasus country's tax code in order to give local entrepreneurs more freedom and attract foreign investment.
The former ruling Republican Party received 4.70 percent of the vote, not enough to enter parliament.
Former high-ranking officials were sacked and some arrested following the change of power. An appeals court ordered the detention of former President Robert Kocharyan on Friday on charges of attempting to overthrow the constitutional order.
Kocharyan was Armenia's second president, serving from 1998-2008, when mass protests erupted over a disputed election.
Pashinyan promised there would be no major shifts in Armenian foreign policy and has offered assurances that he will not break with Moscow.
"Our country is not under any influence," he said, adding that Armenia would continue its cooperation with the European Union, although had no plans to join NATO.
Armenia hosts a Russian military base and is a member of Russia-led military and economic alliances.
Pashinyan also suggested he would stick with existing policies on the long-running issue of Nagorno-Karabakh.
A mountainous part of Azerbaijan, Nagorno-Karabakh is run by ethnic Armenians who declared independence from Baku during a conflict that broke out as the Soviet Union crumbled in 1991.
Though a ceasefire was agreed in 1994, Azerbaijan and Armenia still regularly accuse each other of conducting attacks around Nagorno-Karabakh and along the Azeri-Armenian border.
(Writing by Margarita Antidze,; Editing by Ed Osmond)
This story has not been edited by Firstpost staff and is generated by auto-feed.
Firstpost is now on WhatsApp. For the latest analysis, commentary and news updates, sign up for our WhatsApp services. Just go to Firstpost.com/Whatsapp and hit the Subscribe button.
Updated Date: Dec 11, 2018 01:06:57 IST