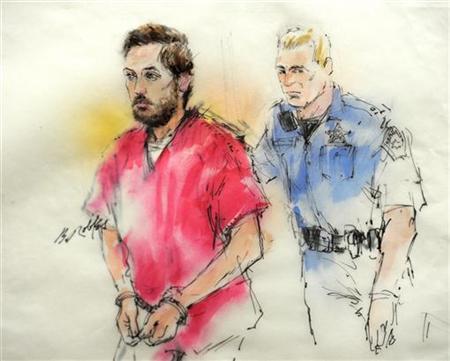 CENTENNIAL, Colo. (Reuters) - Self-portraits of accused Colorado movie house gunman James Holmes posing with firearms and body armor ended prosecutors' pretrial case against the former graduate student on Wednesday, but defense lawyers declined to present evidence or witnesses of their own.
The pictures, which police said Holmes took of himself with an iPhone before his shooting rampage at a midnight showing of a "Batman" film last summer, capped three days of hearings in which prosecutors laid out their case for putting him on trial.
The onetime neuroscience doctoral student is charged with multiple counts of first-degree murder and attempted murder for the 12 people who were slain and dozens of others wounded at the opening of "The Dark Knight Rises" in the Denver suburb of Aurora.
Prosecutor Karen Pearson said in her closing arguments that Holmes would have killed more people had his rifle not jammed, adding, "He certainly had the ammo to do so."
The July attack marked one of the most lethal mass shootings in U.S. history and one of a string of mass shootings last year capped by the massacre of 20 children and six adults in December at an elementary school in Newtown, Connecticut.
Wrapping up the prosecution's case against Holmes on Wednesday, Aurora police Sgt. Matthew Fyles ran through pictures Holmes took roughly six hours before the deadly assault on the Century 16 multiplex near his home.
In one picture, Holmes grinned while holding the muzzle of a handgun near his face. He stuck his tongue out in another photo.
His brightly dyed red hair was visible in both pictures, and he wore black contact lenses that made his pupils appear abnormally large. In another picture taken the same evening, his bed was strewn with guns, ammunition magazines, body armor, a gas mask and other gear.
BOOBY-TRAPPED APARTMENT
In a self-portrait taken on July 5, Holmes posed with a semi-automatic rifle and wore the tactical body armor he was wearing when he was arrested.
A separate photo taken on July 16 showed the booby-trapped explosives Holmes is accused of rigging up inside his apartment, which according to police he had intended as a diversion to draw authorities away from the theater the night of the assault.
The explosives were safely dismantled after the shooting.
Holmes' lawyers, seen by legal experts as preparing for an insanity defense, had been planning to call two witnesses to testify this week about their client's state of mind around the time of the shootings.
But in a surprise twist to the proceedings after the prosecution rested its case on Wednesday, public defender Daniel King told the judge his team had decided not to present its own evidence or testimony.
"This is a preliminary hearing and not the proper venue or time to put on a show or truncated defense," King said. The defense also declined to make a closing statement before the hearing was adjourned.
Arapahoe County District Judge William Sylvester said he was taking evidence presented this week under advisement and scheduled a new court hearing for Friday that he said would serve as a "status hearing and/or arraignment."
If the judge orders the case to proceed to trial, Holmes, 25, is widely expected to enter a plea of not guilty by reason of insanity.
Authorities have offered no motive for the slayings. Holmes' lawyers have said he suffers from mental illness, but they have not been more specific.
(Reporting by Keith Coffman and Laura Beth Coffman; Writing by Steve Gorman; Editing by Cynthia Johnston)
Updated Date: Jan 10, 2013 04:00 AM