A year into presidency, Donald Trump to deliver State of the Union address; what to expect from his speech
Will the hyperbole-loving president tone down his bombastic speaking style a bit? The White House is setting expectations as close to 'yes' as possible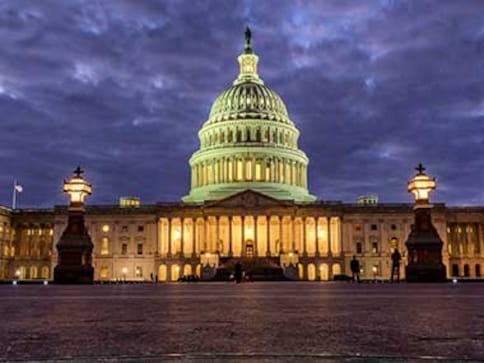 Washington:  The state of the union is ...
Great again? Or not quite?
A year into his presidency, president Donald Trump stands before the nation Tuesday night to account for his promise to "make America great again" amid talk of a rising threat of nuclear war and special counsel Robert Mueller's probe of Trump's 2016 campaign.
For both parties, the speech operates like the pop of a starting gun for the midterm elections, when Republicans will defend their majorities in the House and Senate.
A look at what to watch:
How superlative? 
White House spokeswoman Sarah Huckabee Sanders on Monday previewed the speech by describing the state of the union as "incredible."
But will the hyperbole-loving president tone down his bombastic speaking style a bit? The White House is setting expectations as close to "yes" as possible — but only for as long as the speech itself lasts. Expect the president to cast the tax overhaul he signed in December and the strong economy as Trump initiatives that help all Americans. Thematically, Trump is expected to speak of having built the foundation for a safer and stronger nation.
But can Trump stay on message — and off Twitter — after the reviews come in?
The elephant in the chamber
Will Trump make any mention of Mueller's probe of Russian connections and obstruction of justice, or his own expressed willingness to be interviewed under oath? Trump told reporters last week he'd "love" to be interviewed under oath about the matter. But his lawyers didn't seem as enthusiastic and are still negotiating.
FLOTUS
First lady Melania Trump will face extra scrutiny this year — and not just because of the former model's fashionable couture.
Mrs Trump's movements have been closely watched ever since The Wall Street Journal reported earlier this month that the president's lawyer had arranged a payment to an adult film star, Stormy Daniels, to keep her from talking about an alleged 2006 affair with the future president. The couple's 13th wedding anniversary passed without public comment last week, and Mrs Trump abruptly announced she was skipping a trip with her husband to an economic summit last week in Switzerland.
Who's there
Often who is in the chamber reflects the president's priorities. Seated around Mrs Trump will be more than a dozen guests, including small-business owners, beneficiaries of tax relief, victims of gang violence and a police officer who adopted a baby from parents addicted to opioids.
Democrats are strategically populating their guest lists, too — with faces of the immigration debate that is roiling Congress and vexing Trump. Their guests will include immigrants who are among the nearly 7,00,000 people who received protection from deportation under the Obama-era Deferred Action for Childhood Arrivals program. Trump cancelled the program last year but gave Congress until March to come up with a legislative fix.
Who's not 
Traditionally, one member of the Cabinet stays away from the address for security reasons. One question is whether Justice Neil Gorsuch, whom Trump nominated for the Supreme Court, will attend the speech. Justice Samuel Alito, who shook his head and mouthed "not true" at president Barack Obama during the 2010 State of the Union speech, has not attended a presidential address since.
Some Democratic lawmakers plan to boycott the president's address.
What they wear 
Typically, some female lawmakers wear bright colours so they will stand out on television. But this year, several Democratic women plan to wear black to protest sexual harassment after a season of scandals toppled male leaders across industries. Congress is no exception: Accusations have forced resignations and retirements in both parties. Trump, too, has faced sexual assault allegations.
Rebuttal
Representative Joe Kennedy of Massachusetts will deliver the Democratic response to the president's address. He is the grandson of the late Robert F Kennedy, the senator and US attorney general, and the son of former Representative Joseph Kennedy II, who served in the House from 1987 to 1999. Democratic leaders are pitching Kennedy as someone who can champion Democratic policies to the middle class.
Then this happens
Daniels, whose real name is Stephanie Clifford, is scheduled to appear on ABC's "Jimmy Kimmel Live!" following Trump's address. She said she had an affair with Trump shortly after he married Melania Trump.
World
The House select committee investigating the 6 January attack on the US Capitol continues to reveal its findings of a year-long investigation
World
John Eastman said the agents took his phone as he left a restaurant last Wednesday evening, the same day law enforcement officials conducted similar activity around the country as part of broadening probes into efforts by Trump allies to overturn the election
World
Removal of tariffs would carry substantive political and strategic costs, without any tangible economic benefits