'A victorious Ukraine will soon be part of EU,' says Zelenskyy in address to European Parliament
Ukraine became a candidate to join the European Union in June 2022---the year the war with Russia began, but the process of joining the 27-nation bloc takes several years to be completed
Brussels: Ukrainian President Volodymyr Zelenskyy on Thursday said that he believed his war-torn country would join the European Union after emerging victorious from its conflict with Russia.
"We are moving closer to the European Union. Ukraine will be a member of the European Union," he said in an address to the European Parliament in Brussels, describing his country as "a Ukraine that is winning".
Ukraine became a candidate to join the European Union in June 2022—the year the war with Russia began, but the process of joining the 27-nation bloc takes several years to be completed.
Zelenskyy said Kyiv and its European partners were defending themselves against what he cast as a historic aggression from Russia.
"Europe, we are defending ourselves against the biggest anti-European force of the modern world," he said. "We, Ukrainians, on the battlefield, together with you."
The Ukrainian President also expressed his gratitude to Ukraine's allies for the military and humanitarian aid they have provided since Russia's invasion of Ukraine in February last year, which has included series of air strikes on the country's critical infrastructure and power grid.
"I thank everyone who helps Ukraine with the essentials: weapons and ammunition, energy equipment and fuel, thousands of things without which we couldn't make it amid total war," Zelenskyy told the European Parliament.
Read all the Latest News, Trending News, Cricket News, Bollywood News,
India News and Entertainment News here. Follow us on Facebook, Twitter and Instagram.
Opinion
Through the visit to Moscow, Xi also seeks to intensify China's strategic partnership with Russia, which he perceives as fundamental to push back against America's hegemony
World
The head of the Wagner group, Yevgeny Prigozhin, said this week that his forces were in control of around 70 percent of the city, and a Russian aide in the wider Donetsk region said the city was "practically surrounded"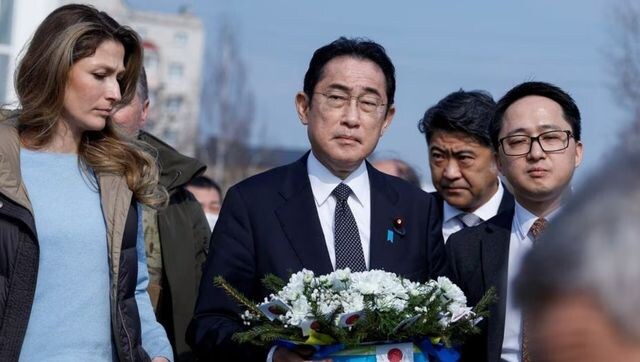 World
Russian troops were accused of massacring civilians in the capital region suburb of Bucha, which they occupied for several weeks in early 2022