A Higher Loyalty book review: No salacious details, James Comey offers a harsh criticism of Donald Trump
Donald Trump and James Comey have made their limited, narrow narratives all about themselves. In the first, Trump chooses to do so, in the other it was inevitable.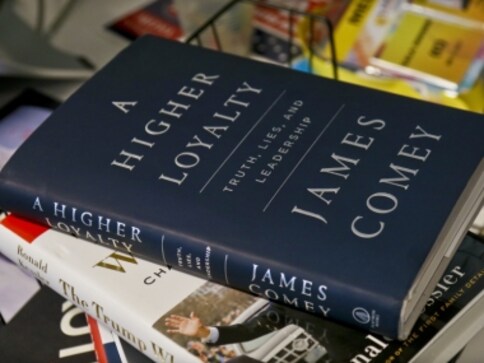 "Because power corrupts, society's demands for moral authority and character increase as the importance of the position increases" – John Adams
The second president of the United States said those words a long time ago but for James Comey, they have never been more relevant than they are today, with truth, morality and loyalty becoming mere buzzwords and when not even the American president is held accountable for his statements.
It is keeping those words in mind that he gives his ultimate indictment of the President of the United States: Donald Trump is "morally unfit to be the President" and a leader of the free world.
Comey, the former head of the FBI who was given the boot by Trump last May is a likeable guy — nearly six feet eight inches tall, always dapper in a suit and tie, he exudes an old-world gentlemanly charm. The whole package makes it hard to not like him — at least on a television screen. Thrust into the limelight during the 2016 presidential elections due to the FBI's handling of the Hillary Clinton emails, James Comey has been a polarising figure depending on who you ask. The Clinton camp says he cost her the elections, the Trump camp says he didn't do enough. His demeanour and his speeches are all about ethics and truth — things the current US president has been accused of lacking in. So, when his new and supposedly explosive book A Higher Loyalty hits the stands, it will no doubt cause quite a disturbance in the already turbulent political circles.
Much of what is in the book is already known from his Senate hearings and his interview with ABC's George Stephanopoulos. The Russian interference in the 2016 elections, the Clinton emails, even Martha Stewart — it's all there but there is also a bit of what made James Comey the persona he is.
In his interview with Stephanopoulos, Comey comes across as a little preachy and someone far, far removed from the dirty world of politics and power, to whom loyalty to the flag and the Constitution is all that matters. The 304-page book resonates these very sentiments, albeit in a more detailed, professorial manner. There are no salacious details about the alleged dossier on Trump's alleged encounter with Russian prostitutes in a Moscow hotel room.
But he minces no words while describing Trump nor is he charitable towards his impression when he first met the president at the White House. "His face appeared slightly orange, with bright white half-moons under his eyes where I assumed he placed small tanning goggles," he writes, adding that the president is "is unethical and untethered to truth and institutional values." He likens his handling of events and people to a mob boss. Comey should know something about mob bosses — as a federal prosecutor he was one of the key players in bringing down the mafia boss Gambino's empire.
The question of a higher moral authority is heard again and again in the book right from when he reminisces about his upbringing in a New Jersey suburb up until his firing on 9 May, 2017. In response, Trump has called him a "slime-ball" and "ly'in Comey" who'll go down in history "as the WORST FBI Director in history, by far!". Comey insists he is only reporting facts as he recalls that his initial assessment of Donald Trump was that the man was not stupid. He knows exactly what he's saying or doing.
A Higher Loyalty also offers a takedown of former Attorney-General Loretta Lynch, a close confidante of Hillary Clinton. "FBI didn't do matters," he said when Lynch asked him to treat Clinton mails as a matter, not an investigation. He has high regard for former president Barack Obama who retained him as FBI director after his ascent to the presidency. Comey, who had been widely panned for his handling of the Clinton emails, met Obama soon after the 2016 election and was told, "I appointed you to be FBI director because of your integrity and your ability…Nothing has happened, nothing, in the last year that has changed my view of that.". "Boy! Did I love hearing those words!" writes Comey. Like a tortured soul from a Greek play, Comey sees himself as a symbol of strength, truth and infallibility who eventually falls not because of his actions, but because of someone else's. He never comes out and says he has regrets but you can tell he does agonise over the decisions he took, and the ones he didn't. And is still doing so.
To be sure, A Higher Loyalty is centred around the pages that talk of his tenure just before and during the Trump presidency. It is a lovely read — a government servant's principled journey through the corridors of power, his early years shaped by men and experiences, and his strict adherence to the law and its strict moral codes. But what will be remembered from it all is the Donald Trump saga. And that is truly unfortunate for the book does have a lot of great anecdotes that catch the eye and the heart.
In a way, the two men – Trump and Comey — have made their limited, narrow narratives all about themselves. In the first, Trump chooses to do so, in the other it was inevitable.
World
Even if nothing comes of the new special counsel investigation into President Joe Biden's team's mishandling of classified documents, politically it has effectively let former Donald Trump off the hook for hoarding secret papers
World
In the United States, the machinery of secrecy works overtime. Every year, some 50 million decisions are made on whether to mark government documents as 'confidential,' 'secret' or 'top secret'
Explainers
Chandigarh-born lawyer Harmeet Dhillon, who once represented Donald Trump, was unsuccessful in her bid to unseat Ronna McDaniel as chairman of the Republican National Committee (RNC). This loss could harm the party's preparations for the 2024 presidential election