5 most memorable moments from State of the Union speeches
The State of the Union, or SOTU, is an opportunity for the president to speak in front of a guaranteed large television audience, as well as the full Congress, Supreme Court justices, and other top officials. It is a highly scripted affair that frequently manages to surprise and even shock
Washington: The State of the Union is a highly scripted affair, but as a piece of political theatre — played in front of a national audience — it has often managed to surprise and even shock. Here are five standout moments.
Battle for eyeballs
Today the State of the Union, referred to as SOTU, is a chance for the president to speak before a guaranteed big television audience, as well as the full Congress, justices of the Supreme Court and other top officials.
Joe Biden got an estimated 38 million viewers in 2022, while Bill Clinton's 1993 speech was watched by a record 67 million people.
The first televised SOTU, delivered by Harry Truman in 1947, was rather different. The problem: few Americans, who relied overwhelmingly on the radio, even had televisions.
'Not good'
SOTUs tend to aim for good vibes. And one of the common rhetorical pillars is some variation on Biden's concluding declaration last year: "The State of the Union is strong because you, the American people, are strong."
In 1975, though, President Gerald Ford didn't have much to celebrate. He had only been in office a short while after taking over from the disgraced Richard Nixon, and his unexpected presidency would end two years later when voters opted for Democrat Jimmy Carter.
"The state of the union is not good," Ford conceded gloomily.
Supreme snooze
The State of the Union isn't as fascinating for everyone as presidents would like. None other than famed Supreme Court justice Ruth Bader Ginsburg was caught falling asleep during Obama's 2015 address.
Her excuse? "We're not, at least I was not, 100 per cent sober," Ginsburg, 81 at the time, explained later.
Reality TV
Since Donald Trump wanted everything to look like reality TV, it was perhaps not surprising that he turned his presidency's final State of the Union, in 2020, into something that resembled a game show.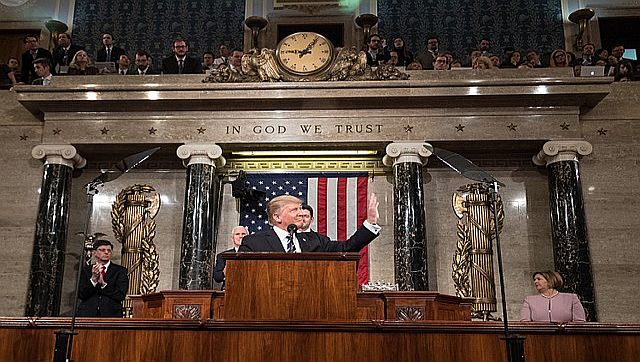 He broke from the speech to orchestrate the apparent surprise, live-on-TV reunion between a returning US serviceman and his shocked family in the audience.
At another moment, he asked his wife Melania Trump to hang the nation's highest civilian honour, the Presidential Medal of Freedom, around the neck of rabble-rousing, right-wing radio host Rush Limbaugh, who was suffering from advanced cancer.
Tearing it up
Trump was a born showman, but his political enemy, then-Democratic speaker Nancy Pelosi, still stole the show in 2020 when she tore up the Republican's speech at the end.
The demonstrative shredding of the paper copy on camera followed another piece of extraordinary on-camera discourtesy: Trump's refusal to shake her hand, as is customary, at the start of the speech.
Later, Pelosi tweeted that she'd torn up a "manifesto of mistruths."
Read all the Latest News, Trending News, Cricket News, Bollywood News,
India News and Entertainment News here. Follow us on Facebook, Twitter and Instagram.
World
The president made fighting global warming a central part of his agenda, and White House officials are quick to defend efforts to put the United States on track for steep emissions reductions in the coming years.
World
Biden said in November that he intends to designate Avi Kwa Ame, a desert mountain in southern Nevada that's considered sacred to Native Americans, as a national monument