2+2 talks: Pakistan Army chief's anti-India rant a good sign, indicates success of US-India counter-terror strategy
On Pakistan's Defence Day, army chief General Qamar Javed Bajwa dared India and vowed to "avenge" the blood of its soldiers.
Pakistan's Chief of Army Staff is an angry (middle-aged) man. In dialogues lifted out of the 'angry young man' Bollywood flicks of the 1970s', General Qamar Javed Bajwa has dared India and vowed to "avenge" the blood of its soldiers.
Now this is a little surprising. Granted that the Pakistan Army chief was speaking on the anniversary of the 1965 war with India — observed as Defence Day in the neighbouring country — and may have felt the need to indulge in a bit of rabble-rousing. There's nothing wrong with that. It is less outlandish than claiming, which he did, that Pakistan had won that war against India.
Even so, the general's fiery rhetoric against India at this time sounded a bit odd. Bajwa tried his best to provoke India, raking up the Kashmir dispute and reiterating Islamabad's support for Kashmir's "self-determination". He also reached out to "the brothers and sisters of occupied Kashmir, who are writing an unparalleled history of bravery and sacrifice". Referring ostensibly to clashes with Indian forces along the LoC, he said that the "blood of martyrs wouldn't be spilled in vain", adding that Pakistan will "take revenge" for the "the blood that has been spilled on the frontier".
This puts into perspective the newly-elected government's vacuous remarks that the "Pakistan Army, Pakistan's government and Pakistani people desire peace with India", as Information Minister Fawad Chaudhry was recently quoted as saying by local media. To call for "peace" and to simultaneously indicate that cross-border terror support to fuel secessionism in India will continue is brazen and reckless.
The Pakistan Army chief's remarks are all the more puzzling because he is believed to be more of a moderate — a strictly relative term in this context — than a hawk on India and one, we are told, who desires rapprochement with its neighbour.
A report by United Kingdom-based think-tank Royal Unites Services Institute (RUSI), written by Kamal Alam, claims that "senior Pakistani officers, led by Bajwa, realise that the way to peace and prosperity is through military cooperation with India". The report goes on to detect a "change in attitudes that started when Bajwa became COAS (Chief of Army Staff) in November 2016". The apparent logic behind the "outreach" by the Pakistani military — the institution that controls Pakistan's security and foreign policy — is that "talking to India will help the country's upward economic trajectory and allow regional trade (to) flourish", according to the report.
The report is, of course, slanted towards a certain narrative that delinks the "peace and dialogue" process from the jihadi terror that Pakistan manufactures, nurtures and exports to India. The RUSI report tries to disingenuously insinuate that the "dialogue process" and "peace" is India's prerogative, as though Pakistan bears no responsibility for using terrorism as an arm of its foreign policy and a "means" to achieve its end — force the secession of Kashmir by sustaining an asymmetric war against India.
These are Pakistan's stated goals. Ideological and religious jihad against India is the Pakistani military's raison d'être, from which the institution draws its legitimacy to rule the country — either directly through dictatorships or indirectly by installing establishment lackeys such as Prime Minister Imran Khan.
The military's dominance has shaped Pakistan's history as a nation-state. As Faisel Pervaiz points out in Stratfor, Pakistan's political history is shaped by a belief that "India is an existential threat, and that the military must be Pakistan's guardian against that threat". "It is little wonder, then, that Pakistan became a national security state during its early years, subordinating economic and democratic development to military improvement and tilting the balance of power away from civilian rule," Pervaiz wrote.
Therefore, these "outreaches", which offer no compromise with Pakistan's core objective on Kashmir, should be treated with scepticism. Even so, there seemed to be a greater degree of circumspection among the ranks of the Pakistani military, which apparently "quietly" reached out to India for talks "months before the general election" with a "key objective" to open trade barriers "between the countries, which would give Pakistan more access to regional markets", according to a report by The New York Times dated 4 September.
To revert to the tired, old rhetoric against India indicates a change in tack. During that very ceremony where Bajwa threatened India, Pakistan prime minister Imran Khan refused to join the United States' war on terror, reiterating that "I was opposed to the war on terror, I didn't want Pakistan to get involved in someone else's war… I pledge today that Pakistan won't fight someone else's war".
Imran, who is seen as the military's man in Islamabad, made the statement just a day after meeting US Secretary of State Mike Pompeo and US army chief General Joseph F Dunford, who had stopped by at Islamabad en route to their New Delhi visit for the 2+2 talks. On the brief meeting between the US delegation and the Pakistani side featuring Bajwa and Imran, the US Department of State said in a release that "Secretary Pompeo had discussed the potential for the United States and Pakistan to work together to advance joint priorities, including regional peace and stability".
The US statement stressed that "in all of his meetings, Secretary Pompeo emphasised the important role Pakistan could play in bringing about a negotiated peace in Afghanistan and conveyed the need for Pakistan to take sustained and decisive measures against terrorists and militants threatening regional peace and stability".
The statement's focus "on the need for Pakistan to take sustained and decisive measures against terrorists and militants" is clear and firm. The words leave little room for any contrary interpretation. It should be seen as a snub and indicates that the Donald Trump administration is running out of patience with its recalcitrant "ally".
"Do more" is replaced by "sustained and decisive actions." It's way more categorical and definitive but the qualitative difference went way over the heads of most Pak talk show hosts.

— Salman Masood (@salmanmasood) September 5, 2018
Speaking later to a group of traveling US journalists, Pompeo said he had made it clear "to them that — and they agreed — it's time for us to begin to deliver on our joint commitments right". "So we've had lots of times where we've talked and made agreements, but we haven't been able to actually execute those. And so there was broad agreement between myself and Foreign Minister Qureshi, as well as with the prime minister, that we need to begin to do things that will begin to actually, on the ground, deliver outcomes so that we can begin to build confidence and trust between the two countries," the US Secretary of State had said. It is ironical that while Pompeo was stressing the need for Pakistan to deliver on "joint commitments", ostensibly on refusing a safe haven to Taliban and bringing them to the discussion table in line with Trump's Afghanistan exit strategy, Imran was vowing "not to fight someone else's war". The apparent estrangement between the Cold War allies seems to have been reinforced with the way the Trump administration has handled the latest South Asia visit. While Pompeo and US Secretary of Defence James Mattis spent over 24 hours in India and inked a breakthrough military communications pact during the inaugural 2+2 talks, Pompeo (not Mattis) spent a few hours in Islamabad, and at the end of a clearly unsatisfactory meeting, delivered a stern rebuke.
Pompeo's visit to #Pakistan has redefined the notion of a quick meeting. He came and went in a puff of smoke. Clearly, given how briefly he was in country, not much of great substance could have been discussed or negotiated. Two hours in Pakistan, more than 24 hours in India... — Michael Kugelman (@MichaelKugelman) September 5, 2018
If Bajwa was smarting under the 'treatment' (not to speak of the US cancelling aid worth $300 million for Islamabad's failure to take action against terror groups), his sense of indignation was likely heightened by the language used in the India-US joint statement that mentions Pakistan twice specifically and essentially mirrors India's position on cross-border terror.
Pledging to expand bilateral cooperation in the region of counter-terrorism, the joint statement states: "The ministers denounced any use of terrorist proxies in the region, and in this context, they called on Pakistan to ensure that the territory under its control is not used to launch terrorist attacks on other countries. On the eve of the 10-year anniversary of the 26/11 Mumbai attack, they called on Pakistan to bring to justice expeditiously the perpetrators of the Mumbai, Pathankot, Uri and other cross-border terrorist attacks."
Let's look at the words closely. The joint statement, which was released after the 2+2 ministerial dialogue, urges Pakistan "to ensure that the territory under its control is not used to launch terrorist attacks on other countries". This denotes a change in US position on Pakistan-occupied-Kashmir, which is now considered a territory "under its control" and not its own territory.
"This shows their acknowledgement that PoK is not Pakistan's territory and it's under its control. A lot of negotiations went in to get this language change in the joint statement," reported The Indian Express.
The joint statement also makes specific mention of terror groups such as "Al-Qa'ida, ISIS, Lashkar-e-Tayyiba, Jaish-e-Mohammad, Hizb-ul Mujahideen, the Haqqani Network, Tehrik-i-Taliban Pakistan, D-Company, and their affiliates", some of which have made India their exclusive target. The use of the word "proxies", which indicates a quasi-involvement of the State of Pakistan in perpetrating terror on Indian soil, is no less significant.
The joint statement formalises the new US approach of putting maximum pressure on Pakistan to achieve its objectives. As top Pentagon official Randall Schriver elaborated recently during a think-tank event in Washington: "I think our approach of cutting assistance and pressuring Pakistan on their relationship with the Taliban, persuading them to come to the table, dealing with terrorist networks will be sustained."
Bajwa, who in his position as the army chief formulates Pakistan's foreign policy, obviously won't be thrilled with the developments. His lashing out at India indicates that a certain amount of frustration is setting in among the Pakistani military establishment. This frustration stems from the realisation that the double game of playing the victim card on terror and providing strategic support to Taliban has become unsustainable. The Trump administration is impatient for "outcomes" and an exit strategy in Afghanistan. It will be interesting to see how Pakistan tackles this conundrum.
India
Immediately after the news of both incidents became public, people from many faiths contributed to the victims. Many perhaps felt shame and anger in the way these innocents had been targetted because of their religion
First Cricket News
There will be three more inductions each year from 2021 with the inductees to be chosen by an independent panel and announced on 16 October, the day when the country made its Test debut in 1952.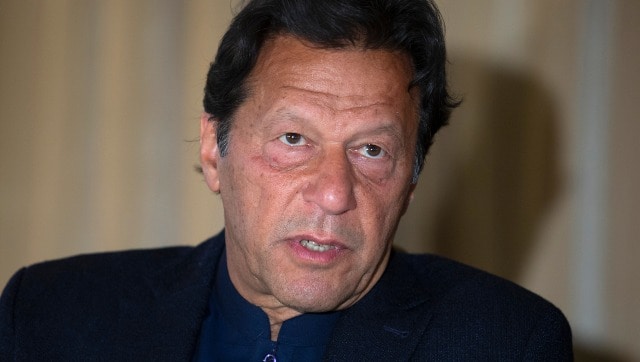 World
"We are going to speak to the IMF because we see disruptions ahead just when our economy is recovering and all the indicators are positive," Dawn newspaper quoted Imran Khan as saying