18-year-old Indonesian boy reunited with family after surviving 49 days adrift at sea near island in Pacific Ocean
18-year-old Indonesian national Aldi Novel Adilang's harrowing tale began in mid-July when he was working solo on a fishing hut.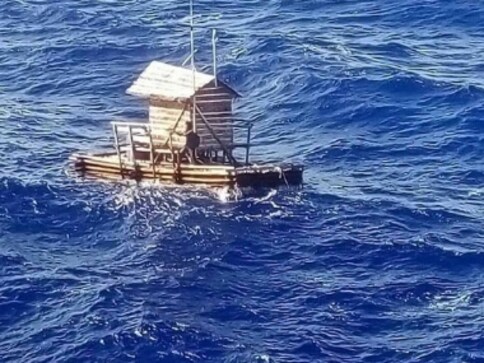 An Indonesian teenager survived seven weeks adrift at sea after his tiny fishing trap lost its moorings and ended up some 2,500 kilometres away in waters near the Pacific island of Guam, his family said on Monday.
Aldi Novel Adilang's harrowing tale began in mid-July when the 18-year-old was working solo on a fishing hut anchored about 125 kilometres off Indonesia's Sulawesi island. His job was to keep the vessel's lamps lit to attract fish. Its owner would reportedly come by weekly to drop off food, clean water, fuel and other supplies.
The floating fishing trap, known as a rompong, had no engine and was anchored to the seabed with a long rope, but heavy winds knocked it off its moorings and sent Adilang out to sea, local media said.
Rompongs are a traditional form of trapping fish in Indonesia, but are often unmanned, secured by buoys and ropes. Local media reported that the owner of Adilang's rompong had as many as 50 moored in the surrounding waters. "His boss told my husband that he went missing," Adilang's mother Net Kahiking told AFP from her home in Sulawesi. "So we just surrendered to God and kept praying hard."
The teen, who only had enough food to last some days, survived by catching fish, Mirza Nurhidayat, the Indonesian consul general in Osaka, who oversaw his eventual return, told the Jakarta Post. "After he ran out of the cooking gas, he burned the rompong's wooden fences to make a fire for cooking. He drank by sipping water from his clothes that had been wetted by sea water," he said.
About ten ships passed the malnourished teen before a bulk carrier Arpeggio rescued him on 31 August near Guam and brought him to Japan, its original destination. Japanese authorities contacted the Indonesian consulate general and his office immediately tried to find Adilang's family and prepare the necessary documents for his return to Indonesia. "We coordinated with the shipping authorities in Japan, the ship's captain, the Japanese coast guard and the immigration authorities," Mirza said.
The Arpeggio docked in Japan on 6 September at 3 pm. On 7 September, Adilang got the permission to enter Japan, and on 8 September he flew from Japan to Jakarta.
"I was shocked when his boss told us," he had been rescued, Adilang's mother said. "I was so happy. He is now back at home...we're going to celebrate," his mother said.
With inputs from AFP
World
The death of at least 125 people at a league game between host Arema FC of East Java's Malang city and Persebaya Surabaya is a tragic reminder that Indonesia is one of the most dangerous countries to attend a game
World
After the match in East Java province between Arema FC and Persebaya Surabaya, supporters from the losing team invaded the pitch and police fired tear gas, triggering a stampede
Football
Riots broke out after the game ended Saturday evening at the Kanjuruhan stadium in Indonesia with hosts Arema FC of East Java's Malang city losing to Persebaya of Surabaya 3-2.