17 Nigerian soldiers killed in latest Boko Haram attack on military base; government claims militant group has been 'decimated'
On Wednesday evening, heavily armed Boko Haram jihadists in trucks stormed and looted weapons and vehicles from a military base in Garunda village in Borno State, the epicentre of the Islamist insurgency that has been raging for nine years.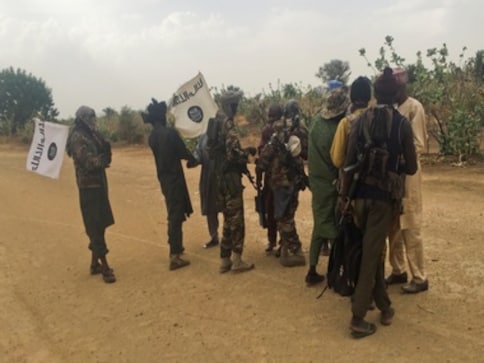 Kano: At least 17 Nigerian soldiers were killed in a fresh Boko Haram attack on a military base in the country's northeast, military sources said on Thursday, the third assault on three different bases in less than a month.
On Wednesday evening, heavily armed jihadists riding in trucks stormed and looted weapons and vehicles from a military base in Garunda village in Borno State, the epicentre of the Islamist insurgency that has been raging for nine years.
The attack is the latest of a series of bloody Boko Haram assaults on military bases in Nigeria, underscoring the continued threat the Islamists pose to the region and putting the spotlight on the Nigerian government's claim that Boko Haram is "decimated".
"Our troops came under attack from Boko Haram terrorists in Garunda last night," a military officer told AFP.
"Unfortunately we lost 17 troops, 14 others were injured while an unspecified number is still unaccounted for," said the military source, who asked not to be identified because he was not authorised to speak on the incident.
The source added that the militants looted weapons and vehicles before fleeing.
In the past month, Boko Haram jihadists have launched two other major assaults on military bases in the remote northeast region. On 14 July, jihadists suspected to be loyal to Abu Mus'ab Al-Barnawi, who is affiliated with the Islamic State group, attacked a base in Jilli village, in neighbouring Yobe state.
Dozens of troops were killed, wounded or missing, according to several security sources. The army conceded the base was attacked but did not give a death toll, saying that the "troops reorganised and successfully repelled the attack and normalcy has since returned to the area". On 26 July, the Islamists stormed a base on the outskirts of Maiduguri, the state capital of Borno state.
The base attacked on Wednesday in Garunda village of Borno state had just been set up for troops from the 81 brigade who had been stationed in Jilli village and forced to move after the 14 July assault. "The truth of the matter is that the troops in Jilli were relocated to Garunda where a new base was established," said the second military source, who gave a similar death toll.
"Troops were just setting up and the excavator operator was working to fortify the base with trenches against attack from the terrorists when the attack happened," said the officer.
The Nigerian army did not respond to requests for comment.
National Emergency Management Agency (NEMA) on Thursday confirmed in a statement that a staff member, an excavator operator attached to the military, "was killed by Boko Haram on Wednesday in Damasak, Borno state".
Boko Haram no longer controls swathes of territory in northeast Nigeria as it did at the height of its insurgency in 2014, yet the Islamist militants still pose a threat to the impoverished region.
Nigerian President Muhammadu Buhari has insisted that the Islamists are a spent force as he gears up for elections next year. In an interview with Nigerian press published on Thursday, Buhari's information minister Lai Mohammed said "we promised to fight insecurity, despite what anybody says, we have decimated Boko Haram".
Six months away from presidential polls, Buhari is under pressure to defend his track record as he battles insecurity across Nigeria, Africa's most populous country.
First Cricket News
The home team eventually reached the 288-run target in 48.1 overs to take an unassailable 2-0 lead in the three-game series.
First Cricket News
Rahul's media interaction ahead of the first ODI was a clear indication that Ruturaj Gaikwad might have to wait for his turn
First Cricket News
India have played nine Tests in the second cycle of WTC, winning four, losing three and drawing two.