10 years on, Benazir Bhutto's death still shrouded in mystery: Here are the conspiracy theories doing the rounds
Wednesday will be the 10th death anniversary of former Pakistan prime minister Benazir Bhutto, but details of the incident are as murky today as they were a decade ago, with multiple conspiracy theories still doing the rounds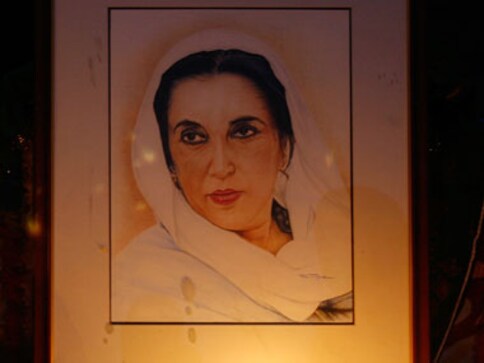 Wednesday marks the 10th death anniversary of former Pakistan prime minister Benazir Bhutto, who was assassinated in Rawalpindi on 27 December, 2007, but details of the incident are as murky today as they were a decade ago, with multiple versions and conspiracy theories still doing the rounds.
A court has since dismissed charges against five alleged Taliban militants who were initially accused of being involved in the killing. This makes the two police officers, who were found guilty of "mishandling the crime scene", the only people to be convicted in the case.
However, there are several theories as well. Here are a few of them:
The CIA version
Within a month of Bhutto's killing, CIA had concluded Baitullah Mehsud, a Pakistan tribal leader, was responsible for Bhutto's killing, and that he was aided by members of Al-Qaeda. Agency director Michael V Haydentold The Washington Post in an interview in January 2008 that Bhutto was killed by fighters allied with Mehsud, a tribal leader in northwestern Pakistan, with support from Al-Qaeda's terrorist network.
Following this, the Pakistan government too appeared to back the claim. Interior minister and Bhutto's family friend Rehman Malik had the dreaded militant commander Mehsud killed Bhutto.
However, Mehsud denied any involvement in the attack on the former prime minister of Pakistan. "We don't strike women," he had said through a spokesperson.
Bhutto, who had been a fierce opponent of Islamic extremists in the country, had promised to take the fight to militants based in Pakistan's tribal belt. She was threatened by Al-Qaeda, Taliban, local jihadist groups and elements in the Pakistani establishment (reportedly).
But Pakistani investigators largely focused on lower-level operatives, paying little attention to the hierarchy in the planning, financing, and execution of the assassination.
In October 2008, Mehsud died, although the cause of his death too remains shrouded in mystery. While some, including CNN, say he died of kidney stones at the age of 34, there were also reports that said an air strike killed him in August 2009. Mehsud is said to have died when a drone plane fired two Hellfire missiles at a remote farmhouse where he was sheltering, early on Wednesday, The Guardian report said.
The United Nations theory
At the request of the Pakistan People's Party (PPP) government that came into power soon after Bhutto's murder, a three-member UN team of investigators was dispatched to investigate the killing.
In its 70-page report released in 2010, the UN categorically held Musharraf's administration responsible for failing to provide Bhutto with the necessary security to ward off the attack. "Bhutto's assassination could have been prevented if adequate security measures had been taken," the report said.
The team also cited numerous failures by police to properly investigate the murder and preserve the integrity of the crime scene, as reported by AFP.
Less than two hours after the attack, senior police officer Khurram Shahzad hosed down the the scene. He was one of the two officers convicted. The second officer, then-Rawalpindi police chief Saud Aziz, refused on multiple occasions to allow an autopsy of Bhutto's body to go ahead.
The police told the UN commission that they collected just 23 pieces of evidence from the scene, "in a case where one would normally have expected thousands", according to the report.
But the UN team hinted at something beyond police incompetence, saying the official investigation was likely stifled by the country's security establishment. "These officials in part fearing intelligence agencies' involvement, were unsure of how vigorously they ought to pursue actions, which they knew, as professionals, they should have taken," it observed.
However the UN team stopped short of naming suspects in the plot to kill Bhutto, saying the responsibility lay with the Pakistani courts.
Pervez Musharraf's involvement
Back in 2013, Pakistan's former military leader Pervez Musharraf was formally charged by a court with Bhutto's murder. That added to the problems faced by Musharraf, who had only returned to Pakistan from self-imposed exile earlier that year. As reported by The Guardian, the 70-year-old retired general was charged with murder, conspiracy to murder and facilitation of murder, ending a summer where he was entangled in three court cases,barred from contesting elections and put under house arrest.
Later in 2017, a year after Musharraf slipped out of Pakistan, an anti-terrorism court declared him as being an "absconder" in the case. Musharraf was accused of conspiring to kill Bhutto because he perceived her a potential threat to his rule. He was charged with murder, the court said the trial against him would resume once he returns to Pakistan.
Nonetheless, as reported by The Guardian in a separate article, many respected lawyers say the charges in the Bhutto murder case are flimsy. They believe the prosecution will struggle to prove a link between Musharraf and the assassination of Bhutto.
But Bhutto's family and especially her son and political heir Bilawal have continued blaming Musharraf, who is currently in exile in Dubai. As reported by BBC, Bilawal said Musharraf "deliberately" sabotaged Bhutto's security. "Musharraf exploited this entire situation to assassinate my mother. He purposely sabotaged her security so that she would be assassinated and taken off the scene," he was quoted as saying.
Asif Ali Zardari's involvement
Most conspiracy theories hint at Zardari's involvement, saying since he became president after her death, he's the one who benefited the most. They also say that despite having the powers of the presidency, he failed to properly investigate the murder.
The BBC report quoted "secret official documents" relating to the investigation to show that police inquiries were so poorly managed as to suggest they never wanted to find guilty parties beyond the low-level plotters they had already arrested. Zardari has denied all the allegations, however, and said those who point to his involvement should "shut up".
But the conspiracy theories refuse to die down. Musharraf himself pointed the accusatory finger at Zardari, saying the latter is responsible not only for killing Benazir but also her brother Murtaza, who was assassinated in 1996. "Every time there is a murder, the first thing that needs to be seen is who has the most to gain from the death. In this case, I had everything to lose, as I was in power and the murder put my government in a difficult situation," the former military chief said.
"There was just one person who had everything to gain from Benazir's assassination and that was Asif Ali Zardari," he added. "Zardari was in power for five years; why did he not look into the case, why was the investigation not active? Because he was involved in Benazir's murder."
"The evidence is clear that Baitullah Mehsud and his people were involved in the murder, but who had asked them to target Benazir Bhutto? It could not have been me, the group hated me and the feeling was mutual. It is a known fact that I wanted Mehsud dead and so did the Government of Pakistan, after his group had attempted to kill me," Musharraf added.
With inputs from agencies
also read
Explainers
The term 'comfort women' has been given to people that were forced to work as sex slaves by the Japanese Army during World War II. It comes from the Japanese word ianfu – which combines the Chinese characters 'comfort or solace' (i-an) and woman (fu)
Explainers
The trouble kicked off after armed miscreants forced people to shut their shops on Monday afternoon. A mob then torched two homes in Imphal, causing security forces to rush to the spot. Chief Minister Biren Singh has said the situation is now under control
Explainers
Scientists at Stanford University in a breakthrough successfully tested a soft, flexible patch of electronic skin as thick as a piece of paper on a rat. While this offers a ray of hope to amputees and those with skin damage, experts say much more research is required