The government on Wednesday appointed Rajnish Kumar as the new chairman of the country's largest public sector lender State Bank of India (SBI). He will succeed Arundhati Bhattacharya who completes her four-year term on Friday.
Kumar, who is currently the managing director of the bank, will lead the bank for a period of three years. Kumar faces the daunting task of addressing the issue of huge non-performing assets (NPAs) of the bank.
Here is a brief profile of the new SBI chairman:
Prior to his new assignment, Kumar, 59, was managing director – compliance and risk, and managing director and chief executive officer of SBI Capital Markets Ltd, the merchant banking arm of SBI, according to his official biodata.
According to Reuters, Kumar has been with SBI since 1980, having joined the bank as a probationary officer. He has worked across departments, including credit, project finance, foreign exchange and retail banking.
He has worked as chief general manager, project finance and leasing strategic business unit.
Kumar has held several key assignments across various business verticals, including two overseas assignments in Canada and the UK.
For the last two years, he has also held the position of managing director of the national banking group (NBG), which oversees the functioning of over 95 percent of SBI's 24,000-odd branches, according The Hindu BusinessLine report. In this role, he played a crucial role in pushing retail credit and financial inclusion.
The report adds a senior SBI official describing Kumar as ''quick in decision making and a reasonable risk-taker".
Kumar, according to The Hindu report, played a vital role in digitising SBI particularity after demonetisation. "By working department and several parts of the country, he has a bird's eye view of the economy," The Hindu quoted one of Kumar's colleagues as saying.
Kumar is an avid traveler and has visited several countries. He loves sports and is a good Badminton player.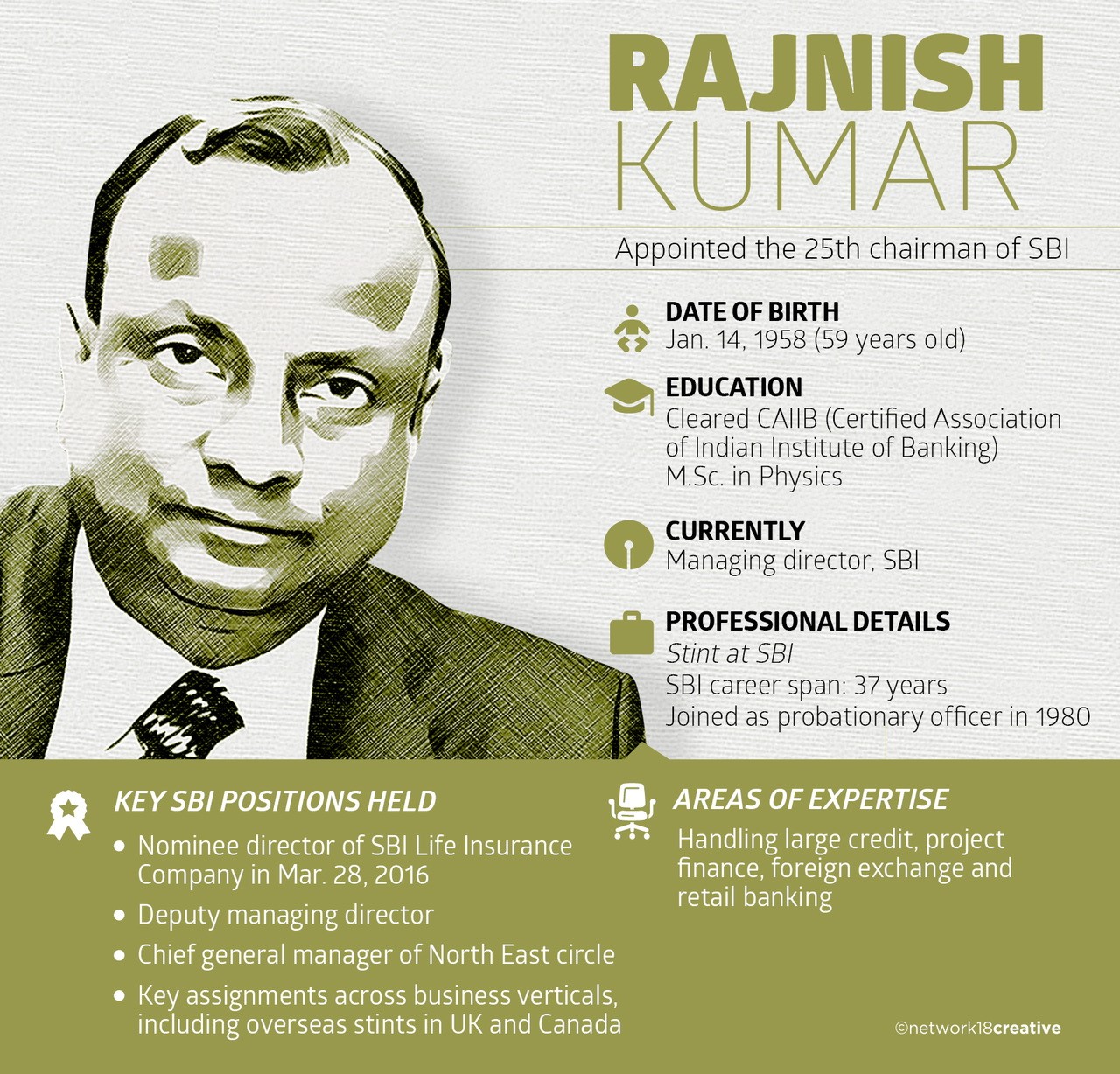 NPAs, the big challenge
Kumar, as the new head of SBI, will have to tackle the issue of ongoing resolution of bad loans while supporting growth through increased lending. Gross NPA of the bank stands at 9.93 percent of its total loans or roughly Rs 1.90 lakh crore.
"We are rather concerned with the net NPA (non-performing assets ) which is at 3 percent now," Kumar had said recently. According to him, the ideal net NPA level should half of this, that is 1.5 percent. "Going forward, fresh slippages will be under control. Specifically from September onwards, things will be become better," Kumar had said.
As many as 1,762 wilful defaulters owed Rs 25,104 crore to State Bank of India as on 31 March 2017. The efforts to extradite one of the biggest defaulter, Vijay Mallya, from the UK is yet bear fruit.
Public sector banks' NPAs are a major cause of worry for the government. As of June end 2017, gross NPAs of the public sector banks stood at Rs 7.33 lakh crore. The RBI is working towards the resolution of the problem.
Unless, NPAs are taken care of, credit growth is unlikely to take off. And being the largest lender, SBI is the one which has to take the lead. Kumar's biggest challenge lies here.
It is to be remembered that SBI, after the merger of five associate banks and also of Bhartiya Mahila Bank, is a mammoth with total assets of Rs 30 lakh crore, 24,000 branches with 2,70,000 employees and 58,000 ATMs serving serving over 50 crore customers.
With inputs from PTI
Updated Date: Oct 05, 2017 17:19 PM