Dashrath Manjhi, a poor labourer from Gehlaur village of Gaya, Bihar shot to fame when a Bollywood movie 'Manjhi – The Mountain Man' captured his life and how he singlehandedly carved a path through a hill. Proud of their local hero, the Bihar government had even declared the movie tax-free because it encouraged the viewers to see human life in the right perspective and inspires them, as well as, the society.
However, while the government praised Manjhi's efforts and even gave him a state funeral in 2007, the parched state of his fellow villagers of Gehlaur, had gone unnoticed.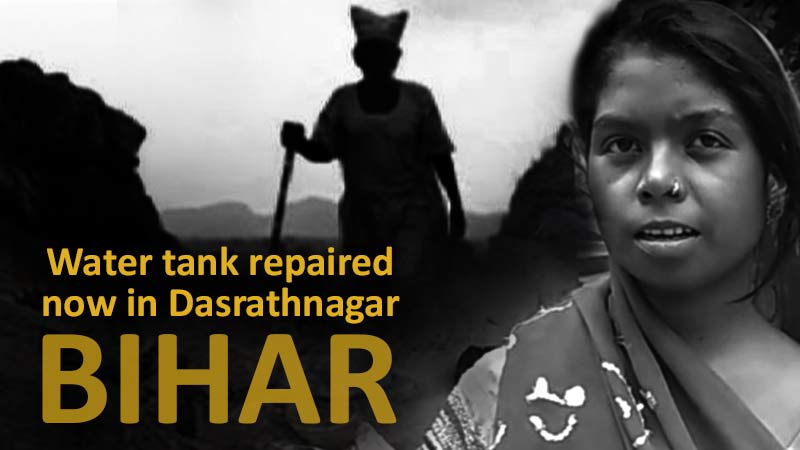 The 200 residents of Gehlaur, now known as Dashrathnagar, were parched for two years due to lack of clean, hygienic water supply. But due to the persistent effort of Amit Kumar, a community member of Gaya district and collective efforts of the community, Dashrathnagar finally received water.
"All it needed was a small repair, costing hardly Rs. 10,000 but the administration paid no attention to the village's plight," says Amit. A VV Community Correspondent for Bihar, he made a video report of the issue, documenting their problems due to lack of water, their struggles.
For the next two years, he struggled as he set about trying to find a solution to the issue. He screened the video several times to Dashrathnagar residents and government officials in hope to find a solution, but to no avail. This is when Dashrath Manjhi, even in his death, helped Amit. After the success of the film Manjhi – the Mountain Man, Manjhi's house in Dashrathnagar has been turned into a tourist attraction.
Amit perched himself next to Dashrath Manjhi's statue in the courtyard of his house. He began screening the video to the many tourists who came there and spoke about the water woes. "The administration didn't care much about this small, insignificant village. So I started these screenings with an aim to sensitize people towards the problem at Majhi's village," says Amit. As he expected, the news of the parched village spread across the country, carried by the tourists.
As he expected, the news of the parched village spread across the country, carried by the tourists. Worried about a possible public backlash, the district authorities sprung into action. After carrying out investigation and blacklisting the contractor, the administration fixed the broken water pump. With the water supply restored, the residents of Dashrathnagar are once again happy and content.
Bihar, Rajasthan and West Bengal are among the worst offenders, with more than 18% of rural population in these states unable to access quality drinking water. With safe drinking water hard to access for so many, India loses as many as 73 million working days due to water-borne diseases.
Updated Date: Jul 12, 2017 16:07 PM