Gossip Guy is back for another episode full of glamour, gossip and some Bollywood masala! This time, Renil Abraham had a tête-à-tête with not one, not two, but three of the most endearing actors in Indian cinema.
First off, Renil was in Sidharth Malhotra's bedroom. You heard that right! From his upcoming action movie Reload to working with the bubbly Jacqueline Fernandez, Sidharth gives the fans a hint of what's to come. But he doesn't just stop there, Sidharth also gets quite comical, discussing in vivid detail his tattoos, his co-stars and so much more.
Next up, we have the reigning King of Bollywood romance, Shah Rukh Khan! Kaabil vs Raees may have had the actor quite frazzled, but on Gossip Guy, you an catch him crooning 'Closer' by The Chainsmokers, discuss emojis and the idea of romance.
Last but not the least, we have Rishi Kapoor, who is better known by his Twitter avatar — chintskap — these days. With the release of his biography Khullam Khulla: Rishi Kapoor Uncensored, Rishi has quite a lot to say. The sensational celebrity who always speaks his mind out was quite candid and hilarious this time around as well. From the tale behind his Twitter bio to his bond with Ranbir Kapoor, Rishi gives a glimpse into what makes him tick in this episode.
With that we end another fun-filled episode of Gossip Guy with Renil Abraham. Watch this space because there is so much more to come!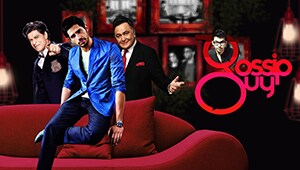 Updated Date: May 23, 2017 11:40:59 IST