Hillary Clinton's email probe might just deliver the White House to Donald Trump
The FBI said on Friday that it was reopening its investigation into Clinton's use of a private email server while she was secretary of state in the first Obama administration.
New York: This has been a week from hell for Democrat presidential nominee Hillary Clinton who finds herself staring down the barrel of a gun: The polls show her Republican rival Donald Trump chipping away at her lead. And, to make matters infinitely worse, the FBI said on Friday that it was reopening its investigation into Clinton's use of a private email server while she was secretary of state in the first Obama administration.
The specter of a renewed FBI investigation just 10 days ahead of the Election Day on 8 November has unnerved Clinton's campaign. The US stock market hated the political uncertainty and plunged 75 points lower after the FBI announcement. However, the markets recovered from the afternoon volatility with the Dow Jones Industrial Average finally settling 8.49 points, or 0.05 percent to finish at 18,161.19.
"The markets have factored in a Clinton win so the new FBI probe queers the pitch, creates political uncertainty over the next couple of weeks," said hedge fund manager Andrew Grant who works in Stewart Partners.
The FBI's October Surprise
In July, the FBI had given a clean chit to Clinton and said it had finished its investigation into why Clinton had thought it was alright to use a private server while secretary of state. At the time, FBI Director James Comey had castigated Clinton for being "extremely careless," but indicated there would no criminal charges filed in the case — much to the Democrat Party's relief.
Now Comey has shot off a letter to Congress saying the team probing Clinton's server briefed him on Thursday on new emails it found that might contain classified information. The new emails in the Clinton case were discovered after the FBI seized an electronic device shared by Anthony Weiner and his estranged wife, top Clinton aide Huma Abedin. Comey has left voters on a slippery slope days before Election day by saying he does not know how long it would take to review the emails, or whether the new information are significant.
Clinton decided the best form of defense was attack and asked the FBI to immediately release all information it has on her emails.
"Voting is underway, so the American people deserve to get the full and complete facts immediately," Clinton said during a press conference she hurriedly called in Des Moines, Iowa.
"I am confident whatever (the emails) are will not change the conclusion reached in July," added Clinton, referring the FBI investigation which gave her a clean chit a few months ago.
There's no doubt that the brouhaha surrounding the emails is going to colour undecided voters and put off a chunk of Clinton's own Democratic party base, making them less enthusiastic about turning out to vote in chilly weather.
"While some large amount of the email stuff surrounding Clinton is already baked into her poll numbers and unfavorable ratings, the swirl surrounding the new news from the FBI will not help the Democratic nominee as she tries to build momentum for Election Day," predicted "The Washington Post."
"Undecided voters — especially loosely affiliated Republicans — will be reminded of what they don't like about Clinton...For at least the past year, a strong majority of Americans have said that the words "honest" and "trustworthy" don't apply to Clinton," added the US newspaper.
Trump Smells Blood
Over the past few weeks, the rotten smell that has always surrounded Clinton's email scandal has been accentuated with Trump seizing on Julian Assange's daily release of hacked emails published by WikiLeaks. Clinton's campaign chairman John Podesta's hacked emails show how a close Bill Clinton aide Doug Band helped rake in tens of millions for the former president through donations, paid speeches and consulting contracts while Hillary was serving as secretary of state.
Not surprisingly, Trump appeared on Friday before supporters in New Hampshire in an exuberant mood.
"Hillary Clinton's corruption is on a scale we have never seen before. We must not let her take her criminal scheme into the Oval Office," said Trump as his supporters chanted "Lock her up."
"I have great respect for the fact that the FBI and the DOJ are now willing to have the courage to right the horrible mistake that they made," added Trump.
The Republican National Committee was energized by the new probe into Clinton's emails and seized on it as a turning point in the race.
"This stunning development raises serious questions about what records may not have been turned over and why, and whether they show intent to violate the law," Reince Priebus, the Republican committee chairman, said in a statement released on Friday.
Trump had earlier called out Clinton's association with her top aide Huma Abedin and her disgraced husband Anthony Weiner as an example of Clinton's "bad judgment." Ironically, the FBI stumbled on the new Clinton emails while running a criminal investigation into Weiner for sending illicit text messages to an underage girl.
"I only worry for the country in that Hillary Clinton was careless and negligent in allowing Weiner to have such close proximity to highly classified information," Trump said last summer. "Who knows what he learned and who he told?"
In good news for Trump, polls now show a tightening of the presidential race with Clinton's blazing 12 points lead shrinking to just 4, in the Washington Post/ABC News tracking poll. The Electoral College Map is still not leaning Trump, but he finally has a 2 percentage point edge over Clinton in the battleground state of Florida which has 29 electoral votes, according to a new Bloomberg Politics poll. Clinton's path to the White House would have been absolutely assured if she had Florida's decisive vote.
"That's a significant shift from Florida polling earlier this month, which regularly showed Clinton in the lead," reported CNN.
If the polls froze today, Clinton would win the race to the White House but with the daily WikiLeaks drip and the FBI investigation we are suddenly looking at a more fluid situation in the run-up to Election Day.
World
White House Press Secretary Jen Psaki has clarified that there is no rush to recognise the Taliban either by the United States or many of the countries that it has spoken to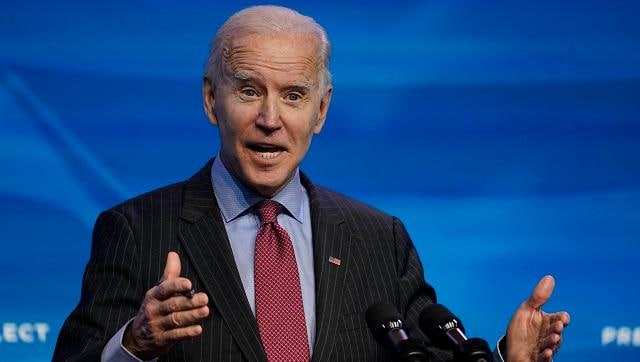 India
Far from dissuading the terror twins, giving them more money will actually be tantamount to rewarding their rank bad behaviour
World
US's diminished political leverage has opened the way for evacuation missions led by Republican politicians, former military personnel and private organisations