Hillary Clinton: Grace under fire, the feminist leader US needs but doesn't deserve
Hillary Clinton should be angry (she probably is), but she doesn't let it show.
America. The greatest country in the world, so we are told.
Sounds bumptious to the rest of the world, but Americans are raised on a concoction of fervent nationalism and American exceptionalism. Somehow this exceptionalism falls short because today's America is fractured and lies divided on key issues — healthcare, immigration, abortion.
The forthcoming presidential elections will prove to be important for the millennials, the next generation that is buried neck deep in college debt, never mind the existential crises. It's an utter shame that they have two candidates — an incompetent man and a competent woman and yet, polling pundits are stumped, the incompetent man still stands a chance at winning. Forget polling pundits, the world is stumped. Women, on the other hand, are hardly surprised. Angry? Sure. Surprised? No.
Hillary Clinton should be angry (she probably is), but she doesn't let it show. The woman is 68 years old and has at least five decades of hard work (towards children and the country) behind her and yet her gender is an obstacle, not an advantage. The quintessential guidebook to womanhood, first and all future editions teach (female foetuses and above) to not cultivate a voice and if they still end up having one, that voice can never be angry. People usually do not like angry women.
Donald Trump just talks about a wall, keeping Muslims out and how he will defeat the Islamic State. And, millions believe that he is fit to lead the country. The state of affairs is truly abysmal when there's a proud, unapologetic, and cocky male chauvinist running for president and his opponent must still strategise and be cautious in her campaign. Such a situation would not have arisen if Hillary Clinton was a man. Male Hillary Clinton would have declared victory three weeks ago, forget actual polling.
This election season is not about the issues but about gender. And Clinton understands this exceptionally well.
Usually, women, especially in politics find that the feminist tag does not work in their favour and invariably end up distancing themselves from the F word (though the ideals they embody are feminist), the backlash towards feminism has not been kind to women. But, in 2016, when there is a renewed interest in feminism and its surrounding articulations, Clinton is in a position to cling to her feminist tag, and with pride.
Because Trump bellows, Clinton stays poised, not because that's how women should be but because her composure lords over Trump's loud unintelligible rhetoric. Her campaign has shone a light on Clinton's accomplishments, which in turn highlight the grand canyon of ineptitude that Donald Trump embodies. In the first presidential debate held at Hofstra University, Trump berated Clinton for being overly prepared. With a slight grin, and brimming with confidence, she responded: "I am prepared. Prepared to be President." And the only nice thing that Trump ever said to Hillary is also about her indomitable spirit:
"I will say this about Hillary. She doesn't quit. She doesn't give up. I respect that. I tell it like it is. She is a fighter. I disagree with much of what she is fighting for. I do disagree with her judgment in many cases, but she does fight hard and she doesn't quit and she doesn't give up and I consider that to be a very good trait."
And she has stuck to this motto extremely well: "When they go low, you go high". In the final debate, she calmly responded to Trump's furious ramblings and said:
"He goes after their dignity, their self worth, and I don't think there is a woman anywhere who doesn't know what that feels like."
And, that statement strikes a chord with women everywhere, not just American. Clinton's way of reacting to misogynist attacks and sexist remarks isn't unique. Her measured, non-volatile demeanour and strong, evocative responses that prove the veracity of her claims stand testimony to what women across the world do on a daily basis — at work and at home.
Her grace is that of a #NastyWoman who can get the job done. And her spirit is the spirit of hardworking women everywhere who work quadruply hard only to be taken half as seriously as men.
Her resolve is an example of how several women continue to climb the corporate ladder, despite knowing that there is a glass ceiling that awaits them after a few steps. Knowing that the glass ceiling never really gets shattered.
Clinton is graceful because the Hillary Clinton she is trying to sell has to appease the America that wants its women tame, but she has also appropriated that gracefulness to further the feminist cause in the face of a disgraceful Donald Trump. And, that's the point, Clinton's win is not going to change the place of women in the world drastically or signal the advent of a world when we can claim that we no longer need feminism. Clinton's win is just a step in the right direction and she is aware of that.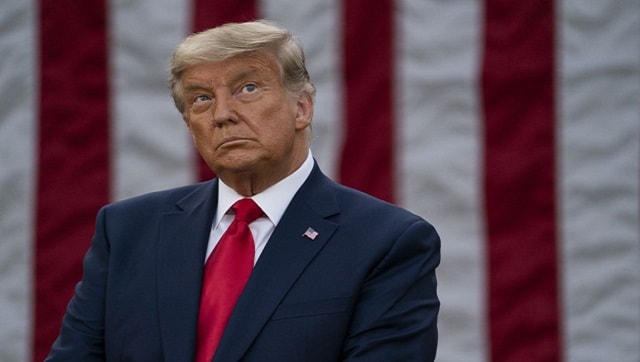 World
Former president Donald Trump has said the official ought to be tried for treason if the report was true
World
The speech Biden delivered sounded much like what he would have said before the Taliban took Kabul, Afghanistan, without resistance, and before the pivot to Asia became a hindrance to relations with Europe
World
The financial drain from a sprawling counterterrorism campaign has been vast, fueling the military's budgets even years after major combat in Afghanistan and Iraq ended