Donald Trump blasts 'phony polls', says media has got it all wrong and he is winning
Pollsters and political pundits might think it is a tad delusional, but Republican presidential candidate Donald Trump reiterated on Monday that he is winning the race for the White House
New York: Pollsters and political pundits might think it is a tad delusional, but Republican presidential candidate Donald Trump reiterated on Monday that he is winning the race for the White House. He blasted the media for demoralising his supporters by playing up "phony polls" showing his Democratic rival Hillary Clinton in a strong lead.
"Folks, we're winning. We're winning. We're winning," Trump declared in Florida.
"What they do is they show these phony polls where they look at Democrats, and it's heavily weighted with Democrats. And then they'll put on a poll where we're not winning, and everybody says, 'Oh, they're not winning'," said Trump, while ripping into a new ABC News/Washington Post poll that showed Clinton surging with a massive 12-point lead.
"The truth is, I actually think we're winning," said Trump.
In a sea of bad news, Trump has found a few bright spots this week: He's virtually tied with Clinton in the key battleground state of North Carolina where Clinton has just a one percentage point lead. Republican donor Sheldon Adelson who owns the Las Vegas Review-Journal, finally handed Trump his first major newspaper endorsement. After public heartburn and doubt, Ohio's GOP chairman Matt Borges finally declared he would be supporting "a straight Republican ticket" starting with Trump for president.
Although Trump has some things to celebrate, the odds are heavily loaded against him winning the White House. The ABC News/Washington Post poll released on Sunday showed Clinton besting Trump by 12 points among likely voters.
The survey showed Clinton capturing 50 percent of the national vote compared to Trump's 38 percent marking Clinton's highest support level and Trump's smallest to date. The poll also highlighted that 69 percent of voters deplored how Trump was handling his woman problem which has gone from bad to worse. Trump has glossed over a sleazy 2005 video as "locker room banter", but it hasn't gone done well with women voters and progressive men. He has also been hit by allegations of rampant sexual misconduct made by 11 women. The poll numbers between the two major party candidates have got wider in the wake of these sleazy revelations.
Trump tweeted:
We are winning and the press is refusing to report it. Don't let them fool you- get out and vote! #DrainTheSwamp on November 8th!

— Donald J. Trump (@realDonaldTrump) October 24, 2016
"We're up in Ohio. We're up in Iowa. We're doing great in North Carolina. I think we're doing great in Florida," he said during a roundtable with wealthy landowners and farmers in Florida. "I think we're going to win Florida big."
"Phony polls are part of the crooked system, part of the rigged system that I've been talking about since I entered the race," said Trump, "These are what we call dark polls. They are phony polls put out by phony media. I'll tell you what: All of us are affected by this dark stuff. What they try and do is try and suppress the vote. This way people don't go out and vote. But we're winning this race," said Trump.
According to The New York Times, Clinton is going beyond "seeking simply a victory over Trump" asking voters to strengthen her hand in Congress.
"Though she is still not broadly popular, Clinton has cast her candidacy — and now, perhaps, her party — as a safe harbor for voters across the political mainstream who find Trump intolerable," reported The New York Times.
Clinton who is in pole position is now campaigning to ask voters to hand control of the Senate to Democrats. According to analysts, the big prize in the run up to Election Day on Nov 8 has shifted: Democrats have to win the presidency and four seats to retake control of the Senate. This is looking more probable with each passing day as Trump's collapse appears to be weighing down Republican candidates like Kelly Ayotte in New Hampshire, Richard Burr in North Carolina, and Joseph J. Heck in Nevada.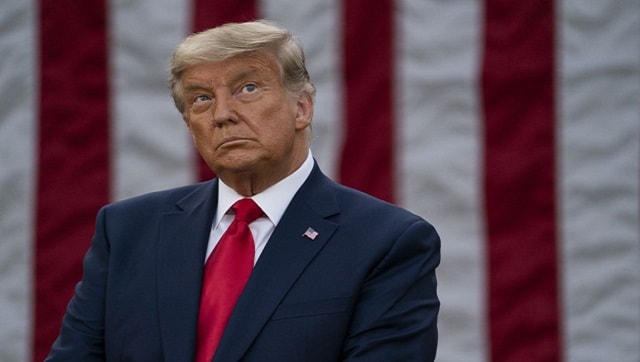 World
Former president Donald Trump has said the official ought to be tried for treason if the report was true
World
NATO is urging China to join international efforts to limit the spread of nuclear weapons amid concerns that the country is rapidly developing missiles capable of carrying atomic warheads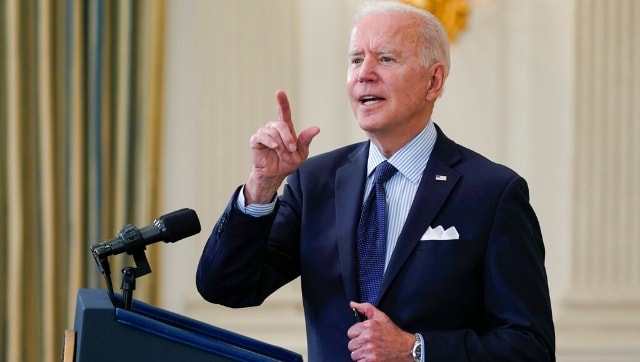 World
The remark comes in the wake of the announcement of the formation of a new interim government in Kabul by the Taliban