Honda Photo Gallery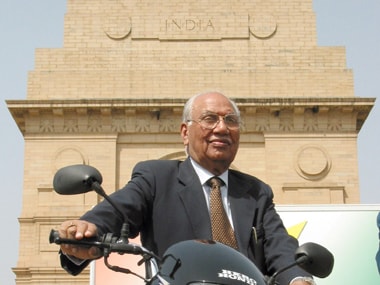 Brijmohan Lall Munjal, chairman of India's largest motorcycle maker Hero Honda Motors Limited, stands in front of New Delhi's famous landmark, India Gate, April 1, 2002. Munjal's family and Japan's Honda Motor Co each hold 26 percent stake in Hero Honda. Hero Honda, which sold 1.43 million motorcycles in 2001/02 (April-March), said it had become the single largest two-wheeler company in the world. REUTERS/Kamal Kishore KK/RCS - RTR3509
Nov, 2 08:09:23 IST
MOTORCYCLE MAKER MUNJAL AT INDIA GATE IN NEW DELHI.
Honda Best Pictures and Images

11/02 08:09:23
Brijmohan Lall Munjal, chairman of India's largest motorcycle maker Hero Honda Motors Limited, stands in front of New Delhi's famous landmark, India Gate, April 1, 2002. Munjal's family and Japan's Honda Motor Co each hold 26 percent stake in Hero Honda. Hero Honda, which sold 1.43 million motorcycles in 2001/02 (April-March), said it had become the single largest two-wheeler company in the world. REUTERS/Kamal Kishore KK/RCS - RTR3509

10/02 05:22:25
Honda Civic file photo/ AP

09/10 12:00:17

08/27 14:10:02
Representational image. Reuters

08/27 14:09:40

07/08 21:06:56
Making a comeback.

05/18 12:00:15

03/14 15:05:25
McLaren Honda's British driver Jenson Button walks back to his garage during qualifying for the Formula One Australian Grand Prix. AFP

02/26 13:19:46
Mclaren Honda's Fernando Alonso leaves the hospital after his crash. Reuters

02/22 18:10:47
Fernando Alonso of Spain and McLaren Honda smiles during the 2015 Formula One testing at the Barcelona Catalunya racetrack in Montmelo. AP