Diabetes Photo Gallery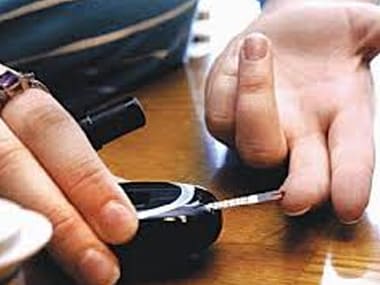 Representational image. PTI
May, 26 14:34:52 IST
Diabetes_PTI_380
Diabetes Best Pictures and Images

05/26 14:34:52
Representational image. PTI

12/21 16:24:14

11/25 21:30:26
Rising diabetes in India. Reuters

11/06 11:45:17
A man checks his blood sugar. Representational image. AFP.

08/06 16:01:14
Eating pistachios daily may benefit diabetics, said a study. GettyImages

07/10 14:44:51
Emulating the US system of taxing aerated drinks, the Finance Minister also chose to target aerated drinks but only those that contain sugar, sparing fruit juices and other aerated drinks like soda.


12/07 02:37:29
Yale University Professor James Rothman, 62, the co-awardee of the 2013 Nobel Prize for Medicine, conducts a lecture at Yale in New Haven, Connecticut October 7, 2013. Students also encircled Rothman's podium with trophies ahead of his arrival in celebration of the award. Rothman was one of three U.S.-based scientists who won the Nobel medicine prize on Monday for plotting how vital materials such as hormones and brain chemicals are transported within cells and secreted to act on the body, giving insight into diseases such as diabetes and Alzheimer's. Americans Rothman, Randy Schekman, 64, and German-born Thomas Suedhof, 57, separately mapped out one of the body's critical networks that uses tiny bubbles known as vesicles to ferry chemicals such as insulin within cells. Medicine is the first of the Nobel prizes awarded each year. Reuters

11/14 08:34:17
Representational image. Reuters

11/13 20:29:47
Representational image. Reuters

10/09 09:09:48
Randy Schekman (L), professor of molecular and cell biology at the University of California at Berkeley, holds a parking permit for Nobel laureate given by chancellor Nicholas B. Dirks after a news conference in Berkeley, California October 7, 2013. Americans Schekman and James Rothman and Germany's Thomas Suedhof won the 2013 Nobel medicine prize for their work on how hormones are transported within and outside cells, giving insight into diseases such as diabetes and Alzheimer's. REUTERS/Stephen Lam