17:04 (IST)
Congress furnishes 'proof' to show links between BJP, Cambridge Analytica
​At a press conference, the Congress alleged links between the BJP and Cambridge Analytica. As an evidence, it shared that the former BJP IT data head and current head of MyGov website Arvind Gupta tweet praising Cambridge Analytica in 2017. It also claimed that Union minister Smriti Irani follows Cambridge Analytica on Twitter.
Image procured by Debobrat Ghose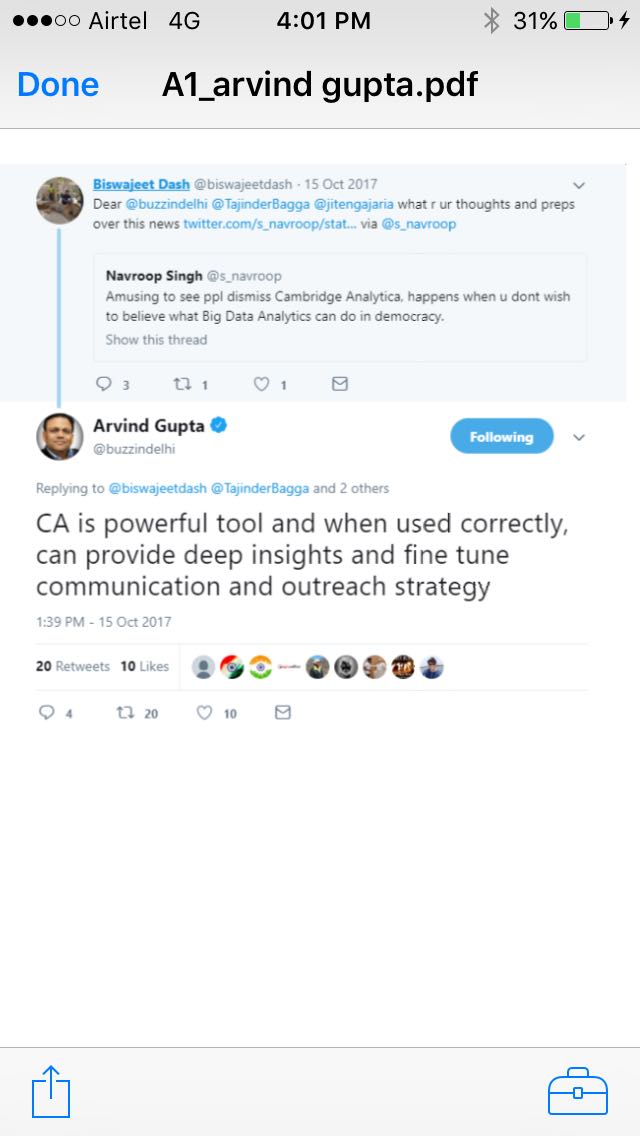 16:55 (IST)
OBI 'looking to end its association' with Cambridge Analytica
In a statement, Ovelina Business Intelligence (OBI) said that it believes in ethics and legal system of India.
"We are not denying our association with SCL/Cambridge Analytica but we are a ground research company closely working with various media houses and are not undertaking any project with Cambridge Analytica related to social media (specially Facebook). We are equally shocked and surprised to see the data breach controversy and we are also looking to end our association with them. Cambridge Analytica has already suspended Alexander Nix, who is under fire in all this controversy, but we are not authorised to speak on behalf of them," OBI said.
"We again want to clarify that neither the whistle-blower nor Facebook has confirmed that there is any kind of data breach in India," it said.
16:36 (IST)
JD(U) has no relation with Cambridge Analytica: KC Tyagi
JDU has no relation with #CambridgeAnalytics , neither has its CEO ever met Nitish ji nor me. In any case JDU is a Socialist outfit and we stay away from such things, except for maybe Prashant Kishore ji helping us during last assembly polls: KC Tyagi,JDU pic.twitter.com/VVVoowM2KD

— ANI (@ANI) March 22, 2018
16:25 (IST)
RJD targets JD(U), says it was Cambridge Analytics' client since 2010
Taking a dig at Nitish Kumar's stance on zero tolerance, RJD leader Tejashwi Yadav told ANI that there is a difference between what "they say and what they do."
He told TImes Now that Ovelina Business Intelligence, which is under the scanner for the alleged data theft, mentions JD(U) and BJP as its clients on its website.
He also took to Twitter to question the two parties' involvement in the alleged data leak.
Bihar CM Nitish's close confidante and one instrumental in JDU's reunion with BJP- KC Tyagi's son Amrish Tyagi worked for #CambridgeAnalytica and helped it work for BJP as report confirms! Nitish & PM Modi has a lot to answer!

— Tejashwi Yadav (@yadavtejashwi) March 22, 2018
16:17 (IST)
Everything is open to probe, says KC Tyagi
There was only a work relation between my son Amrish's company and #CambridgeAnalytics , there is no financial transaction or shareholding, everything is open to probe. JDU also has no links with this,neither did they promote us in 2010 polls: KC Tyagi,JDU pic.twitter.com/lixBo9fd15

— ANI (@ANI) March 22, 2018
16:12 (IST)
My son not linked to Cambridge Analytica: KC Tyagi
Senior JD(U) leader KC Tyagi denied that his son Amrish had any links to Cambridge Analytica. In 2010 polls, there was no role of the firm. On behalf of JD(U), I want to say the party did not take take any help from the firm."
"If my son has committed a mistake, I would want the Indian government to take action against him," he added.
15:58 (IST)
BJP 'inventor of fake news': Congress
"The BJP's daily encounter of truth, both inside and outside the Parliament, is being witnessed by the country," said Congress communications in-charge Randeep Surjewala.
Taking a dig at the BJP-led government, he said, "Hitler had an associate called Goebbels, Narendra Modi has an associate called Ravi Shankar Prasad."
He accused the BJP of manufacturing "fake news". "Sabse bade data chor macha rahe hain sabse zyada shor", he said.
15:49 (IST)
Congress says Ravi Shankar Prasad's designation should be changed to jhoot mantri

Congress spokesperson Randeep Surjewala said, "39 Indians lost their lives in Iraq. For four year, Modi government kept fooling the people of the country. The proceedings are being disrupted so that they faults are not discussed."
Lashing out at the BJP for levelling charges against the Congress over the alleged data theft, he said, "Ravi Shankar Prasad should be renamed from law minister to 'jhoot mantri'."
15:11 (IST)
Nitish Kumar seeks explanation from KC Tyagi over son's alleged role in data theft
On Thursday, media reports said that senior JD(U) leader KC Tyagi's son, Amrish, is the owner of Ovelina Business Intelligence (OBI), the Indian associate of Cambridge Analytica, which is under the scanner over allegations stealing the data of over 50 million Facebook users.
14:55 (IST)
BJP spokesperson GVL Narasimha Rao takes dig at Rahul Gandhi's tweet over data leak charges
Problem: Rahul led @INCIndia to defeats in 26 states.Balle Balle only in Punjab & two!

Solution: Resort to lies, propaganda,block Parliament, fake social media support,get thrashed at overseas events.

Result: Loss in Karnataka & Mizoram soon & LS 2019

Problem CANNOT be solved https://t.co/V3t688uMMR

— GVL Narasimha Rao (@GVLNRAO) March 22, 2018
14:24 (IST)
Mukhtar Abbas Naqvi hits out at Rahul Gandhi
Rahul Gandhi Ji akal se bilkul paidal hain kya? He should think over it, a grave crime of innocent Indians' data theft is being committed & if people involved in this are being exposed, he has a problem?: MA Naqvi on Rahul Gandhi's tweet pic.twitter.com/WDCi0xs1Wq

— ANI (@ANI) March 22, 2018
14:08 (IST)
14:03 (IST)
Congress never used services of a data mining firm, says Sam Pitroda
This news is utterly rubbish, it is simply a big lie and ought to stop with an apology.

I know for sure, that @INCIndia party has never used services of Cambridge Analytica at the center and/or state level in the past.

— Sam Pitroda (@sampitroda) March 22, 2018
13:38 (IST)
Rahul Gandhi on the data leak row:
Problem: 39 Indians dead; Govt on the mat, caught lying.

Solution: Invent story on Congress & Data Theft.

Result: Media networks bite bait; 39 Indians vanish from radar.

Problem solved.

— Rahul Gandhi (@RahulGandhi) March 22, 2018
13:29 (IST)
Ravi Shankar Prasad says three articles show Congress misused CA data
Ravi Shankar Prasad referred to three news articles which claimed that Congress was in talks with the big data mining company right before the Gujarat elections.
These three articles published between October and November 2017, Prasad alleged, show that Congress misused the services of Cambridge Analytica to win elections in India.
"There are many suspicious signs available that show that they (Congress) misued the services of the company," he said. One of the articles defined the services of the data mining company as Congress' 'Brahmastra' in the Gujarat elections, he added.
"They have used and miused Cambridge Analytica during the Gujarat elections. And when they are caught, they are saying we have no connection with the company. Congress was involved with Cambridge Analytica in the Gujarat polls," he said.
13:23 (IST)
Rahul Gandhi's entire social media campaign managed by Cambridge Analytica
"Rahul Gandhi's entire social media campaign has been managed with the help of Cambridge Analytica and they have had meetings also," alleged Ravi Shankar Prasad in a press conference.
"Congress has maintained conspicuous silence (on their links with Cambridge Analytica)," ANI further quoted the Union minister as saying.
13:18 (IST)
CA has engaged in data mining for electoral processes across the world
CA had also engaged in data mining and analysis for the electoral processes in other countries like Colombia, Indonesia, Italy, Malaysia and Thailand.
CA has itself stated on its website that it "was contracted to undertake an in-depth electorate analysis for the Bihar Assembly Election in 2010".
It also says that apart from research, CA was also asked to "organise the party base" by working to increase supporter motivation.