tech2 News StaffNov 20, 2018 13:08:58 IST
Captain Kirk may have called space the 'final frontier', but its also where astronomers have spotted what they think looks like the iconic USS Enterprise from the legendary science fiction series, Star Trek.
NASA published images captured by the agency's Chandra X-ray Observatory of a galaxy cluster called Abell 1033, a star system with an "uncanny resemblance" to the fictional starship Enterprise, it said in a statement.
#News: About 1.6 billion light years from Earth, two clusters of galaxies are merging in Abell 1033… and it just so happens that they look a bit like the Starship Enterprise from #StarTrek! To Boldly Go into Colliding Galaxy Clusters: https://t.co/GqdZT0QAJj pic.twitter.com/Qq97f5kujL

— Chandra Observatory (@chandraxray) November 15, 2018
The blue wisps of gas on the left vaguely look like a side view of the Enterprise, with the saucer section at the top of the image. The smaller blue formation in the bottom could easily pass for bunny ears.
Abell 1033 is 1.6 billion light-years away from Earth, with structures that appear to be some of the "largest objects in the Universe held together by gravity," according to NASA.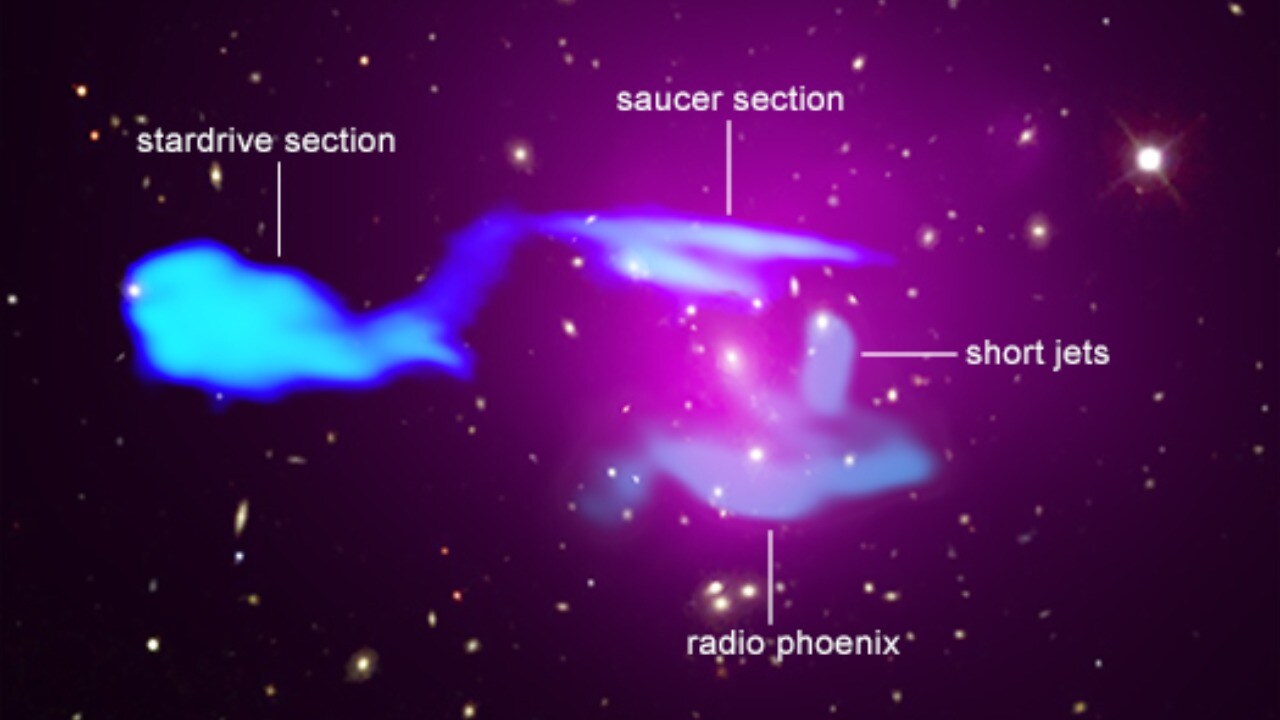 What's more, Chandra's X-ray and radio wave data have indicated that the galaxy cluster is actually two galaxy clusters in the process of collision. This unusual, ultra-high-energy event "has produced turbulence and shock waves" in the universe, similar to what sonic booms made by ultrasonic jets.
And if that wasn't nearly dramatic enough, the galactic collision also appears to be interacting with a second, high-energy cosmic event. NASA researchers have spotted what looks like a stream of high-energy particles made by matter as it spirals into a supermassive black hole.
The high-energy electrons in these 'electron jets' appear to be moving nearly at the speed of light into the black hole located in one of the two colliding galaxy clusters.
Funnily enough, this isn't the first time NASA spotted what it thinks looks like an Enterprise starship. In 2016, the Spitzer telescope captured images of distant nebulae.
Much like a child looking at shapes in the clouds, NASA saw not one, but two of the series' beloved starship, the USS Enterprise.
We get it NASA, Star Trek fandom and a colourful imagination are a big part of what you are.
Find latest and upcoming tech gadgets online on Tech2 Gadgets. Get technology news, gadgets reviews & ratings. Popular gadgets including laptop, tablet and mobile specifications, features, prices, comparison.